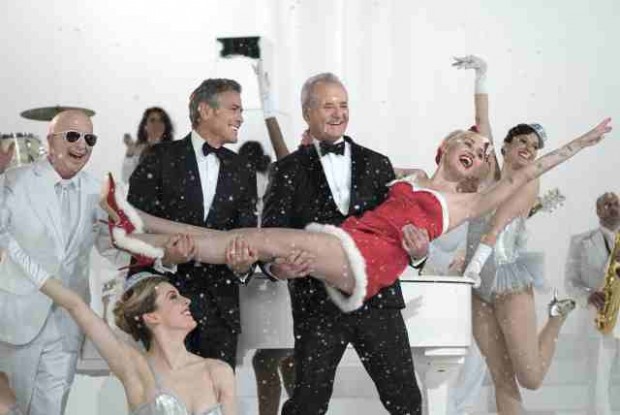 As if we needed more reasons to wish it were the Yuletide season already like the iPad Pro, the Mariah Carey x MAC collab, and the Gwen Stefani x Urban Decay collab, director Sofia Coppola and actor Bill Murray give us one more. The full trailer for A Very Murray Christmas is out and showcases an all-star cast. The show will debut on Dec. 4 on Netflix.
Guests include George Clooney, Miley Cyrus, Amy Poehler, Chris Rock, Michael Cera, Rashida Jones, Maya Rudolph, and rock band Phoenix among many other notable names in the entertainment industry. Upon it's conception, reports have said that A Very Murray Christmas is meant to be an "homage to the classic variety show," with a light-hearted plotline, hilarious sketches, and a whole lot of singing.
The variety show will feature a fictionalized version of Bill, anxious that his guests won't make it to his party because of a snow storm raging through New York City. But from what we could tell from the trailer, it looks like Christmas miracles do happen.
Earlier this year, a short teaser for the special was released, featuring an antler headband-wearing Bill, waiting at the Carlyle Hotel for his guests.
Now, we get a little sneak peak into the madness of Bill and his guests by watching the full trailer below. It'll make you break out the tinsel and lights already.
https://www.youtube.com/watch?v=rf_dgbBK25o
[
Oyster
]
Photo courtesy of The Interrobang