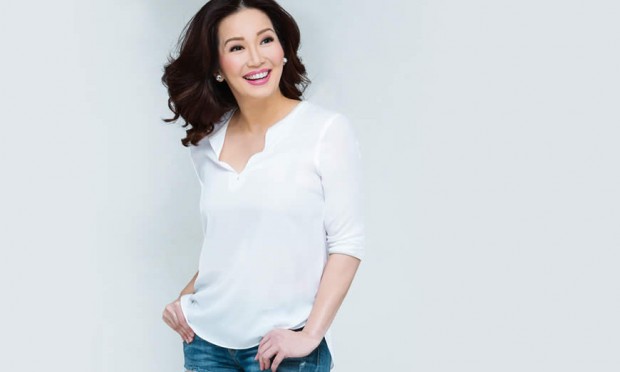 Let's just face it: With just a few more days to go until Christmas, many of us who find themselves alone and unattached this holiday season are one weak eggnog away from making like Bridget Jones and bleating Celine Dion's "All By Myself" at a Christmas party.
No one is taking this to heart more than everyone's favorite emotional wreck, Kris Aquino. Bandera reports that the First Sister took to her official website to post an entry entitled "What If I Never Love Again?" This is perhaps an indication that the thirst is probably too real in the world of showbiz, considering rumors that KC Concepcion could be reconciling with Piolo Pascual after a traumatizing public breakup four years ago.
In her brief entry, we see that Kris might have been indulging in a little Adele and Cry during her forced five-day silent retreat from the world. Embedding a video of the hit singer's song "All I Ask," she reveals thoughts she couldn't say out loud:
Sumesenti… So I reflected why I am so affected by this song… It's simple, because I think I'm likely to never fall in love again (I'll expound on WHY in the FUTURE).
And yes, many years ago I did experience a good ending, although at that time I thought it was finally our beginning… Granted we never saw each other again as "lovers" although we're the classic ill-fated textbook example, and we never had "closure"—but I can always look back on the memory and smile. And sometimes shed a happy tear. There was a bracelet with a heart, and a card that said (I'm sorry paraphrase na lang ito because it was a super long time ago) "My one wish has always been you, and tonight it finally came true."
Bandera suspects that the object of Kris' holiday longing could be Mayor Herbert Bautista, which, frankly, wouldn't be surprising, since she's made it clear on numerous occasions that she is not over him.
In any case, Kris' voice is back now, which probably means she'll be talking more about this on her new film All You Need Is Pag-Ibig. It remains unclear, however, if Mayor Herbert will be watching.
[
Bandera
]
Photo courtesy of With Love Kris Aquino