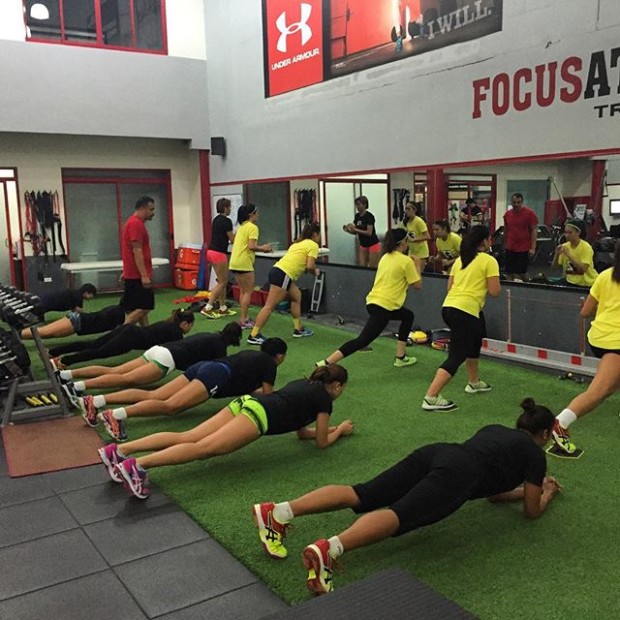 This month, we here at Preen are determined to work on our fitness. Be our witness (see what we did there?) by checking out our motivational #fitspo stories on new workout routines, the low-down on healthy eating, and the latest in athleisure every week—you know, just about everything you need to get those pulses racing.
Last time, we took a peek into the basics of yoga and how to spot a good yoga teacher. Tonight, we will focus on athletics training, and how it's not only exclusive to professional athletes anymore. Let's face it, whenever you watch athletes playing their heart out in their respective sports, don't you just wonder how intense their workouts must be to be that agile and resilient? Sure, sometimes you see little behind-the-scenes footage on TV, sports documentaries, or social media, but the workout itself is only half their training.
To give us more insight on the matter, we spoke to Focus Athletics founder and coach Paolo Cabalfin on how average folks can reach their fitness goals through this fairly intense workout, as well as how to maintain the results outside the gym.
The basics
Before you dive into training, you have to determine what goals you want to achieve through this program, whether it's to get strong and fit or to bounce back from an injury. Once you've figured that out, Paolo says you can choose from one of their three services that can cater to your needs such as Performance Training, which is focused on sports-specific training; Focus 60, a semi-private training session comprised of three to eight people; and Focus Medical wherein you're given physiotherapy and rehabilitation to help remedy injuries.
When it comes to the types of workout routines that one can expect, Paolo elaborates that they can provide clients with body weight training, core training, plyometrics, and movement preparation, among many others. "Basically, we can train you for anything," he says. "[We do everything that will get] you moving, and [make you] feel, look, and perform better in whatever goal you choose to train for."
How to get physical
Now, we did say that this kind of training is similar to those of professional athletes, so it's definitely no walk in the park. But Paolo assures that the workouts are customized to one's fitness needs and that coaches will guide them no matter how intense or advanced their clients are.
"We have a very systemized approach to our routines… One of our main things here is we take pride on the level of coaching that we give to our clients. We really don't push you to do your training on your own. Although, there are also people who come in and use the gym, but they're only four or five out of our entire membership," he says.
Paolo admits that there are instances wherein clients would come up to him about wanting to do specific workouts that they're not getting from their assigned coaches. "They'd tell me that they want to do more [of a certain workout.] We do make mistakes sometimes; everyone has a sick day and everyone gets tired," he says. "We're always trying to be better and the only way to do that is to make mistakes and grow from those mistakes."
Aside from working out, coaches advise their clients to keep a balanced nutritional plan and everything in between to keep healthy so that the results of their training would not go to waste. Focus Athletics also has nutritionists on their team who can help clients plan out their diets.
How do we avoid common mistakes when working out
We're all guilty of having fitspirations, and as much as we want to achieve a toned bod like our idols in a short period of time, we can't because it takes time. That being said, Paolo tells us that there are some clients who would end up overtraining themselves with hopes of reaching that goal quicker.
"Some people think that [they] need to lift crazy amounts of weight and reps to get the results that they need. Although overtraining seldom happens, and if it does happen, they don't recover well enough," he says.
He further explains that clients shouldn't just focus on the training itself, but also on their nutritional plan outside of the gym. "They see all these celebrities or people they look up to working out like crazy, but what they don't see is what they're eating, how they're recovering, sleeping, and all the other things they do to look that way. They only see the training," he says.
This is also a subtle reminder that these fit celebrities and pro athletes are human as well. It didn't take a miracle for them to get their strength and physique, it takes patience and discipline, as well as a mindful diet to get their body to what it is today.
But don't worry if it takes too long to achieve your fitness goals because someday you'll wake up with your own Maria Sharapova muscles and abs, or something similar to that, after a few sessions of athletics training with the help of your coach. Let that motivate you.
Focus Athletics. 2259 Pasong Tamo Extension, Makati City. (02) 817-4599. For more information, visit their website.
Photo courtesy of Focus Athletics' Instagram