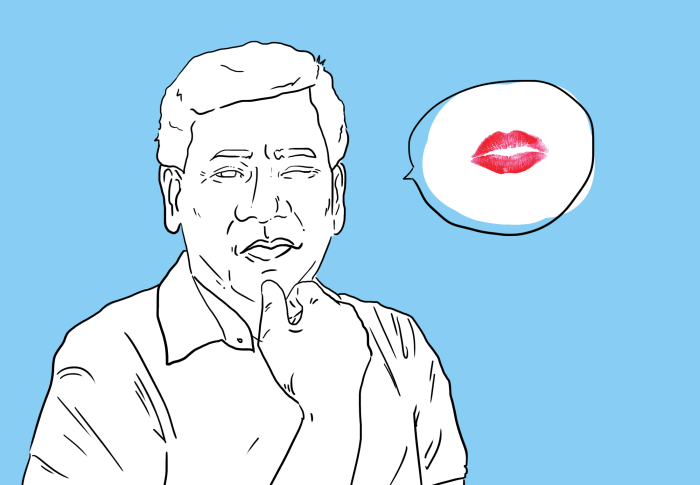 This column may contain strong language, sexual content, adult humor, and other themes that may not be suitable for minors. Parental guidance is strongly advised.
Oh, this guy, Diggy, 71 years old and full of humor.  Isn't he just the gift that keeps on giving?
And the gifts come wrapped ever so lasciviously with tongue-red bows.  Sometimes they are delivered like those audio cards, accompanied by the soundtrack of wolf-whistles and serenades.  What joy they bring everyone!
In fact, everyone seems to be enjoying the presents from the incoming president; they may as well for there is a no return, no exchange policy on these gifts, at least not for the next six years.
I don't know about you, but there's nothing about a wolf-whistle directed at a female journalist during a press conference that's remotely flattering, or professional.  And it's not in the least humorous.
Oops, forgive me.  I am overdramatizing the situation.  After all, these are the same people who would have laughed at that rape joke a couple of months ago, the hearty, mirthful, clutch-your-stomach kind of laughter, you'd think the person telling the joke was Chris f*cking Rock.  Next to that, what is a catcall but a mere punchline to another joke? It hardly merits the hysteria that it appears to have provoked among women, of all things!  Women, who should be flattered and eternally grateful to men who compliment them on their looks, with an orchestra of boisterous sound effects to boot!
I mean, really. Those women who can't accept the approving leer of an admiring man—they must be lesbians, right?  Or militant feminists so caught up in the ongoing battle for equality and respect between the sexes that they have forgotten what it means to be soft, and pretty, and acquiescent, and yes, feminine.  They must hate men so much that they cannot even accept a sincere compliment.  And you can't get a more raucous and public seal of approval than a catcall.
And how can something as innocuous and inconsequential as catcalling even be considered sexual harassment? Geez, women should lighten up, really!  It's just a form of appreciation, right?  Bestowed by men who pass judgment on women they deem as having, to a greater or lesser degree, attractive attributes.  I mean, instead of getting all riled up, we should pity the woman who never gets whistled at by men, who never elicits a leery grin from them, who never makes them want to roll their tongues across their lips with playful suggestiveness!  She must be one ugly b*tch, right?
Except that it's not innocuous, and it's not inconsequential.  It is a form of sexual harassment. And it's certainly not funny.
Catcalling—and the attendant wolf-whistles and lewd gestures that make up the catcaller's tired and unimaginative repertoire—is not a form of flattery. And it is not harmless. It is an affront to a woman's dignity, devaluing her worth and reducing her to nothing more than a sexual object.  It is an assertion of a power structure that makes men the sole arbiters of a woman's attractiveness or desirability.  It perpetuates a system built on massaging male egos and upholding male privilege and entitlement that makes the male opinion the only one that matters. It reinforces a culture that exalts men and trivializes women so that their claims of harassment, abuse, and rape are dismissed as continuing evidence of our propensity toward exaggeration, drama, and histrionics, therefore unreliable, unhinged, wildly inventive, and therefore insignificant—laughably insignificant, in fact.
It's the same attitude that lays the blame of assault squarely on the woman's shoulders, absolving the man of all culpability.  After all, she was dressed that way, so she asked for it.  She provoked him, so she asked for it.  She didn't give him what he wanted, so she asked for it.  She wasn't doing anything, so she asked for it.
But she didn't.  And she never did.  How men—and, unfortunately, quite a few women—fail to see the flawed logic in this argument continues to shock, infuriate, and sadden me.  This pervasive mentality insults women as much as men, wresting agency from both, pitting them against each other in an adversarial rather than equal power dynamic, in which one is always in a position of privilege, whether apparent or implied, and the other, a position of inferiority.
It's as cunning as it is dangerous, placing the responsibility for avoiding any kind of attack—verbal, emotional, physical, and sexual—on women, and on the surface giving them the power, it would seem, to make themselves unattractive and therefore invisible, while simultaneously infantilizing men to the point of being unable to control their dicks, yet in a twisted way, giving them all the power to assert control over the ensuing narrative.
Recently, my daughter listened in horror to the tale of a young girl, a high school senior, who had apparently been assaulted during Batch Bora. The girl telling the story, another high school student, remarked that the victim had asked for it.
"She wanted to get raped," she commented.
"Yes," her mother added, in a disapproving tone, "She wanted to get raped."
Good manners were the only thing that prevented my daughter from standing up and walking away from the table in disgust.  NO. ONE. WANTS. TO. GET. RAPED.  I repeat, NO ONE. The victim may have wanted to get drunk.  She may have wanted to party like mad.  She may have wanted to get laid.  But she sure as hell didn't want to get raped.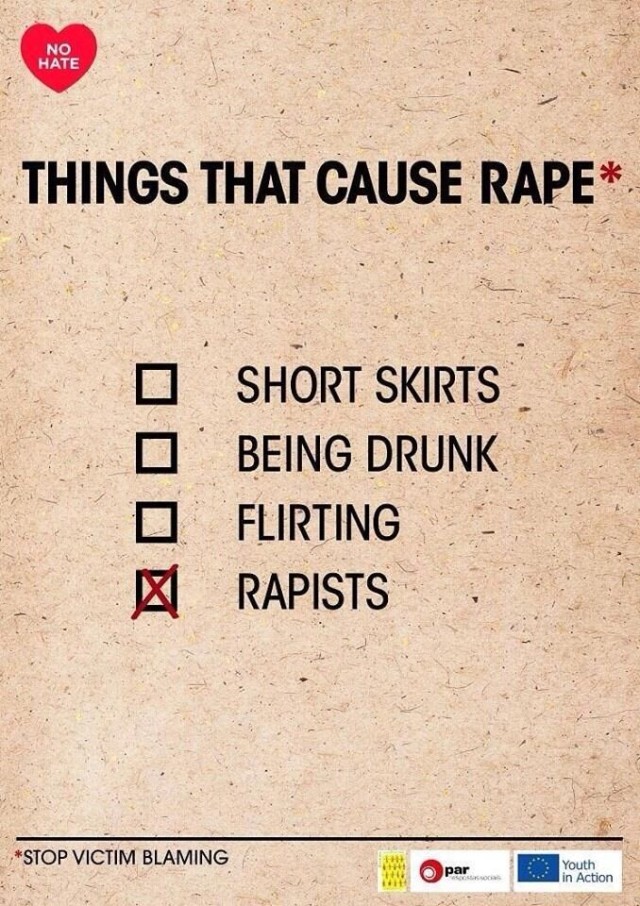 Just as that female journalist didn't want—or expect—to get catcalled in response to a serious and perfectly valid question she posed as a media professional in a press conference.  The fact that everyone else thought it was funny and laughed along, just like they did with that rape joke, is a glaring indication of how little regard, despite all our protestations to the contrary, we have for women in this country—for  their worth beyond sexual objectification, for any opinions and accomplishments they may have. It reinforces the notion that every hint of obscenity, every act of indecency, every gesture of violence towards women is somehow permissible, somehow acceptable, somehow excusable, and very much warranted.
And the elevation of this to normal and unremarkable, hilarious, even, is chilling.
We are locked in a dysfunctional, warped, and perverse relationship with a government headed by a misogynist wrapped in the dubious garb of tough-talking, straight-shooting, no-bullshit authenticity. As if a preference for peppering one's speech with expletives and threats—not to mention leers and catcalls—were a sign of realness.
It is, in many ways, a BDSM mind f*ck, and we're pretty much restrained, not even with silk bows, but with cheap and coarse rope, for the next six years.
And guess what?  In this kind of relationship, there is no safe word.
B. Wiser is the author of Making Love in Spanish, a novel published earlier this year by Anvil Publishing and available in National Book Store and Powerbooks, as well as online. When not assuming her Sasha Fierce alter-ego, she takes on the role of serious journalist and media consultant. 
For comments and questions, e-mail [email protected].
Disclaimer: The views expressed here are solely those of the author in her private capacity and do not in any way represent the views of Preen.ph, or any other entity of the Inquirer Group of Companies.
Art by Dorothy Guya
Follow Preen on Facebook, Instagram, and Twitter