Recent news of the proposed "vanity tax" has sparked discussion on women's right to wear makeup. Not that it would discourage them, but it's a discriminatory move to further shame women who use cosmetics.  We reiterate that no one should be taxed for using cosmetics. At the same time, no one should also dictate women (and men) on why they should or shouldn't wear makeup.
Last night, actress Bianca Umali posted a Facebook status which encouraged women to just not wear makeup and flaunt their natural beauty. Now, we see that she had well-meaning intentions for the post. However, she also made the mistake of makeup-shaming women, saying that they are "more confident about themselves WITH make up on than having LESS or NONE."
Some points we'd like to debunk:
First off, a person can be beautiful and confident with and without makeup. If they want more refined brows and pouty lips, they can fill them in. If they want to go barefaced, they can. To quote a comment by Facebook user Sharlene Bueno, "You judged those who put makeup by saying, 'We should be content with our natural beauty.' By that statement, you implied that makeup wearers are not content with what they have because they wear makeup."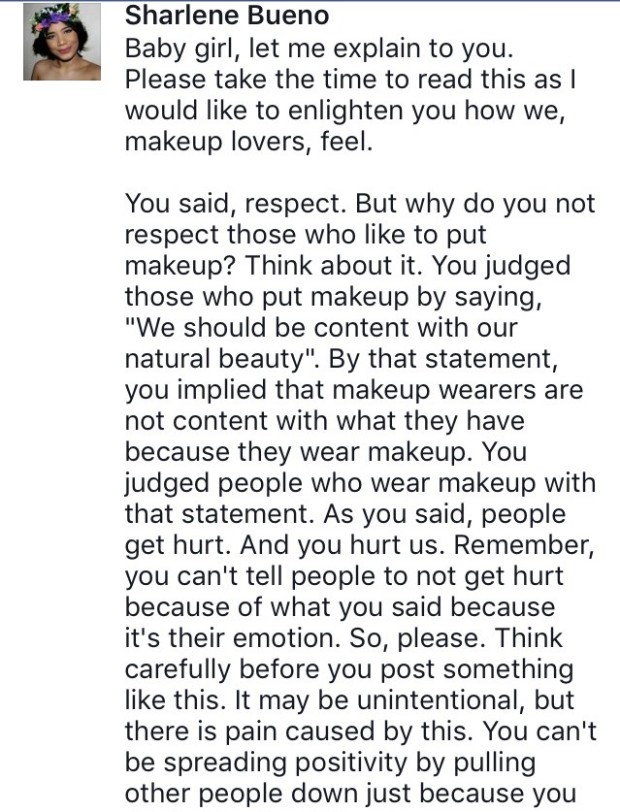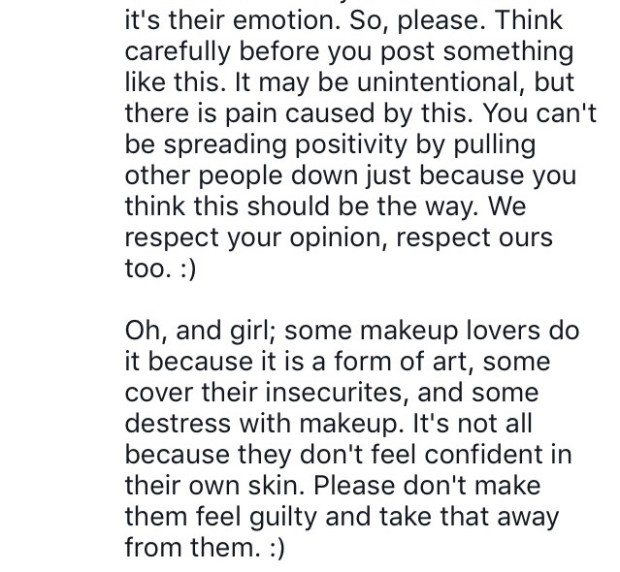 Second, makeup isn't just used to beautify oneself—it's a form of self-expression. Bianca mentions that we are all unique and that we should show off our natural beauty, and we agree. We also need to remember that some people also opt to accentuate or conceal certain features with makeup.
Bianca Umali: girls why not flaunt your faces w/o makeup on? Im just sad coz nowadays they can't leave their house w/out make up

QUEENS: pic.twitter.com/qSQ4QqtAMy

— Renz 🐞 (@renzdelaluna) January 17, 2017
John Demsey of Estée Lauder tells WWD, "Accentuating what's unique about yourself if you want to or not—honestly, there are no hard-and-fast rules—is really a celebration of more diversity, more uniqueness [and is] more unconventional, which is the new conventional now."
Lastly, we are (still) at a point where women are being oppressed, to the point that even our free will to do or not do makeup is being manipulated. There's already pressure for us to look "presentable," and when we go barefaced, we get criticized. Every makeup user, including Bianca, should know how harsh society has been for people who like to wear makeup regularly. BBC UK reported that 44 percent of women don't feel confident when they're makeup-less. So why take away the thing that makes them confident?
And just because you can go out with minimal to no makeup doesn't mean you should ruin the fun for other people.
https://twitter.com/softboitweets/status/821152819419828224
We get what you mean about expressing self-love, Bianca. But you and I can also do this by enjoying our red lips and winged liner.
Follow Preen on Facebook, Instagram, Twitter, Snapchat, and Viber