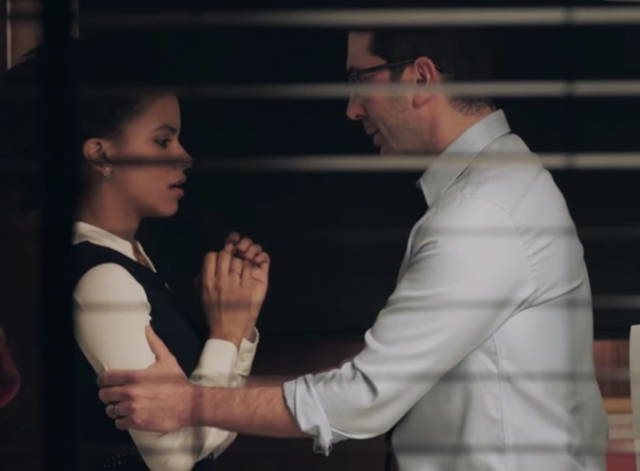 Sexual harassment in the workplace is more common than you think. What sets it apart from street harassment is that it mostly happens behind closed doors, often unknown to many. In reality, according to AWARE's latest stats, 54 percent of people—majority of them women—have experienced some form of harassment at work. These cases were either caused by colleagues or superiors.
To further highlight how rampant this is, actor David Schwimmer and director Sigal Avin came up with a series of PSAs that featured real-life incidents. The six-part series, collectively titled as "#ThatsHarassment," narrates the experiences of six women in different workplace situations.
Each video is uncomfortable and the actors' expressions almost seem real. No one wants to be put in these situations, so we're listing the warning signs that we should all watch out for based on the videos. We should all know how to identify harassment, blatant or not, and call them out.
#1 Promiscuous language and actions
In "The Coworker," two bartenders have a friendly conversation after their shift. The male bartender tells his female colleague about the creepy things that guys tend to do in the bar. This reminder of his turns from helpful to distasteful as his words gets too sexual, and even reenacts the butt-grabbing and kissing that he's warning her about.
This is similar to the sexual harassment accusation against Thinx CEO Miki Agrawal. It seems innocent to those who are doing it, but it's not a joke anymore when the receiver feels violated in some way.
#2 It's never about attraction
The men in "The Actor" and "The Boss" have similar arguments: they're attracted to the women. Hence, they feel justified to pounce on them, then apologize once they've failed. This also seems to be their (poor) way of guilt-tripping these women for not reciprocating their "romantic" feelings and actions.
Obviously, that's not okay and anyone who thinks this way deserves a slap in the face. Because if someone was truly attracted to a person, they wouldn't make inappropriate advances. Most of all, they wouldn't compromise their morality and rationale just because they can't hold their sexual urges.
#3 They take advantage of your weaknesses
It's misogynistic and downright sick when a man thinks he can overpower a woman when they are weak. That's what "The Doctor" portrayed when a woman got a surprise mammary test when she just complained about an eye problem. One would think that the doctor had every right to check every possible cause, but it's not rocket science to know that he went too far.
#4 Not part of the job description
"The Photographer" portrays the ugly reality that happens in the modeling industry. In the video, you'll see the model feeling helpless and looking uncomfortable as the photog instructs her to pleasure herself during the shoot.
This is just one example of sexual harassment in the modeling world. Last March, Models.com put out a survey on model mistreatment, which also included racism and exploitation. "Regardless of who's on the right side, the sad truth is models, more than others, censor themselves in fear of losing critical jobs," the site writes.
#5 Escape mechanism
If you're looking for a good representation of the government, you should see "The Politician." In the video, the government official stalled an interview with a female journalist for some reason—probably a delaying tactic to hide whatever mess he's in. While doing so, he offers to take her out for dinner and also touches her knee, a subtle but telling form of sexual harassment.
This reminds us of the times government officials were called out for being misogynistic in their actions. This includes catcalling a journalist during a press conference and staring at the vice-president's knees during meetings.
Screengrab from YouTube
Follow Preen on Facebook, Instagram, Twitter, Snapchat, and Viber