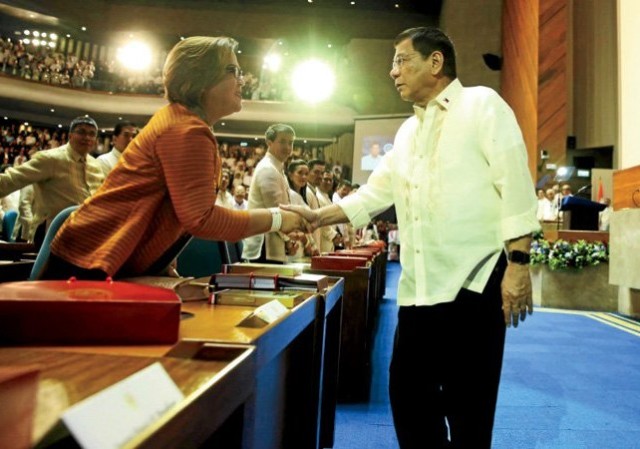 Time Magazine released the full list of their 100 Most Influential People, and Pres. Rodrigo Duterte and Sen. Leila De Lima are part of it. While many are celebrating Duterte's inclusion and questioning De Lima's, the critiques seem to say otherwise.
Former Colombian President César Gaviria was tasked to write about Duterte. Right off the bat, Gaviria mentions how there have been 7,000 drug war killings since the president's inauguration last June. He also reflected on how his similar approach to drugs didn't help the people of Colombia. "When I was President of Colombia, I was also seduced into taking a tough stance on drugs," he wrote. "But after spending billions, I discovered that the war was unwinnable and the human costs were devastating. The cure was infinitely worse than the disease."
Last February, Gaviria wrote a New York Times op-ed which advised Duterte to stop the drug war and not "repeat [his] mistakes." Of course, like with many things, Duterte didn't take it to stride and called him an "idiot" for his honest commentary.
Meanwhile, De Lima's critique was written by former UN Ambassador to the US Samantha Power. Here, she was lauded for her bravery in standing up to Duterte and fighting against the drug war. "Senator de Lima has become Duterte's most vocal critic—a role her friends call suicidal," Power wrote. "Last August de Lima convened a hearing on Duterte's drug-war killings, featuring devastating testimony from a former hit man. Duterte allies stripped de Lima of her Justice Committee chair. In February she was jailed."
No lies there, especially considering that De Lima also received misogynistic jibes from Duterte and other government officials.
The short articles from Gaviria and Power were honest and reflective of the Philippines' current situation. However, netizens seem to be ignoring this and badmouthing De Lima instead.
https://twitter.com/KateCieloTan/status/855223036668018688
The media conspiracy of inserting De Lima on @TIME 100 influential. Like a thief in the night😜

— early75 (@EEarly75) April 21, 2017
Come to think of it, #NarcoLeila de Lima is truly influential.Look how she influenced clueless @TIME #Time100 and unknwingly became her pawn

— Carm68Lu (@carm68lu) April 20, 2017
It's important to note that being part of the list doesn't always mean the person is a good influence. Duterte made an impact, locally and internationally, but not a positive one. It's the same with US Pres. Donald Trump, who was also named Time Person of the Year 2016. We should also be aware of the fact that the drug war is now an international issue, and we shouldn't brush it off further.
To see all the Time 100 honorees, you can watch the video below.
[
Inquirer.net
]
Photo courtesy of Inquirer.net
Follow Preen on Facebook, Instagram, Twitter, Snapchat, and Viber