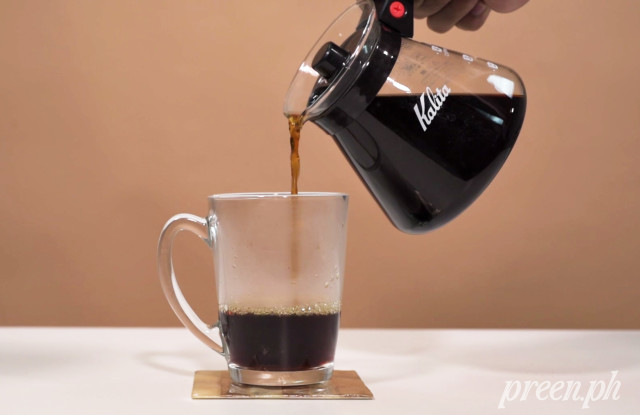 Coffee is the real reason we sometimes get up in the morning. When motivation is failing away, coffee reminds us to keep moving forward. It may sound like a hyperbole right now but I know there are times when you know what I'm talking about.
Between sugary concoctions and trendy blends from clear brews to the Unicorn Frappucino, it pays to know how to make your own brew. You can make coffee as strong as you want and when you need it. You can also make one fit for afternoon gatherings. (Affogato or coffee jelly, anyone?) Either way, you need the basics first until you nail the formula that's right for you.
https://youtu.be/s4a4asaY8KI
Brewed Coffee
Ingredients/ Materials
Coffee beans (Pick your favorite, sourced locally or otherwise)
Purified water
Coffee grinder
Measuring spoon
Weighing scale
Coffee filters
Coffee pot
Coffee dripper, you can use something like the Hario V60 Coffee Dripper or the Melita Bonavita Porcelain Immesion Dripper
Procedure
#1 Measure out your coffee beans according to the serving and caffeine you need. The standard measurement is one part of coffee to 17 parts of water. You can decrease the water to get a stronger brew.
#2 Place your beans in the grinder. Grind them until they have the consistency of coarse sand. Since you're making coffee using a pour over technique, your coffee grounds shouldn't be too fine nor too coarse.
#3 Heat your water. To achieve the best taste from your coffee, you shouldn't subject your water to a very hot temperature. Get the temperature to just 120 to 200 degrees °C
#4 Place your coffee filter in your coffee dripper over your coffee pot. Wet the filter first to get rid of the taste of paper.
#5 Dump in your coffee grounds. Wet the coffee grounds first with a small amount first, blooming the coffee. Afterwards pour the water in a spiral motion going to the center. It's important to have a continuous pace as you pour. This will take about four minutes.
#6 Serve in your favorite mug and feel free to add milk and sweeteners. Or just take it black!
Video by Nicco Santos
Special thanks to Patrick Segovia
Follow Preen on Facebook, Instagram, Twitter, Snapchat, and Viber