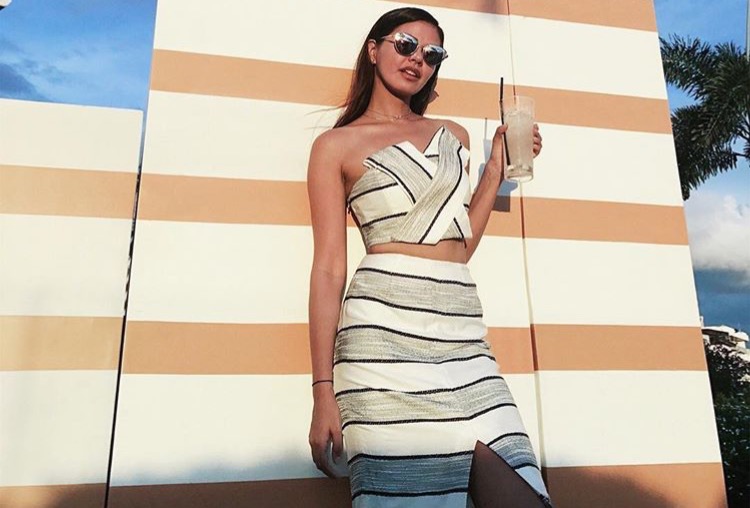 If you're unsure of  prints but tired of basic solid colors, I find stripes to be a good middle ground. You can have them in black and white if you aren't sure about going way out of your comfort zone or you can experiment with different colors to add a fun detail to your regular outfits.
It's not just me who's feeling stripey these past few days. We caught five celebrities sporting some striped pieces, all with different looks to flatter certain assets of their body or to serve a certain purpose for their respective events. Let's have a look how they did it, shall we?
Liz Uy 
For her feature in Elle Brazil, Liz opted for a white striped coat. The look screams that she means business as vertical stripes give height that helps command a room.
Isabelle Daza
Stripes can also exude a laidback vibe as seen in this loose ensemble by Isabelle Daza. With the right fit, this look and color combination will look nice on morena skintones.
Janine Gutierrez
Judging by Janine's beach side number, stripes can also accentuate your natural curves. You can mix and match horizontal lines with vertical ones to best suit your body.
Lauren Young
The same goes for Lauren as she choose a high-waist swimsuit with small black and white stripes. Why hide what you've got when you can flaunt it?
Coleen Garcia
A post shared by Coleen Garcia (@coleengarcia) on Apr 10, 2017 at 3:23am PDT
Another great pick for different body types is a shirt dress. It's easy to pull off for both casual and semi-formal occasions. Coleen used it for her trip to Thailand which also means it's a great thing to have in your suitcase too.
Catch the second leg of Preen Sessions on Facebook Live on May 21, 2 p.m. You can also post your #bodypositivity stories on Twitter and Instragram for a chance to get passes to the event.
Follow Preen on Facebook, Instagram, Twitter, Snapchat, and Viber