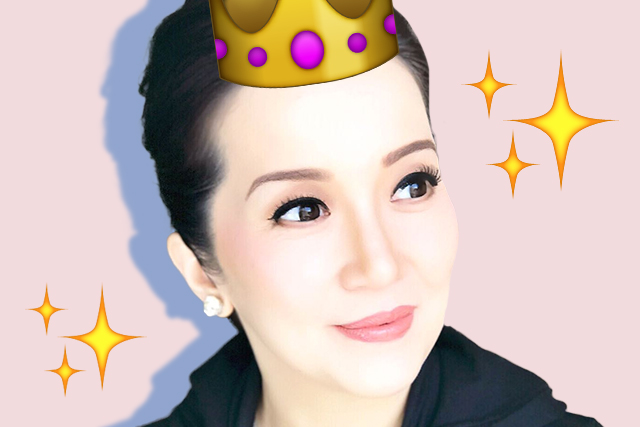 Kris Aquino may have signed a non-disclosure agreement for her major Hollywood role, but if you haven't noticed, she's been dropping a lot of hints that it's for Crazy Rich Asians.
Let us break it down for you: Days before Kris signed a Hollywood contract, she posted about Crazy Rich Asians author Kevin Kwan following her on Instagram.
https://www.instagram.com/p/BSx-uXNgKPY/?taken-by=krisaquino&hl=en
She also raved about Kevin's highly-acclaimed trilogy during a vacation trip.
https://www.instagram.com/p/BSsl_YTgh-C/?taken-by=krisaquino&hl=en
After signing the contract in Los Angeles, news broke out that she's playing a princess of either Bruneian or Malay descent. But so far, she's still not included in the official cast list which includes Henry Golding, Constance Wu, Michelle Yeoh, and Nico Santos among many others.
You may be thinking: "Oh, maybe Kris is not part of the film after all." But remember, projects like have strict non-disclosure clauses, which means she's just giving out enough hints. Meanwhile, Kris recently flew to Singapore to shoot her Hollywood film. Not to mention that she hand-carried "gowns befitting a 'princess'" made by Michael Leyva and Michael Cinco. And in case you don't know, the Crazy Rich Asians team will also start shooting in Singapore this week.
She also posted about going to costume fittings upon arriving in Singapore.
Celebrity stylist Kimi Yap, who is helping Kris with clothes shopping in SG, also posted some behind-the-scenes videos of the shoot on her Instagram Stories. (That crown emoji, though.)
And just a couple of hours ago, Kris posted a photo with Constance Wu, who's playing Rachel Chu. She didn't mention anything about the film, but we don't think they just randomly bumped into each other either.
If Kris' recent posts are any indication, then I don't know what is. She posted a photo that says, "Within each of us is a PRINCESS." Noted, Kris. You'll be playing the role of a royalty.
The next post is a portrait with a caption that indicates she's ready for the movie shoot. Yes, we spot that crown emoji. And may we note that amazing glow on her face!
Another selfie with Constance. These two look like besties by now. Also, it looks like Constance is made up for a formal affair. Could it be that Kris is one of the guest's in Colin's (Nick's best friend) wedding?
Don't worry, we'll also let you guys know if something major comes up while she's filming in Singapore.
Art by Anfernee Dy
Follow Preen on Facebook, Instagram, Twitter, Snapchat, and Viber
Related stories:
What Is Kris Aquino and the Cast of 'Crazy Rich Asians' Up To?
How Did Kris Aquino Get a Hollywood Role?
Kris Aquino Officially Signs with Los Angeles Agency
Get to Know the Actors Who'll Play the 'Crazy Rich Asians'
Another Filipino Actor Joins 'Crazy Rich Asians' Cast