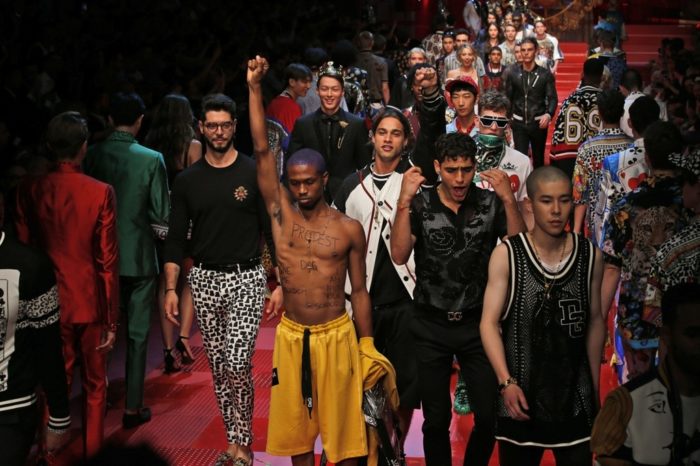 Can designer brands like Dolce & Gabbana completely steer clear from politics or is it impossible? While we save that discussion for a different article, let's zoom in on the 21-year-old artist from Stone Mountain, Georgia, who thinks it really can't mix.
His name is Raury, one of the millennial artists tapped by Dolce & Gabbana to walk for Men's Fashion Week in Milan. What they didn't expect was a millennial doing what he does best: speaking his mind in the most provocative manner. By that we mean Raury walking the show and in the end turned rogue. Raury removed his hoodie to reveal phrases "Protest D&G," "Give me freedom," and "I am not your scapegoat" as he threw his fist up in the air.
The reason? Dolce & Gabbana's mockery of the boycott that followed when they started dressing up First Lady Melania Trump. Raury found out about the #BoycottDolceGabbana campaign when he was already in Milan. Naturally, he didn't know what to do and he didn't even want to walk for the brand anymore.
"I know that if I walk out there and support or endorse anything that sits next to Trump—or support someone who even makes dinner for Trump or whatever—then that means that I support Trump also," he said to an exclusive interview with GQ. "I don't support Trump. So I'm trapped, and I have to let people know that I don't support Trump and I don't support those who are trying to undermine the voice of the people."
He talked about how he felt like nobody cares, it was all over social media yet none of these young artists and models knew what it was all about. "They were making us represent something that only I [the story behind the boycott campaign] knew what it was about. These kids are about to co-sign this, and they don't even know what it means. They're using the sh*t out of us. We're not scapegoats. You are not about to wash your hands with us. They were really pushing for me to wear it, too, specifically."
Raury even referenced to an important part of history that involved boycotts. "I really felt this mockery of boycotting. Who knows, if boycotts didn't happen, if Rosa Parks and M.L.K. didn't step up…who knows if I would even exist. Boycotting matters. Boycotting is real. Dolce's entire campaign says it's not real."
He added, "I felt like if nothing happened, then they would be right. And that T-shirt would be right. Dolce would think they can talk sh*t about people boycotting, support the first lady of a president who is very parallel to Hitler, and bring the millennials and put them in that sh*t and nothing would happen."
Right after the show, Raury made a beeline to the exit and left the premises as soon as possible. He posted about his protest on Instagram, "I never felt so alone, so terrified, yet so alive… Found myself in tears when I realized the people understood, and I'm not just screaming in the dark anymore…" he wrote. "If you're in this industry remember that there is a god, and god protects the good… So do the work when aligned to. Following my heart from this day forth knowing that I am living truth… If it ever means my end so be it."
[
Huffington Post
and
GQ
]
Photos courtesy of Raury's Instagram account and Hypebeast
Follow Preen on Facebook, Instagram, Twitter, Snapchat, and Viber
Related stories: 
Did Miley Cyrus Call Out Dolce & Gabbana for Supporting Melania Trump?
Milan Men's Fashion Week: Long Forgotten Trends Make a Comeback
#DGWoman: The Local Celebrities Who Made It on Stefano Gabbana's Instagram