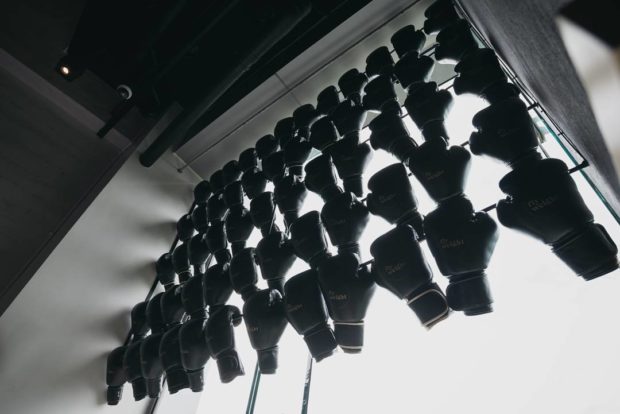 Muhammad Ali's "Float like a butterfly, sting like a bee" is a succinct way to describe the ideal boxer. Floating like a butterfly means that you should be fast and agile on your feet, dancing around your opponent so they can't catch you. Sting like a bee referring to the punches you deliver: accurate and deadly. Other than this and how to throw a punch (Your fist's power comes with how you move your body with it and you should clench your fist upon impact) is about the extent of my physical knowledge of boxing.
But that didn't stop me from joining in when my officemates decided to visit Flyweight last night to try out a session. Flyweight is a relatively new boutique fitness concept in Forbestown Road, offering group boxing classes. Coach Kat Reambillo tells us that it's a strength and core workout combined with "mixed martial arts and muay thai. It's a total body workout in 45 minutes to an hour."
Flyweight co-founder Orvin Reyes developed the idea with his partner to create a boxing-based cardio program that would burn some calories and  get you in shape. It also aimed for people who like the community spirit that comes with group classes, as opposed to isolated lessons, which is the usual norm for boxing training.
My officemates and I tried the challenger level, which is a step up from beginner but below the advanced level, which Flyweight tags as the champion level.
The class is composed of six rounds. It starts off with getting the different punches: jab, cross, hook, and upper cut. You're also reminded to maintain your form, your non-dominant leg in front while your other one is behind at an angle. You are also advised to keep your guard up, meaning your fists should always be at your cheek level to protect you face.
For six rounds, all you are faced with is a punching bag and the coach telling you of what to do per round. The pace and the order of what punches to throw changed per round. If you couldn't keep up, it's fine. You are advised to be conscious of your form and to get your own rhythm. If you wanted to stop, you are advised to stay in "active rest," which means you should jog in place, with the pressure on the balls of your feet, just like a real boxer. In between rounds, there are different stretches and workouts such as leg raises and sit-ups.
I would stop every now and then but the combination of the hip-hop music blasting loudly, the coach telling you to keep going, and your classmates doing their best, the adrenaline pumps you up. I was already winded after the first round but somehow, the third round swung by pretty easily.
It should be of note that by the third round, I had hit 2,916 steps on my FitBit (on top of the steps I had earlier in the day, the number of which I will not disclose because I'm ashamed.) My heart rate was at a healthy 125 beats per minute and I could see the sensors of my FitBit blink. It was quite happy that its usually lethargic owner was doing something with her life. I was too, FitBit.
The fourth to fifth round was a struggle. As we were asked to do windshield wipers (leg raises that went from side to side), I did more lying down than moving. But no worries, as again, you were advised to pace yourself. Unlike other group classes, there was no pressure to go a uniform speed, no "do it all together now" movement like perfectly timed robots. After all, boxing is a very instinctive sport. You hit when you feel your opponent is at its weakest.
The only problem here is that your enemy is yourself. You have to push yourself to get to the sixth round. By this time, the euphoria of accomplishment makes you perform better. It's a great anger release also when you land the right punch and perfect the combination. My heart rate was still at a steady 125 beats per minute and I had hit 5,789 steps. Active rest is the key!
The calories I burned during the session was around 2,034  if my FitBit is to believed. Not bad since they say a cup of rice has 206 calories in it. So if you're one who loves your carbs, a class can burn it out of you fast.
After the sixth round, you cool down with some stretches. The music gets a little slower. But your mind goes, "I did it! I did it!" I could feel the endorphins lift me up. It felt good, which is always a sign of a healthy workout.
Would I go back? Definitely. Is it something for those who want to burn some pounds while having fun sans the pressure of the usual exercises routine? Yes.
Just a caveat though, your entire body will feel like it was stung by bees the next day. Excuse me as this Ali-in-training needs to reach for some topical pain relievers.
Flyweight. 2/F ForbesTown Road, Bonifacio Global City. For more information, visit their website. 
Erratum: The article has been corrected to reflect the calories burned only during the boxing session. 
Photo courtesy of Flyweight's Instagram account
Follow Preen on Facebook, Instagram, Twitter, Snapchat, and Viber
Related stories: 
5 Ways to Maximize Your Fitness Tracker
9 Personalities to Follow for Daily #Fitspo Motivation
What Does It Take to Be Part of Arnold Aninion's Army?