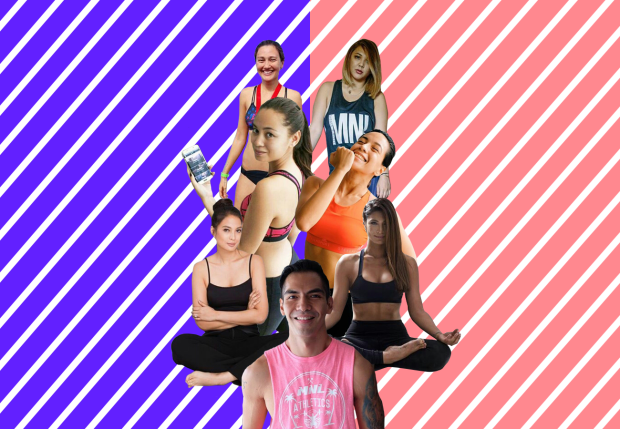 Recently, we told you how Iya Villania keeps fit even during her pregnancy and don't tell us it didn't get you motivated. But, as we also told you before, it takes a big support group to help stay in shape. Common office banter these days? "You got a FitBit? Oh, add me!"
For the more casual motivation, it's best to be glued in on a feed that you can relate to or reach. Hey, don't lie. One reason we workout is so we can post it up on our feed.
So here are some personalities who may be hardcore buffs or casual motivators to be that healthy lifestyle you want to achieve.
#1 Isabelle Daza
From filling healthy snacks, cool workout gear, and cool workout buddies, Isabelle reminds us that with a good wellness regime comes a lot of good vibes.
#2 Jigs Mayuga
In between the photos of his celebrity clients who sport some killer highlight is his lifting videos that will make you go "woah." How he can do everything he does, including travel, is how lifestyle dream.
#3 Lexi Mendiola
When you get overwhelmed by all the achievements and race medals you see, it pays to help see someone like Lexi that's chill with her posts on fitness but nonetheless motivational and click-worthy.
#4 Sam Rodriguez
As Sam told us previously, you can start a little late in your fitness routine but still be great at it. Let her new forays into fitness remind you that you can always stick to your own pace.
#5 Ruby Gan
Ruby has helped us out in picking out the right trainers and other equipment to stay fit. Savvy about the new trends and what's keeping her curious about the fitness world, she'll help you find something just right for you.
#6 Ida Paras
For those who want to take eating and exercising to the next level, to the level you can teach and eat your carbs without guilty,  Ida is your gal.
#7 Bubbles Paraiso
For those who are in the calm and balanced life that yoga gives you, you'll have to the feed off the energy of Bubbles.
#8 Stacy Rodriguez
Okay, one good motivator for staying in shape is thinking of the clothes you'll get to wear. Designer Stacy Rodriguez, who kills in it both athletic gear and Dries Van Noten will clue you in on how to do that.
#9 Sara Black
For that mix of both power and peace, Sara Black can help you both find your core and that bikini bod.
Art by Dorothy Guya
Follow Preen on Facebook, Instagram, Twitter, Snapchat, and Viber