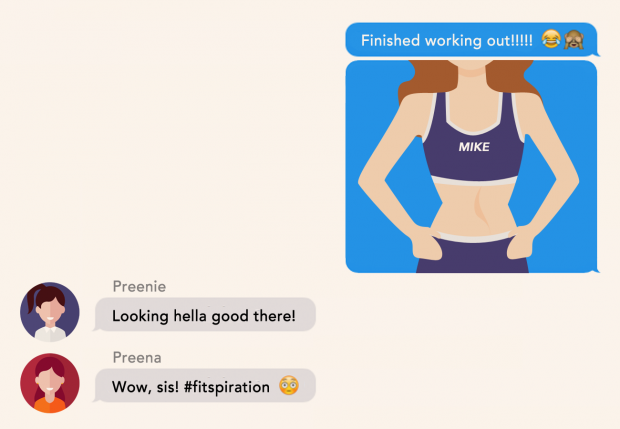 This month, we here at Preen are determined to work on our fitness. Be our witness (see what we did there?) by checking out our motivational #fitspo stories on new workout routines, the low-down on healthy eating, and the latest in athleisure every week—you know, just about everything you need to get those pulses racing.
I'm the type of person who really likes a challenge, so two years ago, when I wanted to break out of my sedentary lifestyle, I picked a workout that I knew would have me crawling—literally—to get my sexy back: Crossfit.
Now before you decide that this is another gushing tribute to how Crossfit changed my life, know that I actually had to quit the sport six months in due to osteoarthritis. And while I can't go back to it in the foreseeable future, there is one aspect of it that I look for in every workout I do: the community.
More than a workout, Crossfit feels like a team sport, where you have a group of supporters who take note of where you started and high-five you for every bit of progress you make. More than your own willpower, it's this encouragement that helps you do a little better than the last time.
As a result, most of my workouts since then have been group classes, but few boutique fitness gyms offer the same kind of camaraderie. Indoor cycling can be awkward if you don't know anyone since you're likely to be surrounded by an overenthusiastic gaggle of women who are all friends. Yoga, on the other hand, is incredibly centering, but the nature of the practice can be quite isolating. And going one-on-one with a personal trainer can be monotonous.
Also, with the rise of workout videos on YouTube like Blogilates, subscription-based streaming services to fitness trainers (even Gwyneth Paltrow's trainer Tracy Anderson offers them!), and a plethora of exercise mobile apps, it seems that people would much rather workout by themselves at home.
As a result, several online fitness communities have popped up to keep fledgling athleisure fanatics motivated and hold each other accountable for their fitness goals. If you've been needing that extra kick in the butt to finally jumpstart that exercise routine, you may want to consider signing up for these support groups. Before long, you'll be posting #thirsttraps on Instagram in time for bikini season.
The Bikini Body Guide (BBG)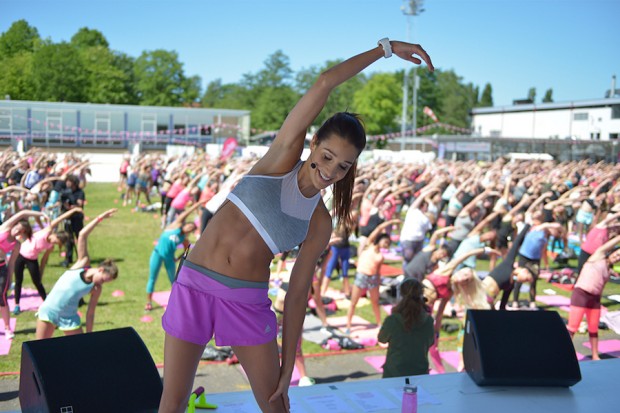 You may have heard of online fitness phenomenon Kayla Itsines and her incredibly popular Bikini Body Guides (BBG). Upon closer look, however, the exercise routines she crafted don't differ too much from the moves used in circuit training. So what's the secret? Consistency.
While Kayla regularly does her bit to motivate her clients through her 12-week program, it's really the women who do the workouts themselves who keep each other pumped. Connecting through Instagram, the members of #KaylasArmy regularly leave positive feedback on each other's photos, tag each other with recipes for healthy meals, and even mail each other little gifts to stay the course. Kayla takes that kinship a step further with her Sweat with Kayla app, which allows users to share their before-and-after photos to stay accountable, and even challenge friends to global fitness challenges.
If you're not quite ready to go public with your own fitness journey, you can also create a private group with your friends. Three times a week on WhatsApp, I send sweaty post-workout selfies to a small group of friends as proof of my participation in the day's workout. On other days, we send each other out #fitspo, food shots (even on cheat days), and Spotify workout playlists.
It's not all love and friendship, though. The caveat is that if you miss one workout, you get one strike. Each member gets three strikes in a month. If you exceed that, you are booted from the group. But hey, guess what: FOMO is a great motivator. 
Bikini Body Guide. Available at Kayla Itsines' official website.
Sweat with Kayla app. Available on iOs.
Nike Training Club (NTC)
https://www.youtube.com/watch?v=P7-5HDG7yMc
I recently participated in a grueling activity organized by Nike to celebrate the Leap Day last Feb. 29. Leading up to it, not much was revealed about what we would be doing, which was basically running and biking around the entire perimeter of Intramuros, doing an hour's worth of NTC workouts (think: high intensity interval training), topped off with some yoga. I had a blast, but I can see how that might not be everyone's idea of fun.
While you can totally organize a similar activity with your friends, you can skip the logistical headache by downloading the NTC app and gathering your girls together in a big space for a sweat sesh. (On a side note, Nike has also been organizing weekly Run Club sessions for women who have registered for their 21k half-marathon this April.)
Not much of a planner? You can also opt to do the workouts by yourself at home and add your friends through the app. The more workouts you do, the more Fuel Points are displayed on your profile. If you're the competitive type, this will keep you going. On top of that, the app features special workouts featuring Ellie Goulding, Serena Williams, and Maria Sharapova. If hearing those women egging you to do one more squat jump before collapsing doesn't keep you focused, we don't know what will.
Nike Training Club. Available on iOs and Googe Play.
Fitbit Charge HR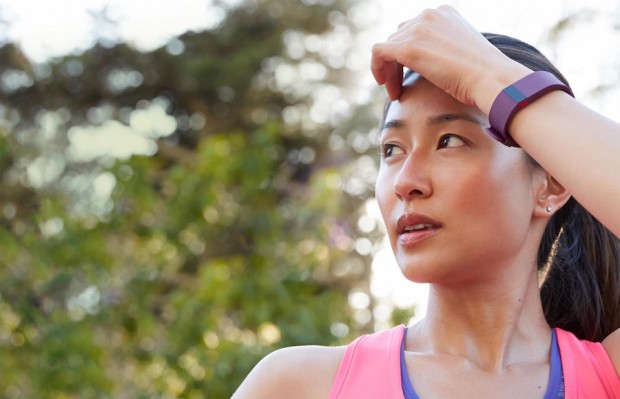 The activity trackers of yore have come a long way since your regular pedometers—heck, your smartphone can do that for you. When I got a Fitbit Charge HR for my birthday last September, I was one of three people in my social circle who owned one. Lately, however, I've been seeing more and more people sporting the telltale bands around their wrists.
What makes wearable tech like the Fitbit special isn't just its ability to track your every waking (and sleeping) moment and giving you real-time data on your sleeping patterns, the number of calories you've burned, and miles you've covered. It also gives you access to a new community of like-minded individuals who are also making conscious efforts to stay healthier.
Like the NTC app, you can connect with your friends through a Fitbit app and compare the number of steps you take with each other. Every week, Fitbit sends all of you an e-mail announcing the previous week's winner (aka the person who took the most steps). Believe me, if you have enough friends, seeing your name on top of everyone else's as the week's step winner is a huge boost to keep on going.
You can also take Fitbit Challenges with friends and family, like the Daily Showdown (to see who can take the most steps in 24 hours) or the Weekend Warrior (to make up for the workweek by outstepping each other from Saturday to Sunday).
The word "bragadocious" was created for the moments when you gloriously beat everyone else.
Fitbit Charge HR. Available at Beyond the Box and Digital Walker. For a complete list of store locations, visit Beyond the Box's official website and Digital Walker's Facebook page.
Fitbit app. Available on iOs and Google Play.
Art by Dorothy Guya