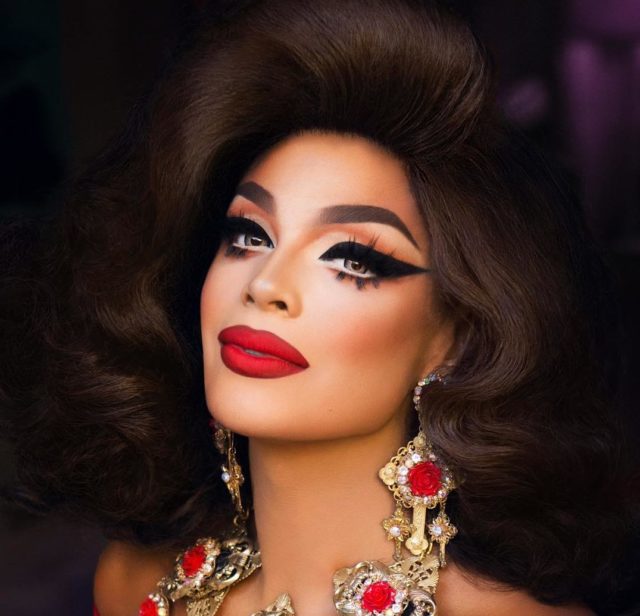 Mark Bumgarner has been getting one dream client after the other. Shortly after getting Bollywood actress Aishwarya Rai Bachchan in one of his floral creations for Cannes Film Festival, he got drag queen Valentina glammed up in a fiery red ball gown.
Valentina rose to prominence as she completed RuPaul's Drag Race season 9. She got the Miss Congeniality Award. She also got featured by Vogue for her beauty routine.
Back to the dress, though. The creation was for the finale party of RuPaul's latest season. How did it come about? Instagram! Mark tells us that he and Valentina, also known as James Leyva, got to talking via the social media platform. "We started getting acquainted on Instagram even before the season started. She was liking and commenting on my photos so when I saw her account, I instantly fell in love with her." So to everyone out there, always keep checking those DMs.
The feeling was instantly mutual for the designer and the drag queen. "We started exchanging messages and numbers," Mark tells us.
This admiration evolved. Valentina is known for her penchant for Latina and old-school glamor. "When the season started I knew I had to make her a dress. Also, some of my friends think that her style is so perfect for my aesthetic. So we started planning on the dress, long before she got eliminated in the competition," says Mark.
What was produced was a custom-made ball gown. It's amazing how the process, from conception to approval was done via WhatsApp. "I sent her a few sketches, and she liked this one the best."
Of the make, it's all premium materials of "illusion tulle, silk, and Swarovski crystal elements." Mark also adds that he just had to make sure that the gown was unmistakably from his atelier. "I wanted my signature giant bow because Valentina is larger than life."
What's more is that the designer looks like he's found another muse who gets his vision. Preen.ph asked him why he thinks Valentina liked his work. "To those who know Valentina in the show, you will understand that she has this certain style, charm, and finesse that instantly attracts anyone to her. I think [with] anything she wears, she will stand out."
Photo courtesy of Valentina's Instagram
Follow Preen on Facebook, Instagram, Twitter, Snapchat, and Viber
Related stories: 
This Bollywood Actress Rules at Cannes 2017 in Filipino Couture
Heart Evangelista and Designer Mark Bumgarner Create Hand-Painted Couture