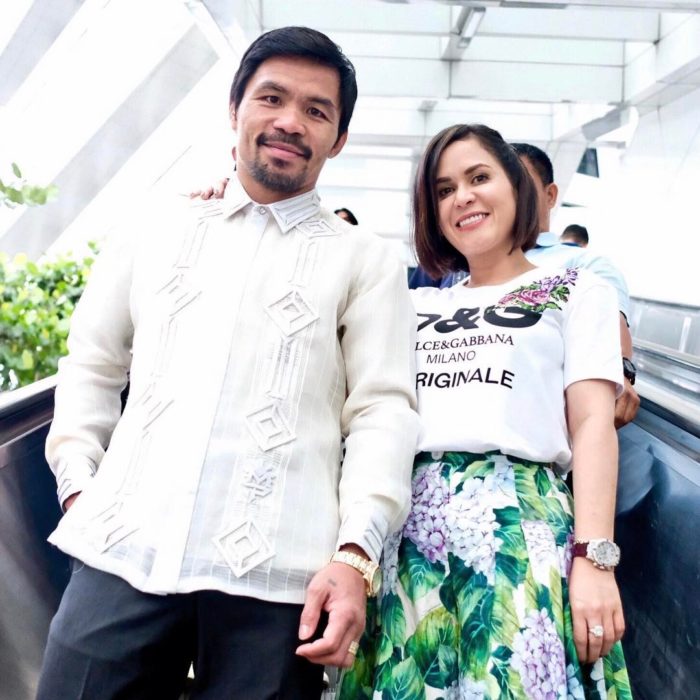 What were you doing yesterday during lunch? I was glued to the television to watch Manny Pacquiao's fight against Jeffrey Horn, which was set in Brisbane, Australia. I'm not a fan of seeing bloodied men fight in the ring, but I guess you just get carried away when everyone is watching, even if I was almost always ready to duck when it turns way too violent.
As you all know, Manny lost the fight. There's a lot of complaint online (heck, even Kobe Bryant) that the fight was not fair and our boxer should've won against the "Hornet," but that's for another story. What we're here for is to see what Manny and his family did right after that intense boxing fight. Was he brought to the hospital? Did he sleep? Did he hang out with friends?
Jinkee Pacquiao quickly joined her husband as soon as he got out of the ring and the couple took a selfie, her caption was cheesy, but sweet and it reads, "You still fought well! Still proud of you, my babe! Love you, babe! You're still our champion!"
Manny also posted the same photo and his caption read, "Tough fight but win or lose, always know that I [gave] everything I've got for the Lord, my family, my country, and my fans! Thank you for your support and congratulations to Jeff Horn. God is good!"
There were posts going around that Manny was indeed the real winner because he has Jinkee. Meanwhile, Jeff was on a hospital bed for his check-up and probably getting stitches for all his cuts. Ouch!
After what I assume to be a physical check-up, the whole family gathered for a church service right after—Jinkee and her sisters were even wearing the same looks so it can't be too long a wait. They even shared that the hotel function room got full!
You're still the country's champion, Manny. Congratulations!
Photo courtesy of Manny Pacquiao's Instagram account
Follow Preen on Facebook, Instagram, Twitter, Snapchat, and Viber
Related stories: 
I Tried a Boxing Class Geared to Knock Out the Pounds
Why Sen. Manny Pacquiao Should Extend Compassion to Transgenders
Who Broke the Downplayed Dress Code During #SONA2016
Top Sports Label Drops Manny Pacquiao as Endorser Following Controversial LGBT Remark