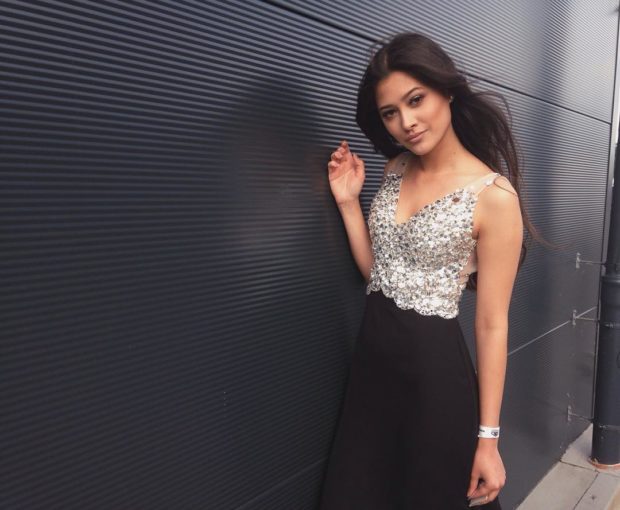 Models can be funny and offbeat, on the other hand, they can be reserved and refined. Maureen Wroblewitz falls into the latter. Moments before her big Off the Runway Meet and Greet at SM Makati, she was calm and soft-spoken. It was contrast to the crowd that screamed as they filled all the the space they could at the heart of the mall just to get a glimpse of her.
It also contrasts how she is a commanding persona in front of the camera. You don't win Asia's Next Top Model without being fierce. I guess it goes to show that you can never judge a person with just a photo, even when she's a model.
Plus, you have this feeling that Maureen's manner is just her keeping cool despite it all. It's something she also shows in her laidback style that we delved into in this interview. We forget how models are subject to great pressure and we constantly admire them for their ability to handle it with grace.
What is one fashion item you splurge on constantly?
Cropped tops.
What do you wear when you go shopping?
I usually wear casual things so it's easy for me to change and try on stuff.
What's your airport style?
Very chill. Usually leggings or just stretchy jeans. I wear a sweater because it's cold in the plane. I then just wear sneakers or anything you can take off easily.
Who is a celebrity you want to exchange closets with?
Kendall Jenner. I love her style, it can be super different. It can go from classy to edgy.
So with yourself, do you experiment or just stick to what you know?
I like to experiment as much as possible. It's nice to try new styles.
What's the latest trend you've experimented with?
Wearing band T-shirts. I used to be so girly so at first I didn't know if I could pull it off. Back in Germany, I would afraid of being judged if I followed a certain trend because people tend to judge. Where I lived, which was like the middle of nowhere, people didn't really experiment.
One item you're saving up for?
I am saving for a Céline bag. I really want one.
What's an old outfit you had that makes you embarrassed?
When I was younger, I had the worst sense of style. I would wear black jeans and then a brown tank top. I remember this outfit so well. [Laughs]
What made you realize that style wasn't for you?
I myself didn't like it. I was just afraid to buy the things I love. I couldn't make my own decisions before. Eventually, I learned to try and not be afraid.
What's your power color?
Black
The outfit that can take you from day to night?
High-waisted jeans and a cropped top. It's always that.
Photo courtesy of Maureen Wroblewitz's Instagram account
Follow Preen on Facebook, Instagram, Twitter, Snapchat, and Viber
Related stories: 
Maureen Wroblewitz's 'AsNTM' Win Is 'Sweet Vengeance' For All Filipina Runners-Up
Cop the Look: Maureen Wroblewitz's Day Time Model Flush
Does Kendall Jenner Deserve All the Hate?
Miranda Kerr and Hailey Baldwin Have Mastered Airport Style
Preen Exclusive: It Doesn't Take a Lot for Liu Wen to Survive Fashion Week