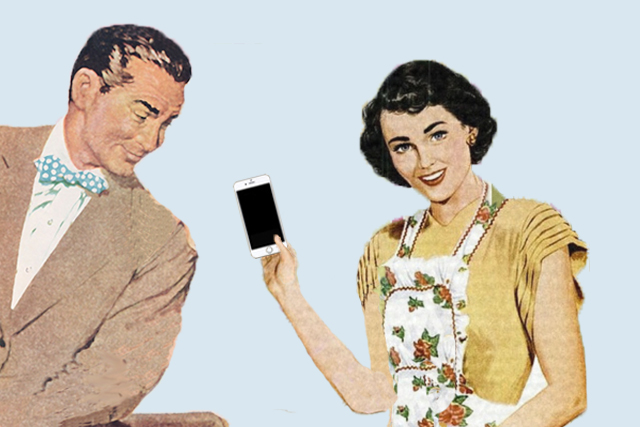 This column may contain strong language, sexual content, adult humor, and other themes that may not be suitable for minors. Parental guidance is strongly advised.
"Hi po. You want suck po?"
So began a conversation a friend recently had on Scruff, the gay dating app. While it was a pretty straightforward proposition, the addition of "po" at the end was a bit off-putting to my friend, an extremely good-looking mestizo. For the use of po may indeed be a sign of respect, but it's also an indication of class and status, an acknowledgement that there is some kind of power imbalance inherent in the intended hook-up: one being mestizo, presumably moneyed, educated, and well-travelled; the other darker-skinned, presumably working class and younger, less affluent and less sophisticated. Clearly, both parties, regardless of social class, wanted to get off, yet one—the more servile party—signaled his willingness to defer to the desires of the other, whom he perceived as outranking him. And the other, recognizing his own privilege, as well as the fact that the working class guy was also quite attractive, decided, whether subconsciously or not, to assert his position of power by ignoring the proposition, however respectfully made, to indicate that he was rather busy at the moment and would get in touch soon.
Truth be told, my friend would have been quite happy to get his d*ck sucked by someone hot, young and muscled; he was, after all, on a gay app designed for casual encounters, not relationships. But there was something about the use of po that reeked, however subtly, of obsequiousness, a willingness to "service" him and prioritize the satisfaction of the receiver, by virtue of his being of higher rank, over that of the giver, whose lower rank would seem to imply that it was his duty to perform and please.
Did the use of po mean that he, the working class boy, would, in the event that they did hook up, be the bottom and not the top?
The notion of sex with someone of a lower or higher station is not new, and applies to gay and straight people alike. There are widely circulated tales of closeted captains of industry preferring the services of a particular and difficult-to-book masahista, and a ferocious booking war often erupts between the respective businessmen. The masahista may be fantastic when it comes to services rendered, but apparently he is not the most discreet service provider in town, as he gleefully discloses details of his clients' various sexual proclivities one wants to be tied up, the other peed on, and yet another likes a bit of cosplay.
But unlike app-enabled hook-ups, the class distinctions are clearly drawn here and the encounters, while satisfying for one party, is essentially transactional for both. That's not necessarily the case on Tinder or Bumble or Grindr or Scruff. And while it does level the playing field in a way, it does blur class distinctions to a degree. Anyone with a smartphone and Facebook account can create a profile on these apps, post a profile picture that brings out the desirability in them and wait for someone to swipe right. One finds all sorts of people on these apps, from bona fide movie actors—@tinderinbrooklyn once chanced upon the verified profile of Evan Handler of Sex & the City and Californication fame; he was located a mere two miles away from her, as well as Alex Karpovsky, otherwise known as Ray in Girls—to douchebags like Martin Shkreli. And you get the proletariat, too—postmen, Uber drivers, cargadors—and why not? The desire to get off is a universal one.
And whether you meet up with someone on these apps for sex or in the hope that a romantic relationship might develop, you need to sniff out certain clues that tell you, first of all, if the virtual stranger you're intending to meet and possibly sleep with is not a serial killer; and that he or she is from a social class, and/or holding, in this polarized age, political or religious beliefs you would be comfortable exchanging a certain measure of physical intimacy with.
For my friend, the use of "po" was a dealbreaker. For another friend, the fact that she matched with a Mormon, buff as he was, was a red flag. Plus, she said, he came from a second-tier grad school. Elitist as that sounds, it was another red flag for her. He turned out to be a repressed virgin with a million hang-ups who kept making dates but cancelling them at the last minute, only to breadcrumb her all night long so that she agreed to another date that would again be cancelled. In the end she had to unmatch and block him. I once matched with an American in Hong Kong named Donald, of all things. I asked him who he was voting for. He was unabashed in his support of Trump. "Sorry, I just can't," I said to him, and promptly unmatched.
If, however, you want the dating landscape to be readily curated for you so that you match with someone that meets your high standards with regard to social class, education and industry, there are niche dating apps such as The League and BeLinked. And if you really want to weed out the "yes po" crowd altogether, there's always Luxy, which describes itself as "Tinder without the poor people."
B. Wiser is the author of Making Love in Spanish, a novel published by Anvil Publishing and available in National Book Store and Powerbooks, as well as online. When not assuming her Sasha Fierce alter-ego, she takes on the role of serious journalist and media consultant. 
For comments and questions, e-mail [email protected].
Disclaimer: The views expressed here are solely those of the author in her private capacity and do not in any way represent the views of Preen.ph, or any other entity of the Inquirer Group of Companies.
Art by Lara Intong
Follow Preen on Facebook, Instagram, Twitter, Snapchat, and Viber
Related stories:
The Guy I Fell in Love With Is Not Who I Thought He Was
Is Sleeping Together on a First Date Advisable?
The 5 Modern Dating Red Flags You Should Watch Out For
How an App Renewed My Faith In Dating Once Again