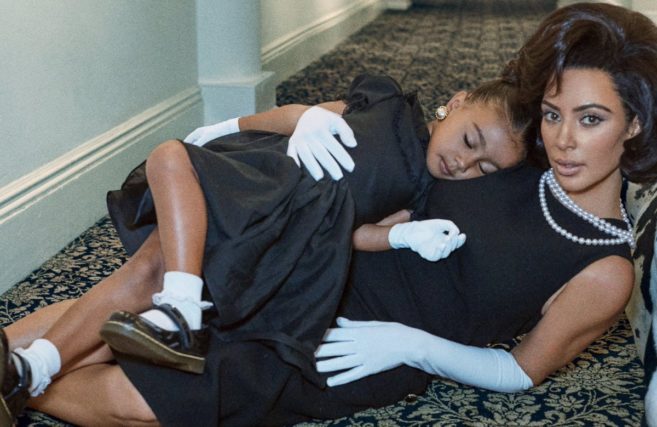 Kim Kardashian is serving us iconic American looks inspired by Jackie Kennedy in Interview Magazine's September cover.
Interview Magazine ? Steven Klein pic.twitter.com/6Um3JgOm8Q

— Kim Kardashian West (@KimKardashian) August 28, 2017
On the cover, she is seen in a textured white dress with a mock turtleneck. For accessories, she is wearing white gloves and dangling pearl earrings. Kim is photographed with daughter North West who is wearing a navy blue dress with a Peter Pan collar. The headline of the magazine reads "America's New First Lady," which is somewhat true considering what she has accomplished so far and her wide influence.
In the other photos, she is seen in a black dress with a pearl necklace and a blue coat embellished with ribbons.
I will treasure this shoot forever! Thank you @InterviewMag ?Steven Klein pic.twitter.com/NBaB4PU5ZA

— Kim Kardashian West (@KimKardashian) August 28, 2017
— Kim Kardashian West (@KimKardashian) August 28, 2017
In the feature, Kim talks about filming Keeping Up With the Kardashians, her robbery experience, and how she deals with haters. She also had this to say in response to those who say she does not work hard, "You can say a lot of things about me, but you cannot say I don't work hard. I don't sing. I don't dance. I don't act. But I am not lazy."
She also opens up about showing the kids on the show. "I obviously get a little bit more protective of my daughter because that's always been such a struggle: 'Do we have her on the show? Don't we?' We have strict rules about the kids. Some seasons they're not on at all. Some seasons they're on a little bit, just to show a bit of personality, although there are never storylines about them." However, despite being in the public eye, Kim assures that North lives a normal life at home.
What does Kim do when they're not filming? She gets up at 6:00 a.m. to work out and prepare breakfast for the family. After that, it's straight to work. "If you saw the room I'm in right now—my office—I have mood boards of so many different things in front of me; maybe 15 perfume samples sitting on my table. And then for our kids' line, I have maybe 200 samples of bathing suit fabrics that I have to go through." It comes as no surprise that she tries to find a balance between filming, work, and her family.
What do you think of Kim's looks in this feature? Are you into this clean chic look?
[
Allure
]
Photo courtesy of Kim Kardashian's Twitter account
Follow Preen on Facebook, Instagram, Twitter, Snapchat, and Viber
Related stories:
Are Your Ready for Kim Kardashian Concealers?
Cop These KKW Beauty Powder Contour Dupes For Every Skin Tone
What the Reaction to Kim K's Robbery Says About How We Treat Celebs
Caught on Cam: Kim Kardashian West Throwing Major Side Eye