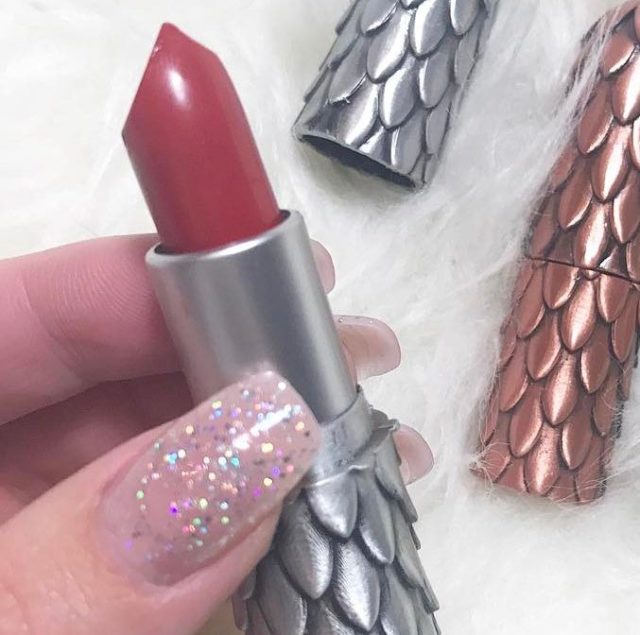 The Game of Thrones season seven finale clearly made an impact on fans. No spoilers, but we have to say that a lot of questions were answered in the episode. But if you already miss GOT and can't wait for season eight, be glad to know that Storybook Cosmetics will be selling lipsticks inspired by the show.
They teased the product earlier this year, showing three lipsticks with dragon-scale packaging in metallic silver, red, and gold. (Corresponding to each of Daenerys Targaryen's dragons.)
Their most recent announcement stated that they will roll out these lipsticks during the holidays. The shades are still a secret though, but now I know what I want for Christmas.
Storybook Cosmetics is known for their makeup inspired by fairy tales and fantasy media like Harry Potter, Beauty and the Beast, and Charlie and the Chocolate Factory. They also collaborated with Paramount Pictures for a Mean Girls eyeshadow palette.
Would you cop these dragon lipsticks once it launches? It'll look great next to the GOT-inspired deviled dragon eggs.
[
Allure
]
Follow Preen on Facebook, Instagram, Twitter, Snapchat, and Viber
Related stories:
Ranking the 'Game of Thrones' Houses After the Season 7 Finale
A 'Mean Girls' Makeup Palette Is in the Works
Get to Know the Beauty Brand that's Catching Every Geek's Heart
Be the Best Khaleesi-Slash-Chef With This Deviled Dragon Eggs Recipe
Why Red Lipstick Is Powerful and Deadly, According to History