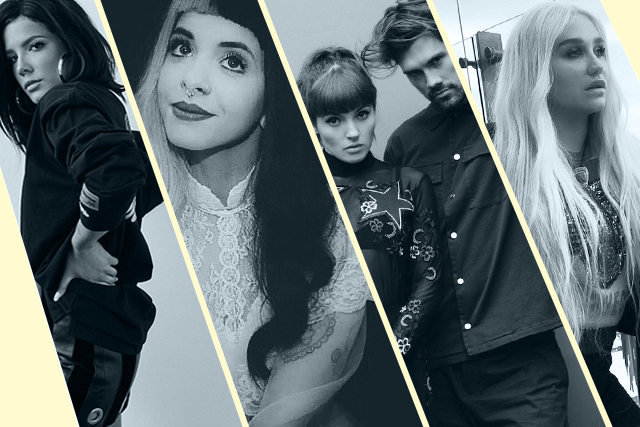 Music can be a powerful avenue to discuss topics that people are scared to touch on. Sure, we'll always have the pop party anthems and solemn love songs about first boyfriends. But recently, I've started to appreciate songs that take on mental health, abuse, and gender equality, among others.
We've listed some artists who talk about these topics in their. Go update your playlists with our picks and also listen to their other songs too. You might just pick up other themes that they're passionate about.
"Overgrown" by Oh Wonder
Oh Wonder shared before that this song addresses mental health and "the importance of recognizing that and being there for people." You'll see hints of it in the lyrics as the persona helps carry the burden of their friend.
"100 Letters" by Halsey
Halsey's latest album Hopeless Fountain Kingdom has a recurring theme about getting out of abusive relationships. "100 Letters" tells the story of a woman trying to break away from a powerful man's manipulative grasp. It also has phrases that are reminiscent of a toxic relationship.
"1-800-273-8255" by Logic
I've been listening to this song nonstop ever since Logic performed at this year's VMAs. The song title is the National Suicide Prevention's Lifeline number, and it spreads the message of mental health and suicide awareness. Logic told Genius that he wanted to make an anthem that people who are struggling can relate to, and also hopes that he can save their lives.
"Praying" by Kesha
Kesha went through a lot the past year, including the sexual assault case against her former producer Dr. Luke. Her first song after four years "Praying" is a powerful statement on standing up from adversity. In an essay on Lenny Letter, Kesha wrote that she channeled her feelings of depression and hopelessness in this empowering song, instead of creating a negative song detailing her experiences.
"Quiet" by MILCK
I first heard this song on Twitter when MILCK and a group of women sang this at the Women's March. It's an anthem for every woman to speak up and fight for their rights. Most especially in a time wherein we are receiving the short end and abused in different aspects.
"Mrs. Potato Head" by Melanie Martinez
Former The Voice contestant Melanie Martinez has made a name for herself with her baby doll persona who sings about abuse, drugs, and other issues. "Mrs. Potato Head" is a play on the Toy Story character who can change her appearance at any time. It's also a jab at the beauty standard imposed by society and how people get plastic surgery to conform to those standards.
Art by Lara Intong
Follow Preen on Facebook, Instagram, Twitter, Snapchat, and Viber
Related stories:
Why Oh Wonder's Josephine Vander Gucht and Anthony West Couldn't Say Hi to Bon Iver
Press Play: 5 Empowering Female Musicians
Ke$ha Was Told to Lie About Sexual Assault in Order to Get Her 'Freedom'
Our Favorite Protest Signs from #WomensMarch
This Playlist Will Beat Your Blues