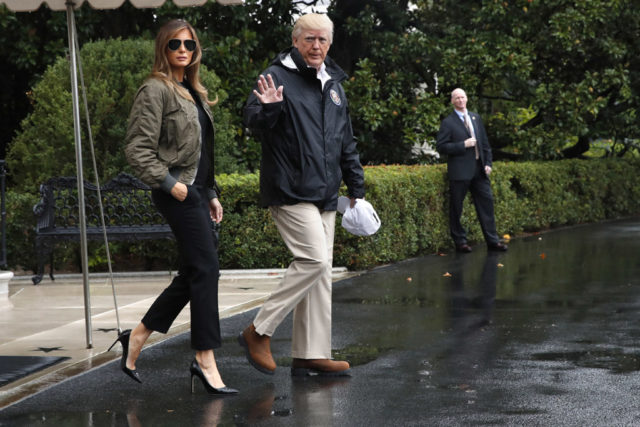 FLOTUS Melania Trump got negative feedback for what she wore when she visited Houston, Texas last Tuesday. She wore a black ensemble, an olive green bomber, and stiletto heels when she headed to the tarmac. But mind you, she landed in Houston wearing a pair of white sneakers, but as Vanity Fair said, "the proverbial damage has been done."
Melania is wearing stilettos to a hurricane zone: https://t.co/29WIwlipab

— erica orden (@eorden) August 29, 2017
Flood stilettos, by Melania. pic.twitter.com/c3onL20n8T

— Jay Kuo (@nycjayjay) August 30, 2017
Melania headed to a disaster zone in stilettos is my Halloween costume. pic.twitter.com/BWhUSKWVQ8

— Zach Braff (@zachbraff) August 29, 2017
#Melania Trump on her way to Texas, high heels instead of rubber boots. They are obviously not interested in the real distaster. pic.twitter.com/8Eji4v2ekD

— ThaiMythbuster (@thaimythbuster) August 29, 2017
Even if Melania (and Donald, actually) has been getting flak, some people still came to her defense and one is The Daily Show host Trevor Noah. In a segment on his show, just right after talking about nuclear missiles from North Korea, he brought up criticisms towards Melania and dissed them.
"I don't know why anyone should care what anyone wears when they're on their way to help people. People were like, 'Why is she wearing those heels when she's gonna help people?' Who cares? Look at the Pope. You see how he dresses? Look at that! All white with giant bling? He looks like he's going to a P. Diddy party," Trevor said. "But we don't say, 'Hey, you can't go out helping people dressed like that!'"
To his point, it's true. Poor, Melania always subjected to harsh and nitpicky feedback. She's already going through so much, okay?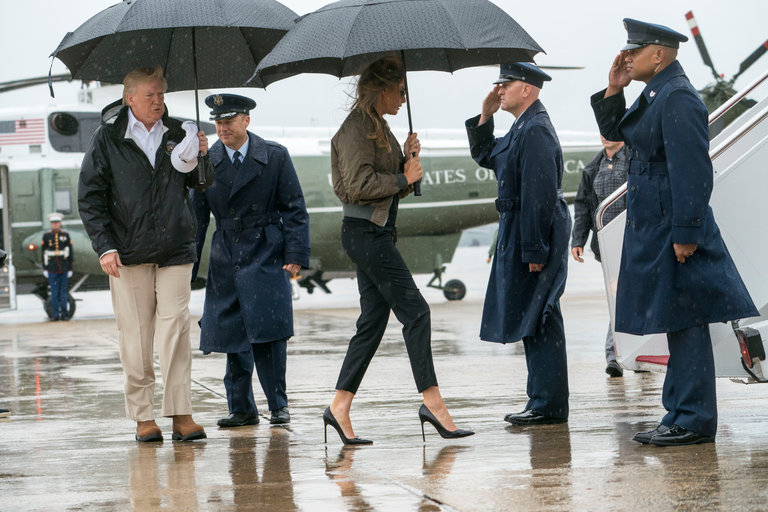 "And I know some people are like, 'Trevor, it's not about that, it's about sensitivity. You don't wear things like that to a disaster zone,' And I understand that. But in Melania's defense, she lives in a permanent disaster zone, and that's what she always wears."
Mic drop.
Donald Trump and Melania were reportedly on air longer, which was eight hours, compared to being on ground in Houston, Texas which was about three hours. They were only there to meet and check on government response, but did not visit any flooded area or even see a few victims. Now this is for a separate story!
Thank you @GovAbbott @fema @uscoastguard @RedCross & local officials for the briefing today on #HurricaneHarvey. We are with you #Texas! pic.twitter.com/vX8sLhwrh1

— Melania Trump (@FLOTUS) August 29, 2017
[
Vanity Fair
]
Photos courtesy of The New York Times and Footwear News
Follow Preen on Facebook, Instagram, Twitter, Snapchat, and Viber
Related stories:
The Curious Case of Melania Trump
Social Media Wasn't Forgiving of Donald Trump After the Second Presidential Debate
Did Miley Cyrus Call Out Dolce & Gabbana for Supporting Melania Trump?
Artist Raury on the Importance of Boycott and Why He Protested on Dolce & Gabbana's Runway
Donald Trump Has a Few Words for Tom Ford