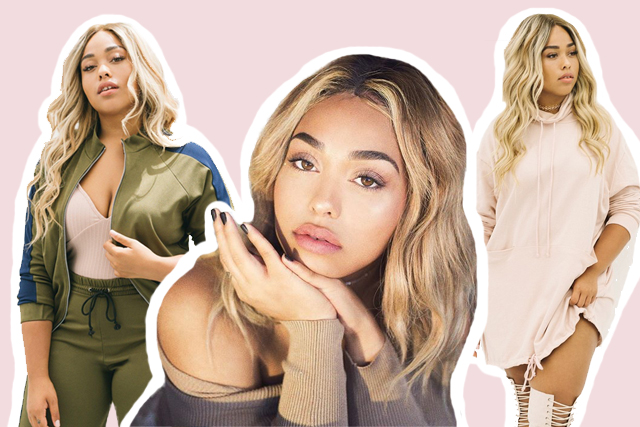 Refinery29's The Plus One recently featured perhaps one of the most recognizable best friends of the moment: Jordyn Woods. The plus-sized Wilhelmina model is Kylie Jenner's sidekick and confidant. You can't be a fan of Kylie without knowing that Jordyn is always by her side, if not the star of a few of Kylie's Snapchat videos.
Outside being the best friend, Jordyn has a whole story of her own to tell. Her dad was the sound engineer for The Fresh Prince of Bel-Air. As the feature followed her around a regular work day in New York, we found out more about the model slash upcoming designer and what it's  really like beyond what we see on the 'gram.
#1 Makeup is a professional must-have 
Jordyn got into makeup because she saw it was a job hazard not to. "I was a tomboy growing up," she said. "I never cared about this stuff until I started to hang out with girls who wore full faces of makeup. And then I was like wait, I need to get in on this!" She loves to do her brows first and she is currently using NARS for concealer, Tom Ford for bronzer, and, of course, a Kylighter. Her makeup kit, as seen above, also clues us in that she likes a Dior mascara and a Real Techniques brush. Her other beauty secret is shea butter which she applies on her elbows and knees to avoid them from looking ashy.
#2 Music mogul in the making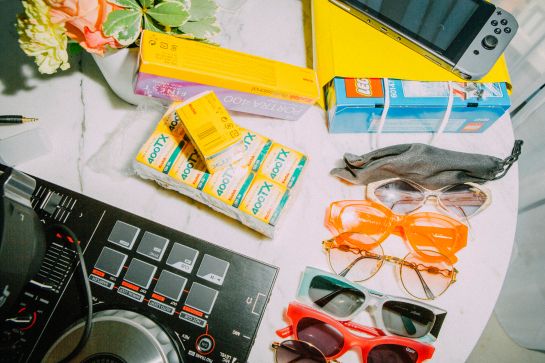 Recently, Jordyn got into making music. She bought a DJ set recently and she played for a True Religion event and one for her modeling agency. Her taste in music is pre-dominantly hip-hop and R&B. "I grew up on a lot of R&B; my mom listened to a lot of Sade, which I didn't like as a kid and now I love. I've been listening to a lot of Amy Winehouse, and SZA, obviously. I admire her because she's slowly progressing as an artist. She respects the process, and the fact that you can't just start off as Rihanna. You have to get there."
#3 She claims to be a simple girl when it comes to fashion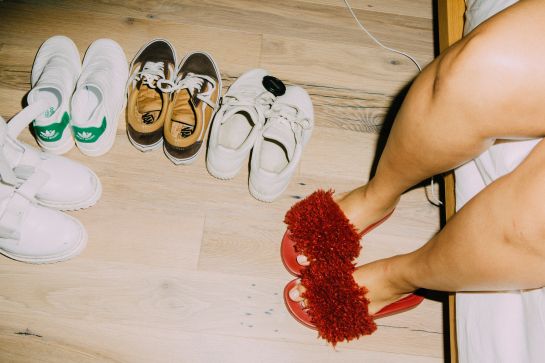 Jordyn's outfit of choice for the day is unsurprisingly casual and fun. "She walks back and forth between the closet and her mini-shoe collection, mulling over a pair of Spice Girl-esque platform Doc Martens, Vans, or the rubber Adidas that she just purchased," writes Refinery29. "She pulls out a few options, including a white latex top and a lightweight, bright orange trench. Eventually, she settles on a white linen TopShop crop top that she ties near her belly button and a pair of checkered pants. The finishing touch is a spritz of vanilla body spray from Victoria's Secret."
#4 Working hard is a must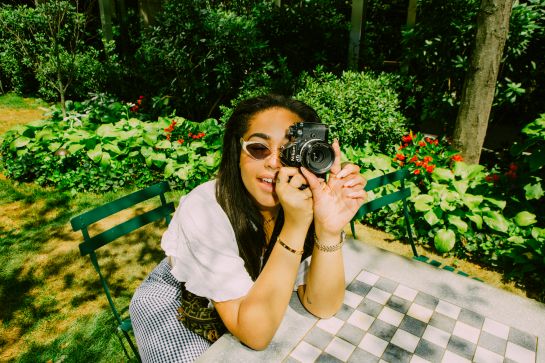 Before heading out the door, Jordyn notes how she's into photography. Fitting since she's got an Instagram following of 3.5 million. But she believes that it's always beyond the photos you see. "They see the cool stuff, but they don't know how hard I work. They don't know that I often book gigs that don't pay, or that I sleep in the tiniest hotel rooms, or that sometimes I get absolutely no sleep. I'm not a complainer, because it's all worth it, but I work hard. I understand that you can't just start at the top. I don't think that I'm famous, and I'm not trying to be. I want to be successful. You can have millions of people following you; that's not success, that's fame. But success pays your bills, success means you're comfortable, that you're happy. That's success to me."
#5 Her typical day isn't far from yours…only she lives with Kylie Jenner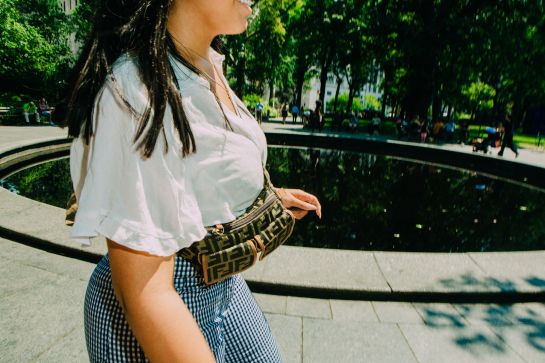 Jordyn says that indeed she and Kylie live together in Calabasas. Between takes and other projects, she claims to be normal. She says about her schedule, "…depends if I have to work or not." "If I don't, we'll just hang out with the dogs. I'm like their godmother. I try to do something active every day, like hot pilates or going for a walk. I'll get some food, a smoothie. I'm very basic. I used to turn up a lot, but in my old age, I've settled down."
#6 She wants to #droptheplus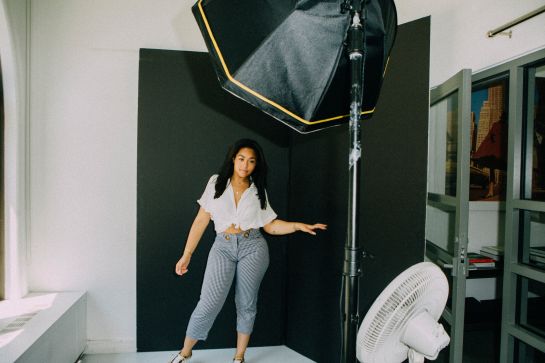 Of her modeling career and beliefs in fashion, she wants to change our perception. "I don't think we need to even use the term plus-size, I think sizing should all just be one." She also isn't afraid to call out the shortcomings in the fashion world. "There are so many shapes and sizes across this spectrum. I went to a casting in L.A., and they asked if I'd consider wearing pads to make me look bigger. My agency had told me that might be something that would happen, but I couldn't believe it. I don't want to wear something to fit your clothing, because the whole point is that your body is made how it's supposed to be."
#7 Don't doubt the friendship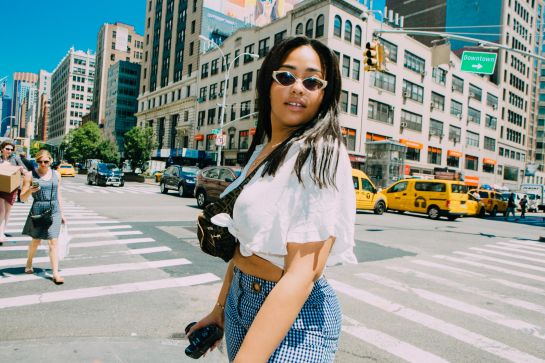 Jordyn has been called a freeloader or just simply Kylie's friend for the fringe benefits. She knows that these friendships can exist. "A lot of people are just friends for the 'gram. Like, 'We're both bloggers, so let's hang out and pretend to be cool and take photos the whole time and blog each other.' I'm very much the opposite; I hang out with someone because I'm enjoying myself. I think Kylie and I have continued to have a good relationship because we think so much alike."
In fact, Jordyn didn't even like the idea of Life of Kylie at first. "I didn't want to do the show at first. But Kylie and I are a big part of each other's lives, so if it's about her life, I'm a key player, so I'm not gonna just not come around. I figured, being with her all the time is already my life, so we might as well do it. And it turned out to be really fun, we're just super silly on the show."
But yes, she does get tired of being asked about Kylie. "It's not that I don't love Kylie to death, but it's just like, if you want to know about Kylie, you should just interview her. If you're just going to ask me questions about her, why don't you just talk to her yourself? I have so many things that I'm doing that I would love to share. If I'm promoting something, I'm not there to talk about anyone else other than myself and what I'm doing. I understand why people ask about her, because she is very popular and people want to know about her. And I love it. But I've got to focus on me, too."
Art by Lara Intong 
Photos by Alexandra R. Gavillet for Refinery29
Follow Preen on Facebook, Instagram, Twitter, Snapchat, and Viber
Related stories: 
Behind the Lip Kits and Family Feuds: What We Expect from 'Life of Kylie'
Kylie Jenner Is the Face of This Fashion and Music Collaboration
This Is What It's Like to Have a Showbiz BFF
Juliana Gomez Would Like to Thank Claudia Barretto for Her Drake Obsession