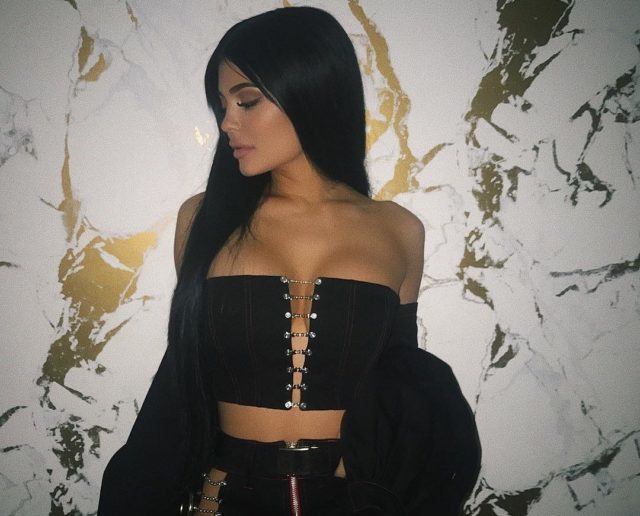 You can never get away from Kylie Jenner. Somewhere, somehow witches are chanting hypnotic spells that guarantee that every time we try to escape her hold on pop culture, the more we see her. "All hail King Kylie."
Proof is how she is coming out with a reality show, Life of Kylie. She's cashing her family's hold over reality television. Season after season of Keeping Up with the Kardashians, also brought along spin-offs. Though they didn't last long (like most of their marriages) it still brings in the checks. And it still keeps them at the top of your feed.
https://www.youtube.com/watch?v=jmLG_wtdu3Q
But it feels like the youngest Jenner is on the verge of a hit. The reality show comes after successfully creating an empire that is Kylie Cosmetics amid so much controversy, a quick shift of lovers from Tyga to Travis Scott, and even how her sister Kendall Jenner has turned to the comfort of a fidget spinner from all the bad rap she got post-Pepsi ad and Fyre Festival.
So here's the girl who's made a living out of you hating her or hating how you love her. A social media persona created out of the mammoth of today's millennial spirit quickly transforms her from a celebrity into almost a mythical creature. You never know who she really is. Plus, she's got more than enough wigs to confuse us about what she looks like.
Disclaimer though, in this show, she promises to show the person behind that image. Here's what we can expect.
#1 Inside the Kylie Cosmetics labs
the kylie kyshadow pallette vs. the shaaanxo pallette…….. interesting pic.twitter.com/6ar09mZnWl

— jennie pham (@grneggsandpham) July 26, 2016
From releasing three lip kits and despite all the issues on quality and copyright, everyone including your mom copped something from her makeup label. So maybe, this is when she'll finally clear the air about what goes into her products. Perhaps she'll reveal the secret ingredient that makes people buy it, even though there is a cheaper alternative.
#2 How she really got with Tyga

Kylie never really confronted how she and Tyga started their relationship when she was still 17. Making Tyga a statutory rapist, something that he seemed to brag about in the song "Stimulated." I want to know what she learned from her on-again, off-again relationship marked by special moments like his Ferrari birthday gift and when Tyga's baby momma Black Chyna got with Kylie's half-brother Rob.  We want to see if Kylie will finally stop being so shady about this. But then again, this whole mess, from underage dating to almost being the stepmom of your brother's adopted kid kinda comes off as gross. Okay, nevermind, Kylie. You're with Travis now. Let's move on.
#3 How many wigs does she really have?
The girl has made it her signature to make every appearance different from the next because of  how she changes up her hair style and color. Could we get a look at the wig collection Kylie has? Does she have a wig room like Cher? I'm spooked out though by the prospect of having multiple mannequin heads with wigs on in one part of my house. But that's just me. When your brother-in-law is Kanye West who meets up with Donald Trump, what can really scare you?
#4 The Cait factor
It's one thing to live your life with a camera in your face as a kid, it's another to have to watch your father transform into his true self and come out with a book that thrashes their past family life. Kim Kardashian admitted recently that Caitlyn Jenner and Kris Jenner are no longer speaking and will probably only do so because of Kendall and Kylie. Will this series offer an intense and intimate look at their bond as father and daughter despite everything? How does Kylie stay in the middle ground between the rest of her siblings and her dad? You can tell I'm already raring to watch this season debut like the soap opera you secretly watch when home alone.
#5 What she realized in 2016
Remember how everyone was cursing the "year of realizing stuff" that was 2016? Could Kylie's realizations be the secret as to why our world is both messed up and full of hope? Does she really hold all the key to unlock the universe? Kidding aside, we expect that Kylie gives us of glimpse of how she deals with bad press, the memes that make fun of every aspect of her life, and how she takes it all in stride. Or rather, as a way to bank. I can't help but think how she produced a phone case of her mother flipping the bird is Kylie's way of responding to what you think about her.
Whatever happens, better make sure you brush up on your Kardashian/Jenner speak before the show debuts on Aug. 6.
Photo courtesy of Kylie Jenner's Instagram account
Follow Preen on Facebook, Instagram, Twitter, Snapchat, and Viber
Related Stories:
No More Tyga: Kylie Jenner Is Now Dating Travis Scott
Are These New Blush Names Promoting Pedophilia?
Kylie Jenner…the Next Singing Sensation?