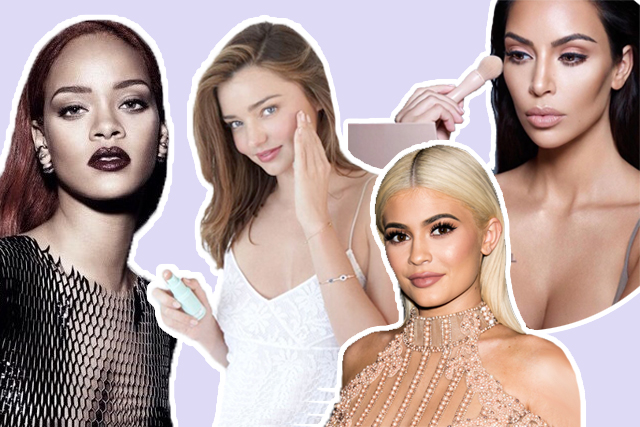 When you've made a name for yourself in one field, what stops you from conquering another empire? That's one lesson we learned from today's celebrities. Since they are always asked what their beauty secrets are, they wisened up and gave the answer in the form of a beauty line.
Hinged on their reputation, these beauty lines tend to reflect their personal beauty philosophies. You have edgy and exciting but you also have simple lines that promise an approachable standard of beauty. And sometimes, these lines are just the merch you need if you're a fan of these stars. Let's explore them, shall we?
Miranda Kerr: Kora Organics
Miranda Kerr's main beauty belief is rooted in overall wellness. She believes in the healing power of crystals that's why most of the products from her skincare line are filtered through rose quartz. She swears by her own brand that she even showcased how she used them for her wedding day makeup.
Madonna: MDNA Skin 
In 2014, the Queen of Pop launched a high-end skincare line born out of Madonna's own needs. Upon introducing the product she said, "Throughout my entire career, people have given me skincare products that I didn't like moisturizers that are too greasy, facial cleansers that dry out my skin too much, serums that when I put them on my face, I can't put make-up on afterwards. So I decided I wanted to develop a skincare line that I would actually use. So that is how it all began." Sadly, no killer dance moves come in every box from the line.
Jessica Alba: Honest Beauty 
Honest Beauty carries Jessica Alba's belief in non-toxic, eco-friendly products. The makeup line carries a full-range of items to fulfill your beauty kit needs. The packaging and execution carries an approachable feel and is designed for working women, much like Jessica herself.
Kylie Jenner: Kylie Cosmetics 
This list would be amiss without Kylie Jenner's empire that started with a set of three lip kits, capitalizing on her controversial puckers. A little close to two years after the first launch, Kylie Cosmetics is still met with much media-frenzy and sold-out collections despite limited US shipping.
Drew Barrymore: Flower Beauty 
A self-professed beauty junkie, Drew ventured into the world of makeup and skincare with flower beauty. The brand has gathered quite a loyal following that it has even expanded into fragrances. A previous sighting of Drew in Manila also sparked rumors the Hollywood star might be bringing the line to local shores. Keeping our fingers crossed for this!
Rihanna: Fenty Beauty 
Launching tomorrow, Fenty Beauty is just as badass as Rihanna herself. The teasers alone speak of Rih's commitment to diversity in beauty. The much-awaited line will boast of 40 foundation shades to cater to every skin tone apart from exciting lip glosses and metallic highlighters.
Blac Chyna: Lashed Cosmetics
Before Rob, Tyga, and all the drama, don't forget how Blac Chyna earned her coin through beauty. Lashed Cosmetics isn't for the no-makeup makeup lover. With dramatic lashes and popping lip colors, the model's beauty label is certainly for the #girlboss.
Gwyneth Paltrow: Goop by Juice Beauty 
Purveyor of all things extra, Gwyneth Paltrow teamed up with organic beauty company Juice Beauty for her Goop line. The night creams, exfoliators, and moisturizers cost around $90 at minimum but promise "…powerful organic ingredients infused into high-tech formulas that deliver immediate and ongoing results."
Kim Kardashian: KKW Beauty 
Never late to what's hot, Kim nabbed more checks with the launch of KKW Beauty. Her sold-out cream contour and highlight sticks only added to the anticipation to the equally-popular powder kits. She also hinted recently that she will add concealers and nude lipsticks to her line.
Eva Mendes: Circa Beauty
We previously tried to uncover how Eva Mendes stays glowy at 43 years old. If you need some help, her beauty line might just help. At affordable prices, Eva's line of makeup products aim to marry "classic and contemporary Hollywood, bringing red carpet ready looks mixed with everyday wearable colors." Can't say no to that!
Art by Lara Intong 
Follow Preen on Facebook, Instagram, Twitter, Snapchat, and Viber
Related stories: 
Why Crystals Are Miranda Kerr's Ultimate Beauty Secret
Cop These KKW Beauty Powder Contour Dupes For Every Skin Tone
How Does Eva Mendes Stay Glowy and Healthy at 43?
Where to Get Drew Barrymore's #BeautyJunkieWeek Picks?