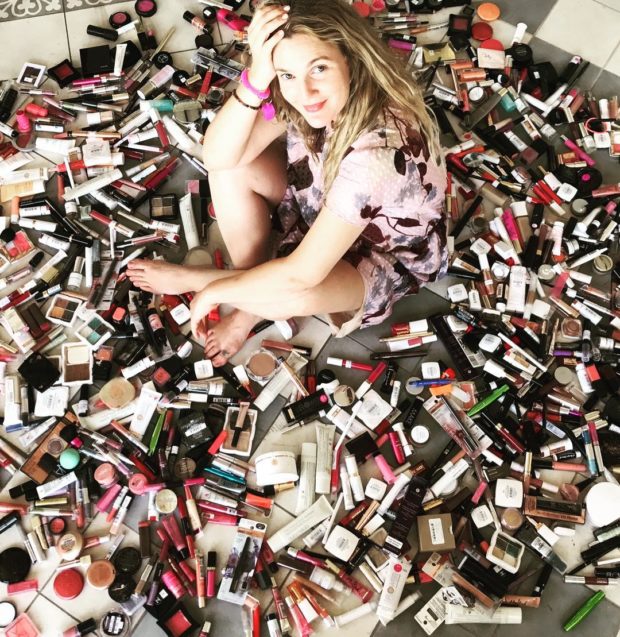 Drew Barrymore, one of Hollywood's favorite rom-com stars and beauty line owner, blessed us with an insider's look at her vanity with #BeautyJunkieWeek.
The days were filled with her various picks along with the backstories as to why she liked them. What we found are reliable favorites (Nothing beats a Shu Uemura eyelash curler, it seems) to practical needs like laundry stain remover (Hollywood Stars: They get coffee on their shirt like you do!)
Because we are so nosy about other people's vanities (raise your hand if you've read every other vanity raid entry out there.) and we like to sometimes copy an A-lister's stash, we put together a list of where to get Drew's top picks and alternatives to those that aren't here in the Philippines yet.
#1 Olive oil
If Liz Uy swears by the multi-purpose properties of coconut oil, Drew likes olive oil. As seen in her post, it's an all-around moisturizer for her. Get the extra-virgin one as it is the highest in quality plus possess more of the vitamins and minerals that naturally occur in olives.
Get: Olivier's & Co. Organic Inches Extra Virgin Olive Oil. Available at Greenbelt 5.
#2 Deep conditioner & hair mask
Low-maintenance? That's not Drew's style. She loves a deep conditioner and hair masks for her locks. On days when a salon treatment isn't in the schedule, we won't mind either.
Get: Hask Keratin Protein Deep Conditioner. Available at The SM Store, Makati; Aveda Dry Remedy Moisturizing Masque. Available at Greenbelt 5.
#3 Cleansing Wipes
You can either choose one pick from our facial wipes roundup, or get one of the actual products that Drew photographed. Regardless, they are a working woman's savior when it comes to busy nights or when you can just do the bare minimum of taking off your makeup after a tiring day.
Get: Dickinson's Witch Hazel Oil Controlling Towelettes. Available at select Healthy Options branches.
#4 Clay Mask
I am one person who stands by a good clay mask and Drew's a fan of them too. She goes for the one at the forefront of the mask game: GlamGlow SuperMud Treatment. Plus she makes it part of her late night chill sesh.
Get: GlamGlow SuperMud Clearing Treatment Mask. Available at The SM Store, Makati.
#5 Sheet Mask
We've discussed before how a sheet mask is the trick for red carpet worthy skin. Drew should know  this also and so she turned to Korean brand JayJun Cosmetics. This three step-mask is handy for trips as it comes with a essence and an eye cream.
Get: JayJun Cosmetics Baby Pure Shining Mask. Available at select Watson's branches.
Photo courtesy of Drew Barrymore's Instagram account
Follow Preen on Facebook, Instagram, Twitter, Snapchat, and Viber
Related stories: 
Spotted: Drew Barrymore Visits a Department Store in Manila
The Secret to Red Carpet Worthy Skin Is a Sheet Mask
5 Ways to Get the Most Out of Your Sheet Masks
Liz Uy Reveals Her Favorite $4 Face Mask on Into the Gloss