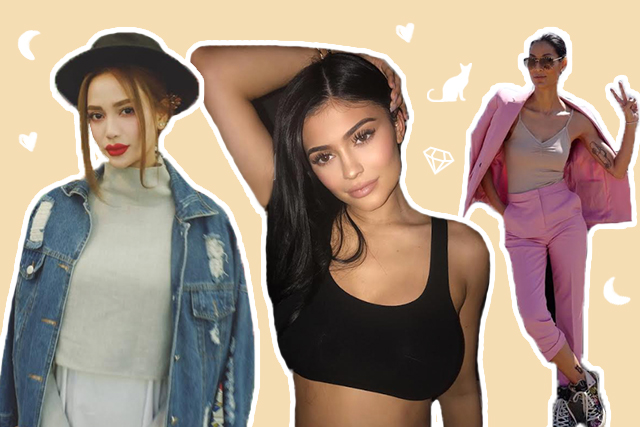 Getting a tattoo is a big decision since it's permanent so picking a design and place to put can be hard. Whether it has any meaning or not, a lot of thought goes into it. If you're looking to get your first tattoo, try starting with something small and dainty. Not only do they look great but you can build your tattoo pieces from there like these celebrities. You can pay tribute to your pets or get an eye-catching design, whatever you choose, take inspiration from Arci Muñoz and Kylie Jenner.
Arci Muñoz
Arci Muñoz is all about color so it comes as no surprise that she has colorful tattoos on her hands. On her left hand is a small crescent moon done in a watercolor finish. On her right hand are three cherry blossoms complemented by green leaves.
Joey Mead-King
Joey has a few tattoos, including one of her new car from Angelina Mead King. Her latest ink masterpiece is of her cat Felix. It's a small tattoo placed on her right ankle and it looks pretty identical if you ask me.
Kylie Jenner
Kylie Jenner has several dainty tattoos scattered on her body. She has a lower case "la" on her ankle, which used to be a letter "t" for Tyga. She also has a red heart on her left arm, "sanity" spelled phonetically on her hips, and a matching "M" tattoo with BFF Jordyn Woods.
Miley Cyrus
Miley isn't afraid to show off her tattoo covered arms as she poses for magazine covers and music videos. She has tattoos of her pets, an alien on her finger, and planets. One of her newer tattoos is a jar of vegemite, which can only be a tribute to Liam Hemsworth.
Cara Delevingne
Aside from her well-known lion tattoo, Cara has other pieces inked on her skin. She has stars and diamonds on her ear, a snake wrapped around her hand, and a pair of eyes on her neck. She even has one on the sole of her foot that reads "MADE IN ENGLAND."
Saab Magalona
Similar to a tattoo that her dad Francis M. had, Saab has three stars and a sun inked on her back. This could be a tribute to him as well as her way of showing Filipino pride.
Lauren Reid 
Lauren's tattoos are the daintiest ones we've seen yet as she has a few sprigs of flowers on her arm. She even showed her love for avocados by getting one tattooed near her elbow.
Art by Lara Intong

Follow Preen on Facebook, Instagram, Twitter, Snapchat, and Viber
Related stories:
Tattoos, Women, and Slut-Shaming: Why Does It Happen Anyway?
You Can Now Get Freckle Tattoos
Arci Muñoz and Nose Jobs: Why You Shouldn't Shame Women Who Go Under the Knife
You'll Never Guess Where Lauren Reid Loves to Go Shopping