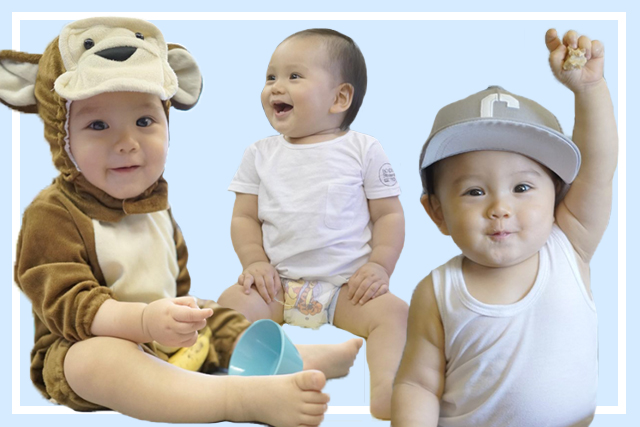 Here in the office, we love talking about cute celebrity babies. It's just our way of de-stressing while looking at their adorable photos. One in particular is Iya Villania and Drew Arellano's one-year-old son, Primo.
As time goes by, this baby is slowly showing his goofy side. Maybe that's what you get when you have parents who are just as funny. (Who can forget their Easter pregnancy announcement with matching egg puns?) I guess we're lucky that the trait is passed on to Primo as he continues to spread good vibes to everyone who sees his photos and videos. So we're rounding up some of his best moments to lessen your stress a bit.
We love Primo's cheeky smile like he's about to do something mischievous.
Momma Iya couldn't help but squish his face from too much cuteness.
His parents love dressing him up in cute onesies and costumes. Here's one where he's wearing Mickey Mouse ears.
We know how babies can be messy eaters. But it looks like Primo didn't mind that his food went all over his face.
Try not to laugh or smile while watching this video of Primo laughing. Yeah, you can't do it.
Primo cozying up on top of a big stuffed toy is our mood for the rest of the week.
He doesn't know how to play the piano or sing a coherent word yet, but Primo's still entertaining to watch.
Primo's learning to walk now. This also means that he'll follow his parents around like in this video by Drew.
Art by Lara Intong
Follow Preen on Facebook, Instagram, Twitter, Snapchat, and Viber
Related stories:
Here's a First Look at Iya Villania and Drew Arellano's Baby Boy
All the Skills and Talents Scarlet Snow Belo Can Do at Two Years Old
Baby Number Three Is on the Way For Kim Kardashian and Kanye West
Who Wore a Michael Cinco Dress and Has a Fendi Diaper Bag? Baby Zia Dantes
How Did Andi Manzano, Kim Kardashian, and Iya Villania Drop the Baby Weight?