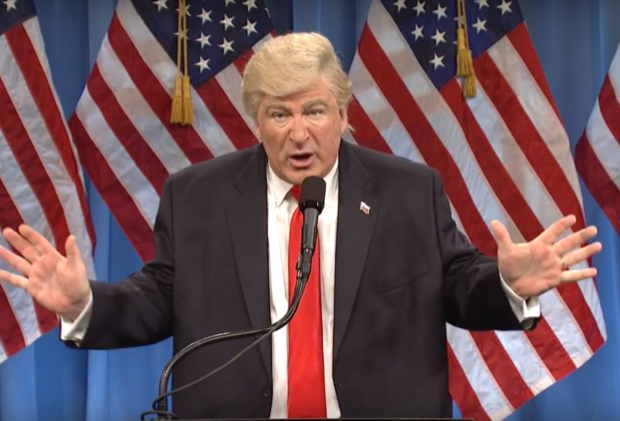 Here's the Emmy news that US President Donald Trump will probably hate. Alec Baldwin won Outstanding Supporting Actor in a Comedy Series for his Trump impression in Saturday Night Live.
In his acceptance speech, Alec still poked fun at Trump. "At long last, Mr. President, here is your Emmy," he said, pointing at the president's non-win when he still hosted The Apprentice. (Even late-night host Stephen Colbert mentioned that in a monologue.)  Alec also said that the orange wig acted as a birth control for him and his wife.
Jokes aside, Alec also reminded his fellow actors to never stop speaking up for what's right. "What we do is important; to all of you out there in motion pictures and television, don't stop doing what you're doing, the audience is counting on you."
Some netizens are already predicting what Trump would tweet later about the win. Especially since he's not the biggest fan of Alec's impersonation.
🤣😭

Stephen to Trump: "Hello, thank you for joining us. Looking forward to the tweets." #Emmys

— BuzzFeed (@BuzzFeed) September 18, 2017
Trumps tweet Tomm:

-Emmys are rigged
-Emmys are fake
-Emmys are failing

— Buckeyes (@UnitYdied2016) September 18, 2017
https://twitter.com/fuggirls/status/909592417493434368
LOL. Trump ramping up to tweet about the #Emmys pic.twitter.com/3hmIsEnemX

— Que la chinga, America? 🇵🇷 🐝 (@TerpGrad01) September 18, 2017
Meanwhile, others also virtually rolled their eyes and demanded that celebrities shouldn't be political at award shows. (Rolling our eyes at them, too.)
https://twitter.com/MarkRubello/status/909595590694195200
https://twitter.com/cinddy_m/status/909577937220919296
Hollywood is the most insecure social economic group around. Know your worth. Get back to entertainment. Politics aren't your gig. #Emmys

— Jennifer Trapp (@JennTrappNow) September 18, 2017
Congratulations, Alec! Looking forward to seeing more hilarious impersonations from you.
[
Forbes
]
Screengrab from Saturday Night Live
Follow Preen on Facebook, Instagram, Twitter, Snapchat, and Viber
Related stories:
Women of 'SNL' Take Down Trump in Beyoncé Parody
Donald Trump Should Watch More TV Award Shows
Meet Bess Kalb: The Woman Who Sons Donald Trump on the Daily
8 Emmy Moments That Will Make You Smile Today