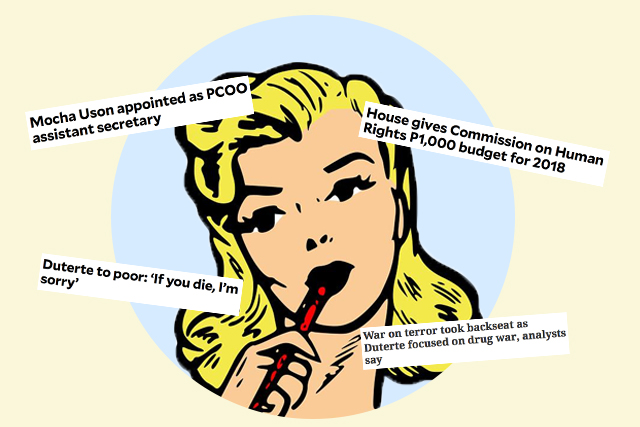 Sometimes, it can feel hopeless. There was a point a few days back when Congress proposed that the Commission on Human Rights should just be given P1,000 budget for 2018 that it seemed like people on social media were giving up on this country. On top of the various reports of killing of teenagers, the proliferation of fake news, a president who told the poor, "If you die, I'm sorry" dismissively, it felt like it wasn't possible to take it anymore.
For a few of us, it's easy to fly out and seek better shores. And one should not be begrudged for doing so. Part of the freedom we enjoy currently is how we have the choice to live wherever we want. And part of the hopelessness comes from the fact that there isn't a lot we can do as of the moment. It's not impractical to leave instead of leave and feel useless about it.
The rest of us resort to the little bubbles of comfort we have in the torrent of bad news. It's found in the funny videos and the way we are suckers for articles about cute babies. Another small freedom we enjoy and we're happy to have.
The question remains though: Is it time to give up?
It's so easy to do so anyway. Given the weight of what's going on, it's the option that we shouldn't even think about. Considering also our own personal struggles and battles, it's tempting to migrate to an island and leave the people who ignore facts, who condone extra-judicial killings, who resort to ad hominem arguments, to the Marcos apologists. Leaving them alone would be great. It would make for a less infuriating feed for one.
To this I ask another question: Do you want them to win?
In an interview with Stephen Colbert, fellow talk show host John Oliver said that "It's easy to be angry on adrenaline but it is much, much harder when you are just tired," a comment on their own political situation in the US. At this point, not even completely a year away from the horrors that started in 2016. It's clear most of us are tired. They're still are there and the fight doesn't seem to be going anywhere.
So here we are, let's assume, at the point of giving up. If we do so now, if we stop debunking fake news, if we stop fighting for human rights, if we give in to the trolls, if we let ourselves be silenced, it's not just giving up. It's conceding. It's letting everyone else win. It's letting our country down.
Perhaps it's my naturally competitive spirit, perhaps it's my pride, perhaps it's foolishness but I don't want to let them win. I don't think I should stop because it's hopeless and it's going nowhere. In a less publicized move, the House approved the budget of not just the CHR but also the other agencies that were defunded to just P1,000. In another story, someone proved how Mocha Uson's supporters may not be real at all. They are small victories but it's something that proves that all isn't lost just yet. It's also a sign that it's not over yet.
There are so many of us who want change and who are mad at what's happening. That's good. We should continue getting angry. It would be scarier if we are numbed by it. There wouldn't be any good if we accepted it all passively and never blinked an eye. The truth deserves so much more. The victims of these situations deserve so much more. We may be tired but I think we should not believe ourselves defeated. Our country and we don't deserve that mentality at all.
Art by Lara Intong 
Follow Preen on Facebook, Instagram, Twitter, Snapchat, and Viber
Related stories: 
How to Be a Man in the World of Donald Trump, Emmanuel Macron, and Rodrigo Duterte?
The Curse Words President Duterte Shouldn't Have Said During the SONA
Pres. Duterte's Cuss Words and Threats Doesn't Mean He's a Tough Guy
Why Can't Filipinos Take a Joke?