Fitness and looking after my health is something new to me, it's so new that I only started working out a few months ago. During those months, I learned that proper guidance and belonging in a community helps for a smoother transition into my new lifestyle. And I guess that's what I'm excited about for the Global Mala Project this year.
Global Mala's goal is to grow the yoga community and share the values of mindful living, sustainable practices, and collective consciousness. The movement founded by Shiva Rea is the largest unified worldwide yoga event and will happen simultaneously in different cities like London, Tokyo, San Francisco, Sydney, New York, Puerto Rico, and Los Angeles. The Manila leg headed by Shiva's student Teresa Herrera helps nurture the Philippine yoga community and the rest of Southeast Asia.
This year, it will be held in The Blue Leaf, Taguig this Sunday, Oct. 1. It's a great way to open your eyes (and body) to new forms of yoga that you've never tried before and at the same time meet fellow yogis. Yoga classes will start from 8 a.m. and will happen almost every hour until 10 p.m. tackling variations like Kundalini, Power Yoga, Vinyasa, Jivamukti, Acro Yoga (fun!), Ashtanga, Theraputic Flow (will totally join this), Traditional Hatha, Restorative, and more. There will also be other non-traditional classes like drumming and capoeira.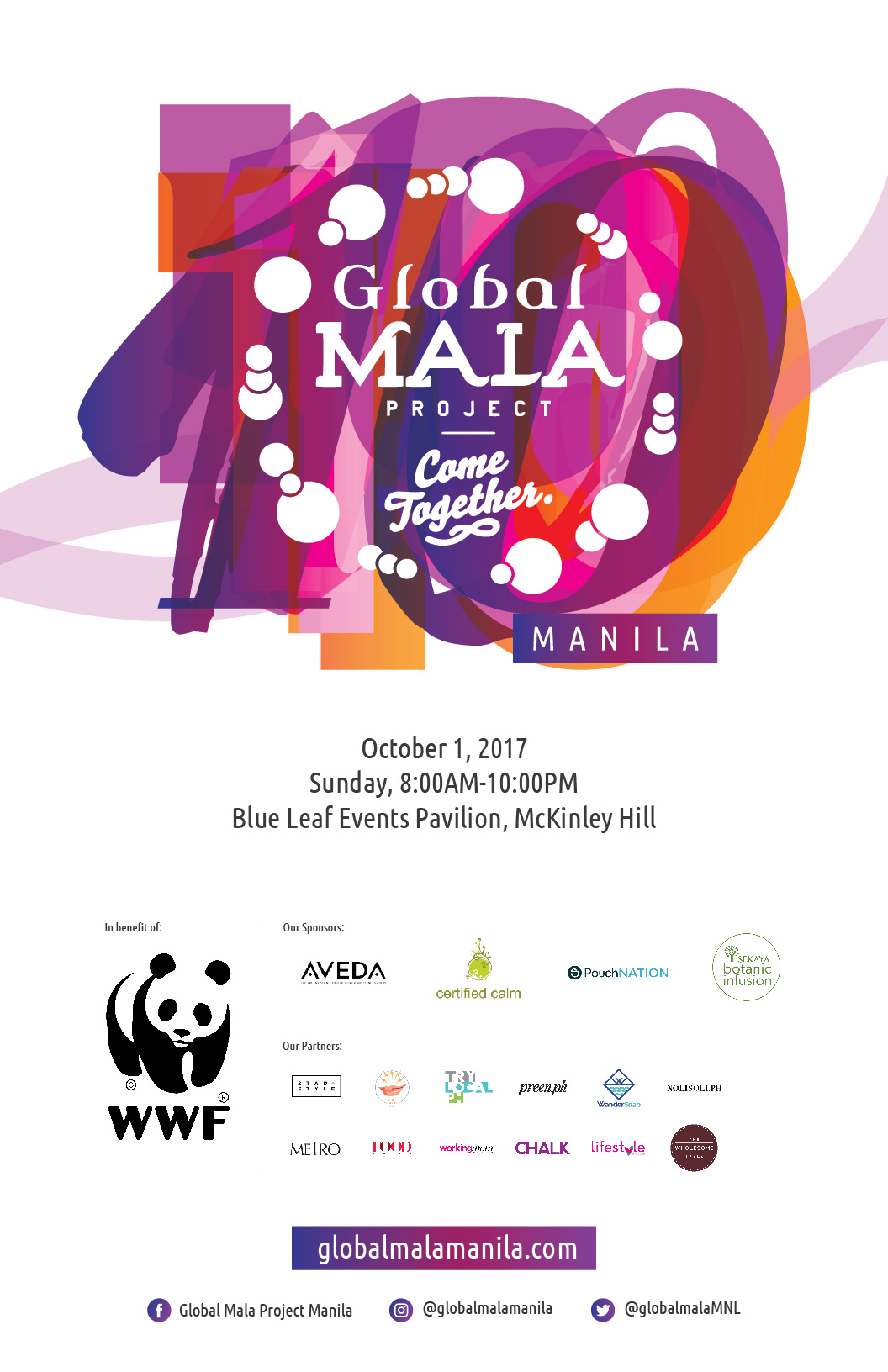 Global Mala also partnered with She Talks Asia to organize a series of encouraging and enlightening talks with varying topics such as "The Awakening of the Divine Feminine," "The Unlikely Empowerment of Modesty and Motherhood," "Affirmation and Positive Self-Talk," "My Modern Family and How I Went Beyond Blame," "Body Love: Turning Trials into Triumphs," and so, so much more. It really is a day to let your body move and restore physically and mentally!
My obvious favorite is the Mindful Market, a green space that promotes organic, natural, and sustainable products. It's an opportunity to stock up our pantries and meet suppliers that help with the healthy lifestyle. Now that's what I call building a holistic community.
So if you're new to yoga or have been practicing for years, join us as we go to Global Mala this Sunday. As they say, "The more, the merrier."
Tickets are available for purchase here.
Click the slideshow above to view the schedule. 
Photos courtesy of Global Mala Project
Follow Preen on Facebook, Instagram, Twitter, Snapchat, and Viber
Related stories:
How a Kundalini Yoga Class Can Bring Out Your Inner Glow
Cong. Pia Cayetano, Teresa Herrera, and Samantha Lee on What Women Empowerment Means
How a Yoga Class Helped the Women of the DSWD Sanctuary
Practice Yoga in the Comforts of Your Home with the NTC App
What Makes a Good Yoga Teacher?