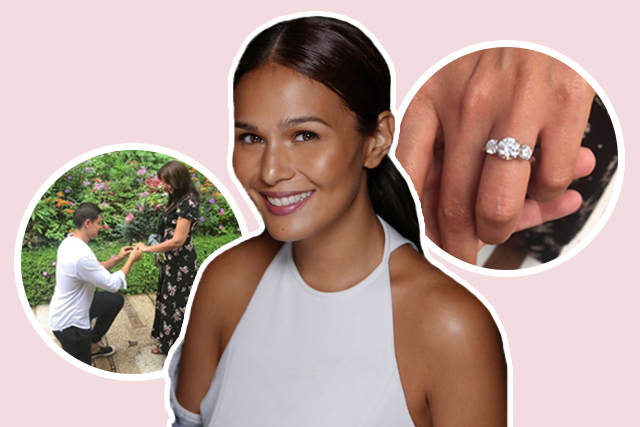 Iza Calzado got one big surprise on what was supposed to be a normal Sunday. Her boyfriend Ben Wintle proposed to her in front of family and friends at Sonya's Garden yesterday. We broke down how she had a lot of funny lines during the proposal, while Ben was willing to strip whatever her answer would have been.
All jokes aside, though, we wanted to know more about the story behind the Instagram Stories and the congratulatory posts from friends and family. In this interview with Preen.ph, Iza shares to us some details that can't be caught on camera.
What's the story behind your ring?
It was kind of my choice of ring and design. The story is I have been looking at photos of rings for a few years now, checking what I might like. I remember Isabelle Daza forcing me to follow this account, Lauren B Jewelry. I think I found this oval ring that I wanted but I figured that it wouldn't fit my fingers. I don't have the longest of fingers. Then I was talking to my jeweler Candy Dizon of Jul B. Dizon and we were chatting about rings. And if not oval, then a round-shaped solitaire one, classic.
I then had [to think about the stone], how big? We were trying to prepare for when Ben was going to buy the ring because he would probably buy it from Candy. So we saw this ring that had a stone in the middle. Candy said you can do a trio. I didn't know that. She said, "Girl, That's a D." What does that mean? She told me, "It means perfect, flawless." I really had no clue but I knew nothing about jewelry. It was like inception. She planted this idea in my head, now I want a D. Of course, I wanted something flawless. But I also didn't want Ben to overspend. I didn't want a big-sized ring that I can't wear every day. The trio was nice, but I never saw the stone they would put in the middle until yesterday. So I semi-planned and picked out my engagement ring.
I liked the trio because it's unconventional and I've always liked the Orion's Belt. And [the number] three kinda means "ILY," "Iza," and "Ben."
Prior to going to Sonya's Garden, did you have any hint that Ben Wintle was going to propose? 
Going to Sonya's Garden, I was just under the impression we were going to have a really good family lunch. Ben's mom was here and so was Ben's brother. It's nothing new and my aunt was here, a thing that was planned since last year. My mom's sister and my cousin. I was like, "Oh, finally, I can make them meet." Also my older brother was here, and my sister and younger brother. It was going to be a nice day. I dressed up because I wanted my photos taken. But I left my makeup at home. So I didn't have lipstick, barely had cheek tint. It was the one I put on at home. I just groomed my eyebrows a bit and some mascara. If I had known! But it's okay. It is what it is. I don't mind how I looked. It was just a family day Sunday where I was going to eat at my favorite places and be with my loved ones. I wanted to have photos taken because the last time we did that, my father was still alive so it was nice.
What was going through your mind a few moments before the proposal? 
Before the proposal, I was a bit stressed because my aunt semi-sprained her foot. So I left my makeup at home and other things. But we just left because we wanted to get there on time. Ben and his mom already went ahead, I didn't want them to wait so much.
I was enjoying and then suddenly the dog of Sonya came out. I have an Instagram Story where I was just following the dog, looking at the place. And then you'll see at the very end that Ben is already coming out. I wasn't nervous because I didn't know what was coming. But as soon as I saw Ben holding a big bouquet with a massive smile on his face. I was like, "What the hell?" And right behind him were two camera people. I recognized one of them as Henry, who is part of Pat Dy's team. Naguluhan ako. (I was confused.) It became like an out of body experience.
I was numb and so I kept saying "Bakit ako hindi naiiyak?" (Why am I not in tears?) I always thought I would be in tears but I couldn't feel anything. I couldn't understand what was happening. And then when it happened, it did sink in. Even now as I am giving you this message, part of me doesn't understand what's happening. I don't know if this is cloud nine but I'm still high on something.
What wedding gown are you eyeing?
For the dress, I don't have yet. Our friends Felipe and Rembrandt have offered a Vera Wang dress. We'll see. I haven't gotten that far to be honest. I'll take it one step at a time.
Prior to this, how did you and Ben approach the topic of marriage?
It's not like it's a total surprise that he was going to propose this year. We did talk about him proposing this year. I actually thought he would propose earlier in the year and I was a little pissed off. He hadn't proposed by the time I had my birthday. I was already wondering what was happening. We do talk about marriage a lot. That's the reason also why we were never in such as rush. It's not like I want to have a baby right away and that's why people want to get married so they can have baby at once. But ours is just like being mentally, financially prepared was a big thing for us.We always wanted to get married. Ben was very concerned about me wanting to have children. I have committed to one child. For now. So we'll see where it goes.
When and where do you plan to get married?
No date, no season for the wedding yet. I really don't know. Place, definitely not within Metro Manila. Probably by the beach or the water.
Art by Lara Intong 
Follow Preen on Facebook, Instagram, Twitter, Snapchat, and Viber
Related stories: 
EXCLUSIVE: Iza Calzado Gets Surprise Engagement Party in Tagaytay
How Iza Calzado, Iya Villania, and Coco Quizon Are Promoting Body Positivity
Guess Where Sarah Lahbati and Richard Gutierrez Plan to Have their Wedding
Here's a Peek at the Engagement Rings Designed By Karl Lagerfeld