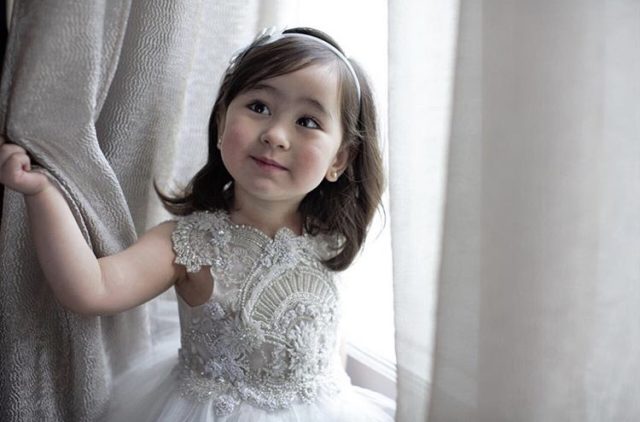 As we've mentioned numerous times before, we're just suckers for cute babies. Even more so when they pull off adorable outfits. Scarlet Snow Belo in a version of Audrey Hepburn's Givenchy look for Breakfast at Tiffany's is a perfect example of that. Insert here: Your heart melting.
The daughter of Dra. Vicki Belo and Dr. Hayden Kho seemed to be feeling the look complete with a Tiffany and Co. blue bag. Sadly, just like Audrey in the movie, she didn't really have much of a budget to buy anything in the jewelry shop.
Don't you fret, Scarlet. You still win all our attention and we're kinda jealous that though we might be able to wrangle up a similar outfit for Halloween, we won't be as cute.
The dress is a custom creation from Little Miss Lacey. Just in case you want to recreate something similar for your children.
Photo courtesy of Scarlet Snow Belo's Instagram account 
Follow Preen on Facebook, Instagram, Twitter, Snapchat, and Viber
Related stories:
Plan a Kiddie Party Like Seve Soriano's Or Scarlet Snow Belo's
All the Skills and Talents Scarlet Snow Belo Can Do at Two Years Old
10 Celebrity Babies Who Will Make Your 2017 Adorable
All of the Best Moments at Dr. Vicki Belo and Dr. Hayden Kho's Paris Wedding