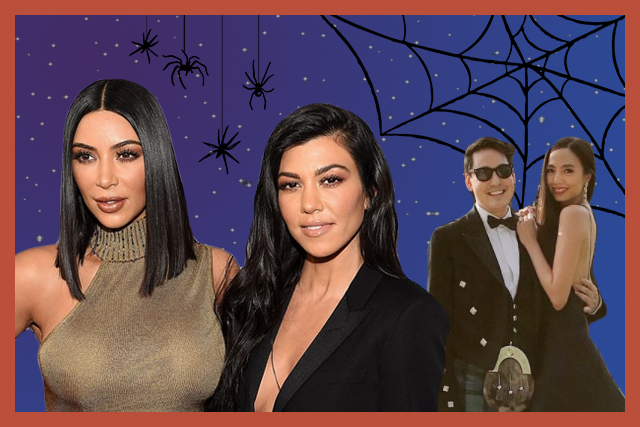 The past few days leading up to Halloween have been all about gushing over people's costumes. My personal favorites so far are the creative couple costumes from celebrities. These range from horror movie characters to pop culture references, all done with their significant others or their friends.
If you didn't participate in this year's festivities, there's always next year. Allow us to inspire your next Halloween get-up with this quick roundup of our favorite couple costumes. You'll have enough time to plan this out with those close to you.
Kim Kardashian and Kourtney Kardashian
Who remembers the photo of Madonna and Michael Jackson during the 1991 Academy Awards? If you need a nostalgic refresher, Kim and Kourtney have your back as they recreated the moment for Halloween. Kim wore a silver beaded dress with a white fur stole and jewelry, complete with a blonde wig and red lipstick. On the other hand, Kourtney sported a white embellished blazer, black leather pants, black gloves, and even curled her hair.
Jonathan Cheban and Kim Kardashian
Sonny & Cher pic.twitter.com/JMLRko409q

— Kim Kardashian West (@KimKardashian) October 28, 2017
Looks like Kim had a lot of time (and costumes) on her hands because she also dressed up as her idol Cher. She also got her BFF Jonathan to dress up as Cher's husband Sonny Bono. The resemblance is almost uncanny!
En Estrada and An Estrada
En and An looked haunting when they dressed up as grown-up versions of The Shining twins. They wore the same blue frilly dress, with their hair styled the same way, and had dark-looking eyes thanks to minimal makeup. They even posed in the middle of an empty hotel hallway for the added creep factor.
Dra. Vicki Belo and Dr. Hayden Kho
According to Vicki, the costumes were Scarlet Snow Belo's idea as she wanted to dress as a purple crayon. Naturally, Vicki and Hayden played along and wore similar outfits. This made for a cute family photo they'll always remember.
Gwyneth Paltrow and Brad Falchuk
Smartest costume goes to Gwyneth and Brad. They recreated the climactic scene in Se7en where the killer (played by Kevin Spacey) presented Brad Pitt a box containing his wife's head. Although the head wasn't shown in the movie, Gwyneth's costume is enough to quell our curiosity.
Martine Cajucom and Cliff Ho
A fitting costume for a soon-to-be married couple, Martine and Cliff dressed up as Lydia and Beetlejuice. They went all out by wearing the red wedding dress and Beetlejuice's striped suit and disheveled hair. Martine even captioned it with "Til death do us part."
Halsey and G-Eazy
Great Gatsby fans adored Halsey and rapper G-Eazy's rendition of Daisy Buchanan and Jay Gatsby. Halsey wore a glitzy '50s-inspired gown and a short blonde wig, while G-Eazy looked dapper in a white suit and a walking cane.
Zoë Kravitz and Karl Glusman
Another iconic couple is Tyler Durden and Marla Singer from Fight Club. Zoe wore an all-black outfit, a name tag, and tied her hair the same way that Marla did. Meanwhile, actor Karl Glusman wore Tyler's signature brown fur coat and red tank top.
Justin Timberlake and Jessica Biel
The Timberlake household paid homage to Pixar's Toy Story with Justin dressed as Buzz Lightyear and Jessica as Jesse. Their son Silas was a little Woody. Cute!
Jess Wilson and Moritz Gastl
We give an A+ to Jess and Moritz for recreating Britney Spears' "Oops! I Did It Again" music video. One photo, where they reenacted the necklace scene, almost looked like a proposal. (They're not engaged yet, you guys!)
Maxene Magalona and Robby Mananquil
Maxene and Robby went as Holly Golightly and Paul Varjak from Brekafast at Tiffany's. The black and white photo made it even more nostalgic.
Art by Lara Intong
Follow Preen on Facebook, Instagram, Twitter, Snapchat, and Viber
Related stories:
Scarlet Snow Belo, Kendra Kramer, and Archie Burnand Show You Their Best Halloween 2017 Costumes
Pull Off Easy Yet Creative Costumes Inspired By Lauren Conrad and Camille Co
Makeup Products to Complete Your Halloween Look
Trick or Treat? Halloween Cocktails That Are Equally Spooky and Tasty
10 Couple Halloween Costumes You Can Whip Out of Your Closet