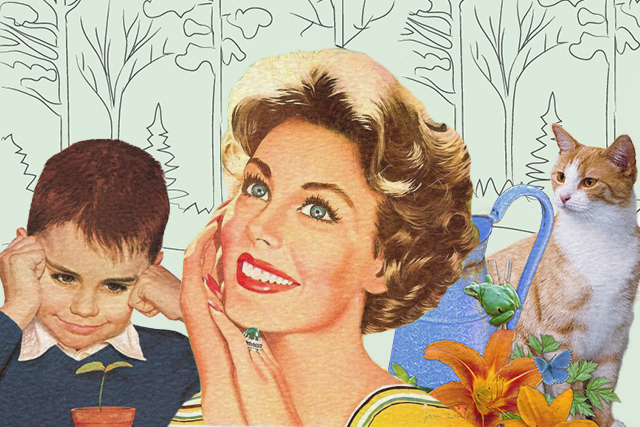 Every week, Preen tackles motherhood sans the rose-tinted glasses. Our columnists L. Juliano, Marla Darwin, Monica Eleazar-Manzano, Rossana Unson, and Ronna Capili-Bonifacio tell their personal experiences like it is—at times frustrating, oftentimes confusing, but always enlightening.
We have entered the month of Scorpio. One of my favorite and most trusted astrologers, Gahl Sasson said to become more like a Scorpio this month, no matter what your astrological sign is. The task is to open ourselves to the synchronicities of our daily lives, be curious about magic and the occult. Apparently, deep healing may occur when we become more sensitive to these cosmic forces at play.
Scorpio also happens to be the same month of Halloween. In my home, it has always been my son's favorite holiday. Yes, even more than Christmas for some intriguing reason! Perhaps, the lure of mystery and the dark arts amuses him. I have a hunch that my intuitive son, who is an old soul, has lived countless lives, some of which have been connected to the occult, just like me. We have a karmic relationship, after all! So, I try to make it extra special each year for him. This year, aside from introducing him to the most beloved Harry Potter books (on his 10th year, the same age as Harry in the first book), we were also gifted with spirit animal guides. According to the shamans of the world, spirit animal guides are messengers from another realm who choose to come into your life for various reasons.
Coincidentally, different animals have been showing up in our home and garden. In the past few weeks, there has been instances of the exact same praying mantis coming to me and hanging out by my side. I even named it Mantis Manzano on my Instagram Stories because it likes to stay on the same spot on the bed as if it were part of our family! They say that the mantis always comes to us when we need peace, quiet and calm in our lives. And I couldn't agree more!
One afternoon as I went out for our daily nature walk with my three-year-old daughter, we spotted a huge electric blue salamander by the river. To me, it was pure magic to witness this colorful amphibian in its natural habitat. I instantly knew that the Universe sent me this spirit animal for a lesson. I quickly looked up its meaning and I was surprised to find out that the salamander is a symbol for radical change, a sign to put yourself outside of your comfort zone to embody the animal's natural ability for metamorphosis. I embraced this message.
We also rescued a newborn kitten out in the field next to our home which then brought her mom and her kitten sibling into our once pet-less home. Of course, my kids have fallen in love with them. We have named the nursing mama cat Frida, one kitten Hamishi (after a book my son likes) and the other one Mayonnaise which was named by my daughter.
The last time I owned a cat must have been when I was the same age as my eldest child so I simply don't recall much on domesticating them. This led me to do online research on the wild and adorable furry animals. Apparently, in the spiritual circles, cats are considered very spiritual beings with powerful astral energy. If you are chosen by one, consider yourself blessed. I have read countless articles of cats protecting homes from unwanted spirits and the dreaded evil eye. They are also known to be conduits to the spiritual realms because of their uncanny, supernatural and paranormal abilities.
The past month has definitely taught me to be more receptive to Mother Nature and what messages it can bring to my life through its sacred beings. I have surrendered to the healing magic and the witchy arts of the Scorpio.
Disclaimer: The views expressed here are solely those of the author in her private capacity and do not in any way represent the views of Preen.ph, or any other entity of the Inquirer Group of Companies.
Art by Lara Intong
Follow Preen on Facebook, Instagram, Twitter, Snapchat, and Viber
Related stories:
What to Do With Your Spoiled Child?
How Parenting Can Give You a Lesson On Mindfulness
Your November Horoscope: Careful, Things Are Not What They Seem
Why I Harness Power from Iconic Women During Major Life Transitions