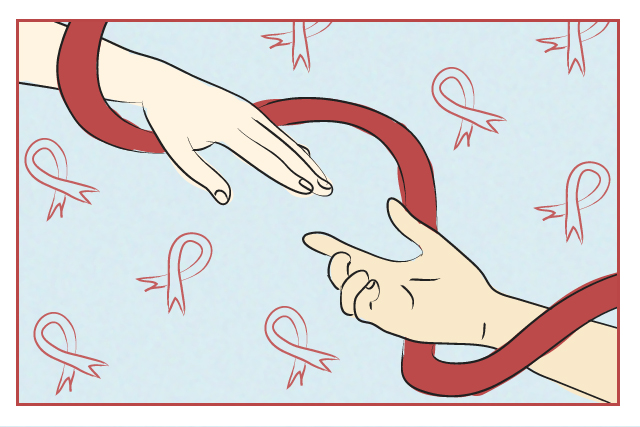 There's a difference between being knowledgeable of something and seeing it with your own eyes. I kept that in mind when we went to a hospital ward for people with HIV infections.
It started off like a regular morning: I endured the rush hour traffic and had breakfast with the MAC Viva Glam team before we were briefed on facts about HIV/AIDS. We were also told on what to do and what not to do while talking to the clients. One of the first rules was to call them "clients" and not "patients" so they don't feel pitied. It was then followed up with reminders to not ask insensitive questions and to not take photos without their permission.
Despite these, the goal of the visit was to help and give them hope amid their disease. It's so we could break the stigma that people HIV/AIDS are infectious and should be ostracized from society. Most especially after PDEA illegally disclosed an HIV-positive man amid a drug bust operation, and the comments about it were harsh and ugly.
Upon entering the ward, I admit that I was bracing myself for something that might instantly make me cry. (Luckily, I didn't.) But what welcomed us were clients who were more than willing to converse even though they felt weak.
I met a few clients in the ward. Not going to disclose anything about them to respect their privacy, but it was a delight to get to know them and their families a bit. It was also touching to hear them say that they're determined to get better so they'll get discharged from the hospital.
At that moment, I realized that those living with HIV/AIDS are just like you and me. You wouldn't know that they were afflicted unless they told you, and more importantly, their condition isn't contagious.
This is also why people shouldn't ostracize them. Instead, we should offer our support and not make them feel like having HIV is a death sentence. There is a way to treat it.
Tomorrow is also World AIDS Day so it's best to read up on the facts and spread awareness as a contribution to the cause. Go visit the clients at your nearby hospital and get to know them. Offer your support to friends who confide in you about their condition. Break the stigma that people from all walks of life should be ashamed to have this. It's about time we start treating HIV/AIDS like any other disease that needs curing and not look at it as a curse.
Art by Lara Intong
Follow Preen on Facebook, Instagram, Twitter, Snapchat, and Viber
Related stories:
Pia Wurtzbach Comes in Defense of the LGBT Community Amid Drug Bust Reports
What You Need to Know About the Pill that Prevents HIV
This Organization's New Campaign Is Taking HIV/AIDS Awareness to the Youth
This World AIDS Day, Convince a Friend to Get Tested With You
What Is HIV/AIDS Like in the Eyes of These 3 Artists?