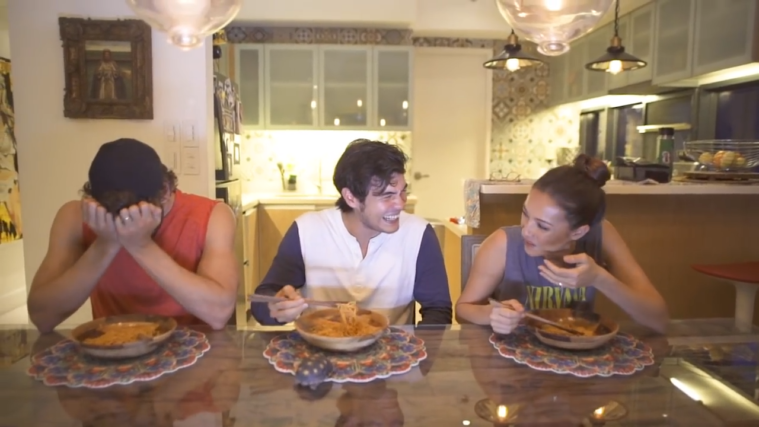 The spicy noodle challenge has been taking over the Internet and the videos are too funny to scroll past. The latest victims of this challenge are Erwan Heussaff, Solenn Heussaff, and Nico Bolzico. Erwan posted the video last night and already has over 600,000 views as of writing.

Erwan thought it was a good idea to surprise Nico with this challenge because he hates spicy food. True enough, the spice was too much for him.While preparing the noodles, Erwan and Solenn spoke to each other in French trying to prank Nico but lucky for him, he caught them. After one bite, Nico wanted to quit but Erwan and Solenn pushed him to finish. "I can't swallow this," Nico said. Erwan eventually started sweating and tearing up while Solenn stayed surprisingly fresh and calm, "Look at her. She's totally fresh," Erwan said. The spice level eventually became too much for Erwan that he tried to wash it down with some milk that was unfortunately rotten. He ended up spitting out the milk all over the floor and the three couldn't stop laughing.
Start your week with this hilarious video and watch it in full.  
Screengrab from YouTube
Follow Preen on Facebook, Instagram, Twitter, Snapchat, and Viber
Related stories:
The One Thing Nico Bolzico and Solenn Heussaff Always Fight About
What Do Solenn and Erwan Heussaff Hate About Each Other?
Why We're Thankful Solenn Heussaff Is Around
WATCH: Erwan Heussaff Gives Anne Curtis a Lap Dance at #TheWanForAnne