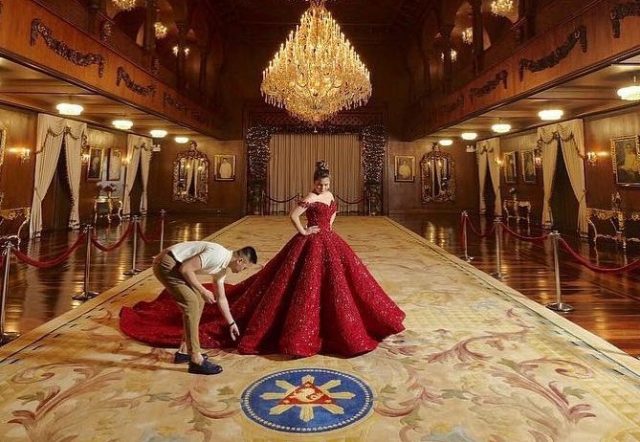 Isabelle Duterte's pre-debut shoot is getting backlash from netizens. Aside from how grand the gowns looked (including one that was shipped from Dubai), choosing the Malacañang Palace as her shoot location might be illegal.
People have pointed out a specific photo wherein Isabelle posed in front of the national coat of arms. They also quoted Executive Order No. 310 s. 2004 of the Philippine Constitution, which states the permitted and prohibited use of the symbol.
"Except as otherwise provided by law or Presidential issuance, the Coat-of-Arms, Seal, and Flag of the President of the Philippines or of the Vice President of the Philippines shall be exclusively used to represent the President of the Philippines or the Vice President of the Philippines, respectively."
The law also states that the symbol is only allowed to be reproduced on educational materials and facilities, and to embellish structures used to house presidential and vice-presidential documents. Only one provision pertained to using the seal in photographs: "Use by way of photographic or electronic visual reproduction in pictures, moving pictures, telecasts, or otherwise of bona fide news content."
Meanwhile, presidential spokesperson Harry Roque defended Isabelle's photo shoot, saying that it's no different from tourists taking photos in the Palace. "For me, there's nothing wrong with the President's granddaughter posing for birthday pictures in Malacañang," he said. "I don't think it should be an issue because they should be living in Malacañang but they chose not to do so. They're like ordinary citizens who can have their pictures taken in Malacañang."
However, there's no provision stating that civilians can freely take photos in front of the coat of arms. Plus, violating the law or any of its provisions will be "severely dealt with administratively, civilly, and criminally."
What do you think? Did Isabelle violate Executive Order No. 310?
Photo courtesy of Garimon Roferos Couture's Instagram account
Follow Preen on Facebook, Instagram, Twitter, Snapchat, and Viber
Related stories:
How Many Designer Gowns Did Isabelle Duterte Wear For Her Pre-Debut Shoot?
What Did It Take to Pull Off Isabelle Duterte's Pre-Debut Shoot?
LOOK: Pres. Duterte's Granddaughter Rocking Luxury Sneakers
A Definitive Ranking of the Top 10 Best Dressed Women at SONA 2015