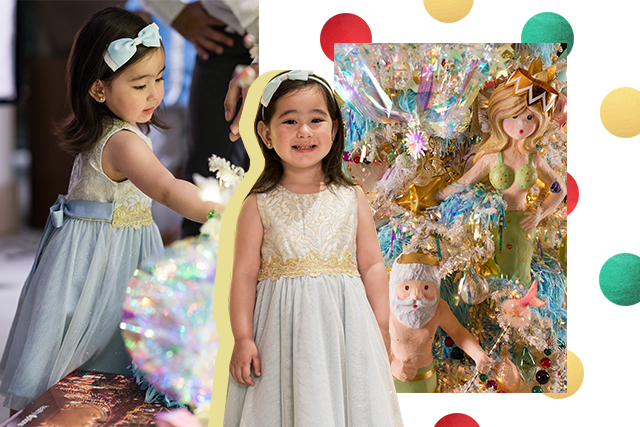 Christmas is always a great excuse to be a little extravagant. Not counting out what really matters the most: spending time with your family, catching a break from work, and being thankful for the year's blessings. Still, we get a little carried away with the lights, the festive decorations, and the Christmas trees.
Pause into the living room of the Dra. Vicki Belo, Dr. Hayden Kho, and Scarlet Snow Belo and you'll see our point. Inside you'll find a tree like no other as it's inspired by mermaids and aquatic life. It also has a special story behind it.
The tree is a creation by Stephen Brown and Bryan Crabtree of Glitterville. The duo creates various ornaments and decor that aim to "Make every day a holiday." They also make the trees for the December covers of O! Magazine. "They told me that they only make a Christmas tree for me and Oprah," says Dra. Vicki.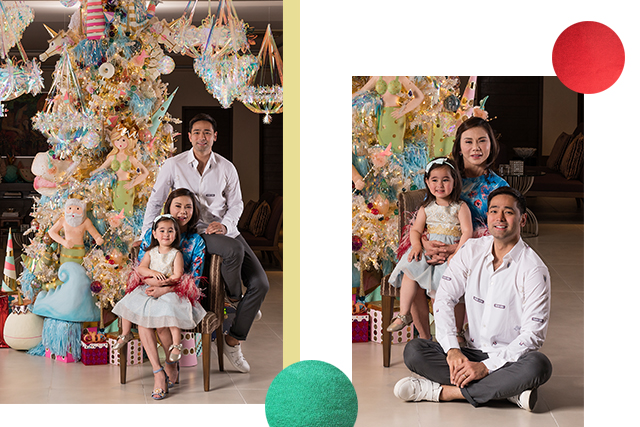 This privilege happened because Cristalle Pitt reached out to Glitterville on Instagram three years ago. Cristalle, being a fan of beautiful designs and creative minds, sent them an private message hoping she could meet them. Luckily enough, Stephen and Bryan were in town as they often source their materials from the Philippines. Shortly after, they agreed to make a tree for Dra. Vicki, in time for Scarlet's first Christmas. "The theme from that one was based from The Nutcracker Suite. We still have a few of the decor they made from that year."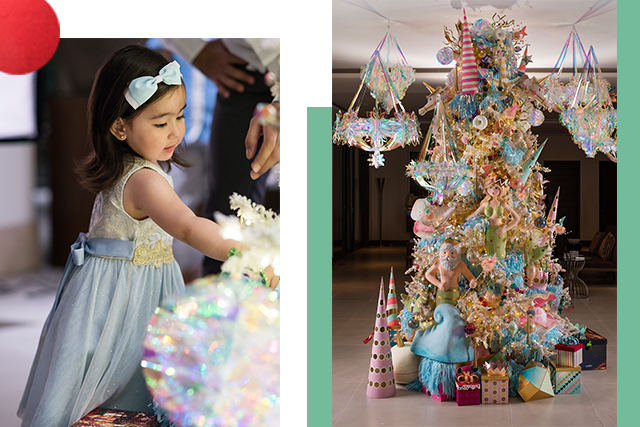 The following year, it was all about animals which Scarlet enjoyed a little bit. Now, it's pretty special since photos of the baby girl hang from the whitened leaves and a mermaid was made with Scarlet in mind. "Glitterville always surprises us with their themes. I trust them, " says Dra. Vicki. "But this year it was so lucky. Without knowing that Scarlet was into mermaids, they made a under-the-sea inspired tree."
Touching the ceiling of the Belo-Kho residence, you'll drown in the details which include one-foot tall mermaids, tinsel, a sleeping pearl in her clam, tinsel, and geo-rocks. Scarlet told us  she loves the whale ornament and the baubles with her photo in it. Dra. Vicki likes the holographic chandeliers while Dr. Hayden likes the pearl ornament. "I make a lot of stories based on that for Scarlett and her friends."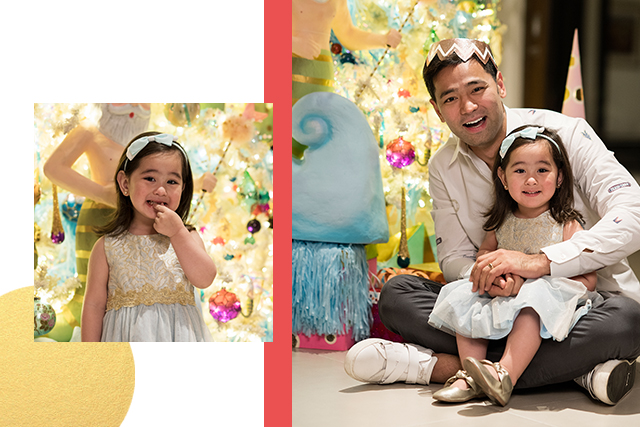 Past all of this, the Belo-Kho family looks forward to what is important. Dr. Hayden tells us his holiday wish, "I want to be a better and more loving husband and father. That's my priority. More than anything else." And it shows in the simple gifts requests he has. "I like highlighters and mechanical pencil because I read a lot of storybooks for Scarlet and I use those to make notes on the values I want her to learn."
"We always have the belen because Christmas is about Jesus," says Dra. Vicki. "We always tell the story of Jesus to Scarlet and her dad reads the Bible to her every day."
Photos by RG Medestomas 
Follow Preen on Facebook, Instagram, Twitter, Snapchat, and Viber
Related stories:
5 Quick and Fun Ways to Decorate Your Tabletops for Christmas
All the Skills and Talents Scarlet Snow Belo Can Do at Two Years Old
Plan a Kiddie Party Like Seve Soriano's Or Scarlet Snow Belo's
All of the Best Moments at Dr. Vicki Belo and Dr. Hayden Kho's Paris Wedding