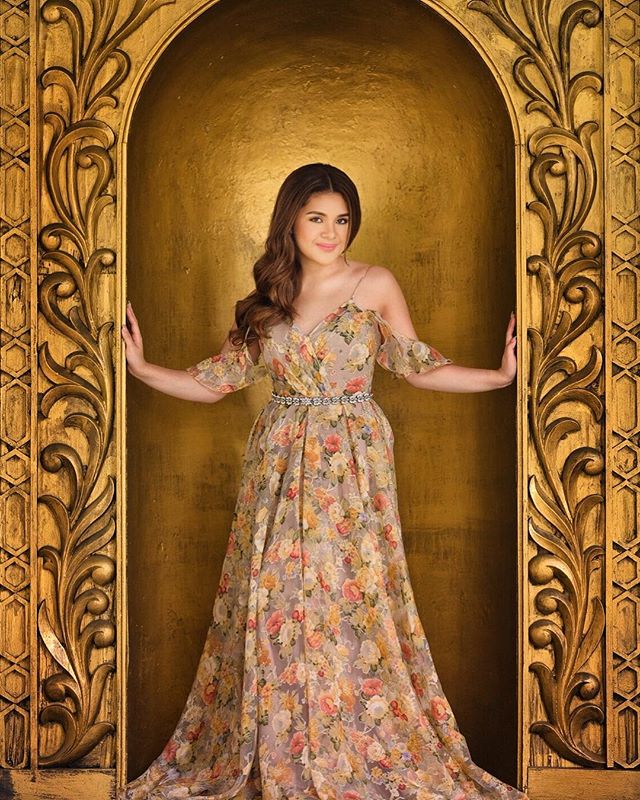 Isabelle Duterte's pre-debut Malacañang shoot was heavily scrutinized, particularly because of production costs. Photographer Lito Sy couldn't hold it any longer and clarified everything through his social media posts.
First off, he did the shoot for free as a favor to Isabelle's mother Lovelie Sangkola Sumera. Apparently, Lovelie is Lito's friend back in Davao. So naturally, the friendship card was used. The red designer gown by UAE-based Garimon Roferos Couture which was reportedly at roughly P600,000, according to Lito, was also "sponsored" because the designer was also a "good friend" of Lovelie from Davao. He did not mention the cost of shipping or who shouldered the costs for her fittings.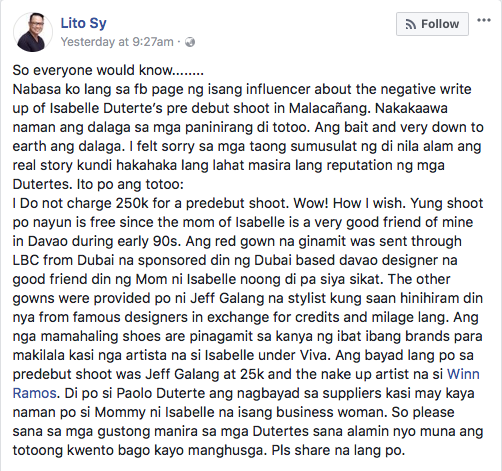 Her other gowns by local designers Rica Rico and Rosenthal Tee were simply borrowed by stylist Jeff Galang in exchange for "credits and mileage." The designer shoes that were used were also borrowed (or in industry-speak, pulled out) because Isabelle is a celebrity under Viva anyway.
The only ones who were paid for the whole production was Jeff Galang who got P25,000 and makeup artist Winn Ramos whose rate was not disclosed.
Lito also reiterated that Isabelle's father Vice Mayor Paolo Duterte did not shoulder any of the expenses because Lovelie was a well-off businesswoman who can shoulder the expenses.
When the photos surfaced, we reported on what it took to pull-off the said pre-debut shoot, but we never touched the costs.
This shoot (not including the upcoming debut) may have been mostly pro-bono or ex-deal, but it doesn't cover the fact that Isabelle is also fond of designer goods.
Your thoughts?
[
Inquirer.net
]
Photo courtesy of Winn Ramos' Instagram account
Follow Preen on Facebook, Instagram, Twitter, Snapchat, and Viber
Related stories:
What Did It Take to Pull Off Isabelle Duterte's Pre-Debut Shoot
How Many Designer Gowns Did Isabelle Duterte Wear for Her Pre-Debut Shoot?
Did Isabelle Duterte Violate a Law for Her Pre-Debut Shoot?
LOOK: Pres. Duterte's Granddaughter Rocking Luxury Sneakers