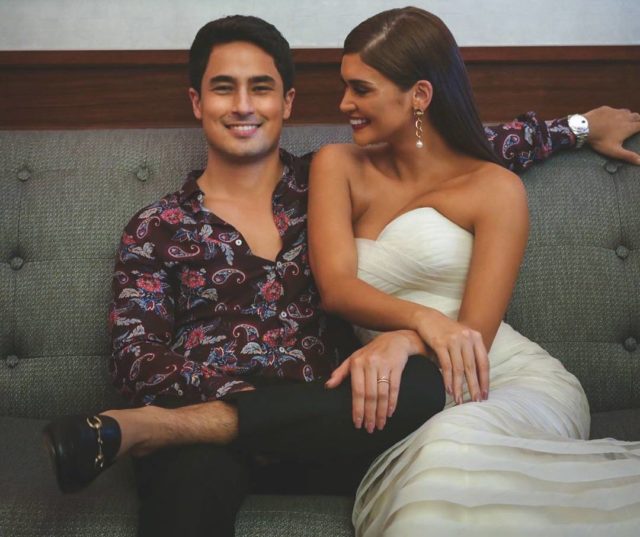 The day has finally arrived. Fil-Am beauty vlogger PatrickStarrr posted his Miss Universe 2017 makeup tutorial with Pia Wurtzbach. Aside from beauty tips from the queen, we also got some juicy info—specifically, how Pia and boyfriend Marlon Stockinger met.
After sharing how she DM-ed Patrick on Instagram to do her makeup, Pia goes, "I feel like I find everyone on Instagram. I found my boyfriend on Instagram."
Pia then recounted how she's had a crush on Marlon even before she joined Miss Universe 2015. "At that time, I kept on losing Miss Philippines, and I'm thinking, 'He's never gonna notice me,'" she said. (Beauty queens: they want their crushes to notice them too.)
After winning Miss Universe, Pia decided to check Marlon's Instagram account and follow him. "I liked a few pictures and he was online at the time so he noticed me," she said. "He wasn't following me. He didn't even know me then! Which is good, actually. [Laughs] He knew that Philippines won Miss Universe, but didn't know that it was me."
As you know, they've been together since last year—showing up at events, doing photo shoots, and traveling together. Thank god for social media, am I right?
Photo courtesy of Marlon Stockinger's Instagram account
Follow Preen on Facebook, Instagram, Twitter, Snapchat, and Viber
Related stories:
It's Official: Pia Wurtzbach and Marlon Stockinger Are an Item
Pia Wurtzbach Got This Fil-Am YouTuber to Do Her Makeup For Miss Universe 2017
Meet Patrick Starrr: The Filipino Beauty Vlogger Who Snagged a Major Beauty Collab
Pia Wurtzbach and Marlon Stockinger Jet Off to Bali for a Vacation
Miss Universe Pia Wurtzbach Talks About Her Relationship with Marlon Stockinger