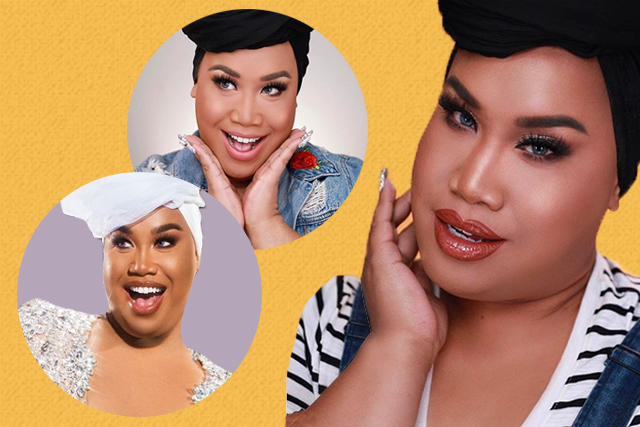 There's so many things happening in the beauty world now, from celebrity-owned brands to big collaborations. The latest being YouTuber Patrick Starrr's holiday collab with MAC Cosmetics. This will be a 12-piece collection, including a new loose powder. And if you watch any of his tutorials, you know how serious he is when it comes to baking the face.
This news is special for two reasons: 1) It proves that gender-neutral beauty is taking the forefront, especially with his philosophy that "makeup is a one-size-fits-all"; and 2) Patrick is the first Filipino to make a global collection with MAC. You read that right, so if you want to know more about him, read these quick facts about him.
#1 Filipino roots
As mentioned, Patrick is pure Filipino who is born in the US (his real name's Patrick Simondac, FYI). In a "Get to Know Me" video, he talked about growing up Filipino and thinking that he would end up as a nurse in the States. "I never thought that, as a young Filipino boy, I'd be able to wear lashes and makeup and a scarf on my head," he said. He also mentioned that he can only speak in Filipino a little but can fully understand it.
#2 Worked at Sephora
Before becoming a full-fledged makeup artist and beauty guru, Patrick worked at Sephora. He also once threw shade at his former manager for asking him to remove his makeup at work, saying that "it wasn't department store-friendly and asked me to wear 'boy glam.'" Fast forward a few years, he became the face of Formula X and had photos in all Sephora stores.
It's safe to say that doing YouTube was probably the best decision for him.
#3 Kim Kardashian's new favorite MUA
Patrick has done the makeup of several celebrities now like Katy Perry, Ashley Tisdale, and Maddie Ziegler. But what takes the cake is the fact that Kim Kardashian asked him to do her makeup again for an event. This happened after meeting at the KKW Beauty launch and their first video together. You know you've made it when Kim K trusts you to do her signature contour.
#4 Wigs for days
When he's not wearing a turban, Patrick likes to wear (and even layer) different wigs. Sometimes I wonder where he keeps all of them. At the same time, it's handy for when he does themed looks like that time he recreated Beyoncé's Grammy look.
Also when he dressed up as Jessica Rabbit for Halloween.
#5 The vloggers he hangs out with
If you think about it, the beauty community seems small considering that almost all your favorite vloggers are friends. Patrick has been besties with Manny MUA for the longest time, and he's shot collab videos with Bretman Rock and Nikkietutorials. You can also occasionally spot him at events with Jeffree Star and Laura Lee.
#6 Multi-hyphenated
Aside from doing makeup, Patrick can also sing, play classical piano, and do photography. He often sings in his videos, sometimes featuring his two younger brothers Peter and Paul.
Here's Patrick playing piano for Jessie J. (The dream!)
And here's a shot he took of Manny MUA in New York.
Art by Lara Intong
Follow Preen on Facebook, Instagram, Twitter, Snapchat, and Viber
Related stories:
The 6 Best LGBTQ Vloggers You Should Be Watching Right Now
How Madonna, Rihanna, and Drew Barrymore Are Killing It in the Beauty Industry
What Happens When a Celebrity Wants to Be a YouTube Star?
Meet the New Face of Maybelline's Latest Campaign: Beauty Vlogger Manny Gutierrez