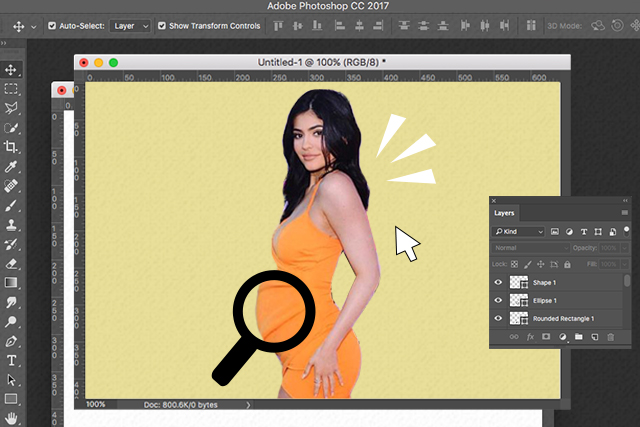 Kylie Jenner has been keeping everyone on their toes ever since rumors started that she's pregnant. She's neither confirmed nor denied the news, but posted "hints" on her social media platforms. What ultimately piqued everyone's curiosity is how she's absent in all the family Christmas photos.
While everyone is waiting for confirmation, they've also come up with interesting conspiracy theories based on photos and posts. That's all harmless fun, but this curiosity and desperation also pushed some fans to photoshop fake pregnant photos of Kylie.
These range from badly edited to impressive, and apparently done for fun. However, it's also not okay to post and spread such photos. Even Kylie called out a news outlet for a photoshopped paparazzi shot.
In one perspective, this is a way of pressuring Kylie into announcing her pregnancy to satisfy her fans' curiosity. We understand that they're just dying to know, especially after Khloé Kardashian confirmed her own pregnancy. But is it really worth pushing Kylie into a corner for it?
There's also the case of fans who are questioning Kylie's body, pinpointing that her boobs look different and how she's concealing her body with baggy clothes. Are they supposed to be investigating? Or are they resorting to body shaming to prove something?
It's her body, she can show off that baby bump—real or not—however and whenever she pleases. This is something that people sometimes forget. If Kylie wants to make the announcement on the new season of Keeping Up With the Kardashians, then respect that decision. If she doesn't want to reveal anything and just surprises everyone with a newborn kid, that's great too.
What if Kylie wasn't pregnant in the first place after all? All the more reason for people to chill with the fake photos.
A lesson to be learned here is that it's never wrong to wait for confirmation or to find reliable sources that can verify the facts. Another lesson is to channel your amateur photoshop skills onto something else.
Art by Lara Intong
Follow Preen on Facebook, Instagram, Twitter, Snapchat, and Viber
Related stories:
Is Kylie Jenner Expecting a Baby?
Kylie Jenner Calls Out Paparazzi For "Pregnant" Photos
Is Khloé Kardashian Wearing a Wedding Ring in Her Pregnancy Announcement?
What Happened When Kylie Jenner Went to Her First Prom and Therapy Session