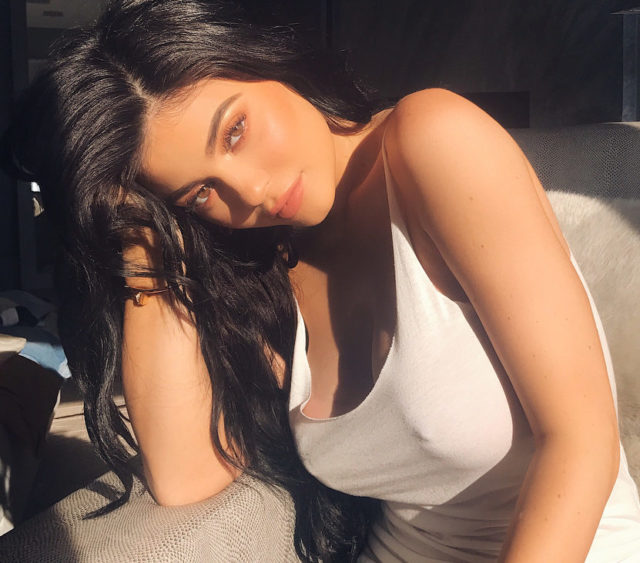 The first two episodes of Life of Kylie has received mixed reviews so far. Critics said it was "like watching a 30-minute Snapchat." Time also noted that Kylie Jenner struggled to look normal in the show. Meanwhile, several netizens still showed some love for the show and seem to be enjoying it.
Actually enjoying #LifeofKylie so much its so chill @KylieJenner ILY QUEEN

— Hayley Williams (@hayleywi11iams) August 7, 2017
https://twitter.com/vanyapuselja/status/894364568285310976
@KylieJenner I love your personality is different and unique be who you wanna be and your show is far out amazing! Love you! 💜 #LifeofKylie

— Nancy Coronado (@coronado_nancy) August 7, 2017
But just like any reality show, we see a side of Kylie outside of her Instagram and Snapchat persona. She said as much on the trailers, and we have a whole season to get to know the beauty mogul and social media star. So here's what we learned from the premiere.
#1 Going to prom
https://twitter.com/ssoochoa/status/850971641165119488?ref_src=twsrc%5Etfw&ref_url=http%3A%2F%2Fmetro.co.uk%2F2017%2F04%2F10%2Fkylie-jenner-casually-rocks-up-to-high-school-prom-to-surprise-a-boy-rejected-by-his-date-6564535%2F
Since Kylie became TV-famous at nine years old, she was homeschooled. She admitted in the show that she unfollowed her old classmates during prom season because she didn't want to see the photos. This is why she showed up at high schooler Albert Ochoa's prom as his date. According to Metro, Albert had been rejected by girls and was shocked that Kylie showed up for him.
"I was speechless," he told E! News. "She's a really sweet and genuine person. When you see her on shows and stuff you really don't get to see that like face to face. And I really thought she was sweet and genuine."
#2 Being an outcast
One of the reasons Kylie agreed to go with Albert to prom was because she sympathized with him being bullied. "I have a soft spot for the outcast," she said during the confessional. "I was kind of an outcast. I still feel like an outcast in different ways now because I can't relate to a lot of people."
#3 Poor Lamborghini
Who's watching #LifeOfKylie? I can totally relate to her. She doesn't drive her Lambo and neither do I.

— Secilie Nicole (@secilienicole) August 7, 2017
Out of all of Kylie's cars, she doesn't feel like driving her Lamborghini much. Such a first world problem, right? At the same time, I can totally relate…to the Lambo.
#4 She loves her dogs
https://www.instagram.com/p/BWlWO2_hxE_/?taken-by=kylizzlesnapchats
Kylie has four dogs: Norman, Bambi, and their two puppies. She calls them her "kids" before she gets actual children. She even asked the producers if she could stop them from barking so loud. Ah, she's playing the mom card right already.
#5 Why she hates airports
"I'm not bougie like that," Kylie said about riding only private planes. "It's just a lot of people at the airport. A lot of people taking pictures of you while you're just trying to be in sweats. I just do not like the airport. It scares me."
#6 Her first therapy session
During the second episode, Kylie decided to book an appointment with a therapist. This is where she opened up about the struggles and frustrations she feels as a social media personality. She admitted that she can't act "super weird" toward her friends because "TV has changed her entire personality."
#7 She and Jordyn Woods are sort of in a relationship
Not like the one Kylie had with rapper Tyga, though. Kylie and Jordyn are so close that they see each other all the time and are practically glued to the hip. "There are different kinds of relationships and we are in one. Not sexual, but definitely emotionally," Jordyn admitted. "It is draining sometimes. I don't want to say that she is a 'needy girlfriend' but…"
Photo courtesy of Kylie Jenner's Instagram account
Follow Preen on Facebook, Instagram, Twitter, Snapchat, and Viber
Related stories:
Behind the Lip Kits and Family Feuds: What We Expect From the 'Life of Kylie'
Pick Up These Makeup Items If You Still Want Kylie Jenner's Birthday Collection
Kylie Jenner Gets Accused and Sued For Stealing a Design…Again
Wait…Did Kylie Jenner Just Say She Hates Makeup?
8 Personal Branding Tips We've Learned From Kylie Jenner