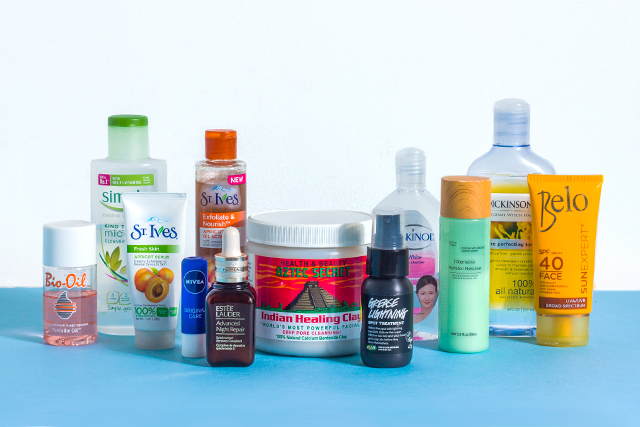 We here at the Preen HQ are obsessed with skincare. But you probably already knew that based on the stories we release. To give you a glimpse of what we use, we've rounded up the top three products we can't live without. We've also added why we use them in our routine and how it combats our different skin issues. If you want to find out what our Preen-approved products are, keep reading.
Jacque De Borja – Managing Editor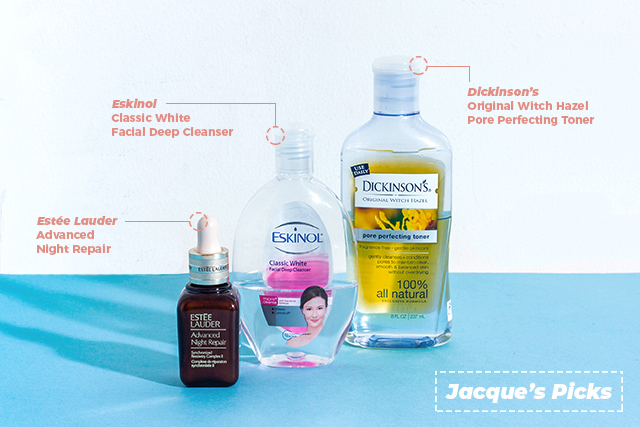 I'm obsessed with the feeling of squeaky clean skin so I really can't live without a toner (or sometimes astringent) to make sure there's no makeup or dirt residue left after I cleanse. My top two faves are Eskinol Classic White which, I started using eons ago, and Dickinson's Pore Perfecting toner because I feel that witch hazel cleans and soothes.
I follow up with a serum or face oil. My favorite is Estee Lauder's Advanced Night Repair that I use for both day and night. It restores my skin and gives me that natural glow. I bring it everywhere!
Shop: Estée Lauder, Available at Rustan's The Beauty Source. Eskinol, Available at Waltermart Supermarket. Dickinson's, Available at Healthy Options.
Lara Intong – Graphic Artist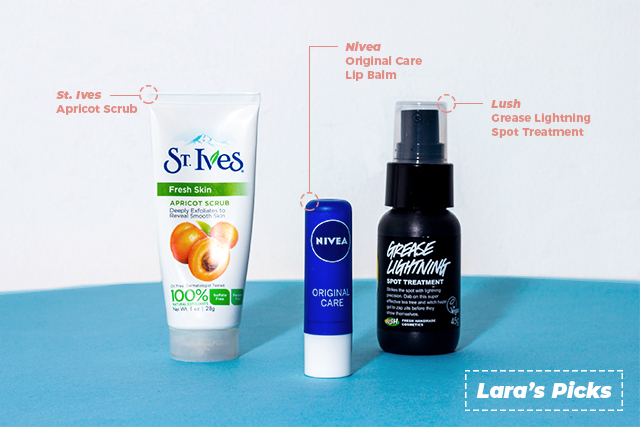 I use the Lush Lightning treatment on spots that look like they're about to become full-blown zits later on. It heals them right away before they get even worse! I tent to get oily so it really helps me prevent acne. It contains natural ingredients so I'm reassured I'm not putting harsh chemicals on my face.
The St. Ives Apricot scrub makes my skin feel so smooth and clean every time I use it. Plus it smells super good and refreshing! I switch facial cleansers all the time but I keep this as my staple facial scrub.
I had really chapped lips before but the Nivea lip balm took care of that. It's very moisturizing and it's pretty affordable too. Only con is when I stop using this, my lips start to get chapped again so I have to commit to applying it at least once a day.
Shop: St. Ives, Available at Watsons. Nivea, Available at Watsons. Lush, Available at Greenbelt 3.
Tisha Ramirez – Editorial Assistant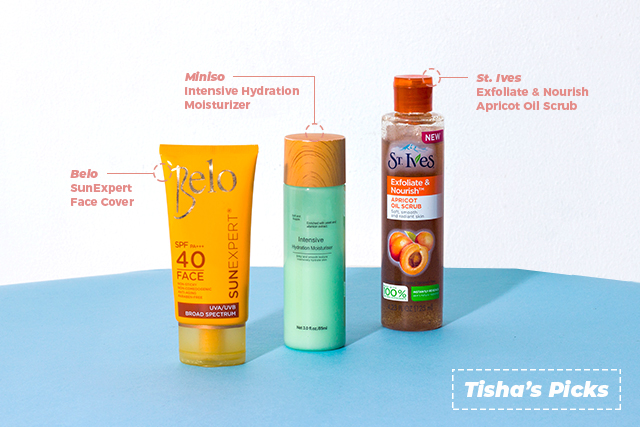 I have combination skin but my face is mostly dry. The main issue I have are dry patches of dead skin flaking off my cheeks and nose. So, my favorite skincare products are the ones that keep my face feeling soft and smooth.
The St. Ives exfoliating oil scrub is the latest addition to my routine but it has quickly become my favorite. What I love about this product is that it uses natural exfoliants in the form of walnut shell powder. I use this every other day to combat dryness.
Once my skin is exfoliated, I always make sure to moisturize. My current (and surprising) go-to is the hydrating moisturizer from Miniso. It melts into the skin easily and doesn't leave an oily film on my face.
Any skincare routine wouldn't be complete without sunscreen. Belo's SunExpert has been a staple in my rotation for a while now because it's lightweight and fragrance-free so it works well under makeup too.
Shop: Belo, Available on Lazada. Miniso, Available at Glorietta 2. St. Ives, Available on BeautyMNL.
Jacqueline Arias – Editorial Assistant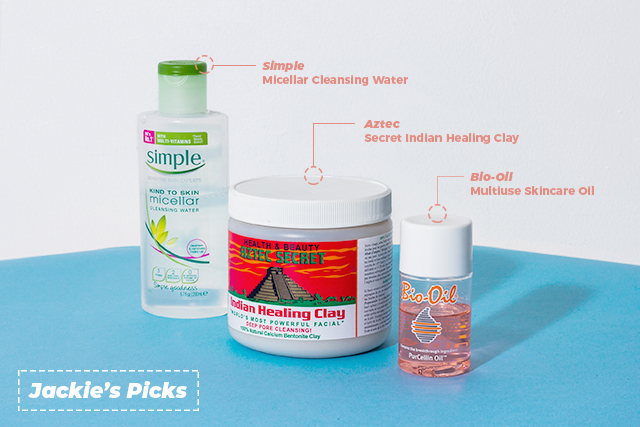 I'll be the first to admit that I don't have the best skin ever. I've had scars on my face since I was in high school, mostly due to pimples, rashes, mosquito bites, and stress. (See: psychodermatology.) Aside from foundation and concealer, I religiously use products that'll make my skin slightly, if not fully, better.
Right now, I use Simple's Kind to Skin Micellar Cleansing Water to remove my makeup. It has niacinamide, which helps lighten dark spots.
After removing my makeup (and even before putting on makeup in the morning), I dab Bio-Oil on my scars. It's made most of my bad scars fade and they almost look like freckles now.
For my last product, the Aztec Secret Indian Healing Clay, I use it every two weeks. Or whenever I start getting pimples because it dried it up so quickly. It's a great way to get rid of dirt and oils. (Additional tip: Put on a sheet mask after!)
Shop: Simple, Available at SM Makati. Aztec Secret, Available at Healthy Options. Bio-Oil, Available at Mercury Drug.
Photos by Rica Velez
Follow Preen on Facebook, Instagram, Twitter, Snapchat, and Viber
Related stories:
Sleeping Masks Drive the Skincare Nightmares Away
How to Layer Skin Products Correctly
Don't You Dare Skip this Skincare Step After Using a Sheet Mask
Glossier Just Dropped Another Product for Their Skincare Line