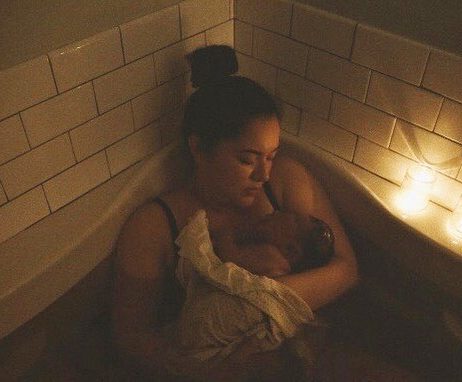 The eldest daughter of Albert Martinez and the late Liezel Martinez just gave birth to a baby girl! Alyanna and her husband Roy Macam shared photos on Instagram and introduced their newborn Adalynn Riley. The caption read, "Hi guys! Sorry I'm late!" Because she was born at 41 weeks and three days.
Their family members gushed at the cute photos of Adalynn wearing a pastel colored swaddle with matching turban, but what caught our attention was Roy's post on how their daughter's story started.
Alyanna went through an unmedicated, all-natural water birth in a birthing suite in LA. And Roy describes it as the "most powerful and magical experience" that he ever had the privilege to witness. He described how excruciating it is not being able to do anything physically to help his wife who was going through waves of labor.
He shared that all he could do was support and encourage her all throughout. In the end, he was able to catch his daughter with his own hands. We can only imagine how magical that would've been.
The couple both worked in the fashion industry in Manila, Roy as a photographer and Alyanna as a stylist. But ever since tying the knot in Lake Tahoe last year, the two moved to the States to start their new family.
Congratulations, Alyanna and Roy!
Photo courtesy of Roy Macam's Instagram account
Follow Preen on Facebook, Instagram, Twitter, Snapchat, and Viber
Related stories:
An Intimate Account of One Mother's First Water Birthing Experience 
Why I Chose to Eat My Placenta After Childbirth
Teresa Herrera-Anthony on the Water Birth She Never Had
Albert Martinez's Eldest Daughter Announces Engagement on Mt. Everest