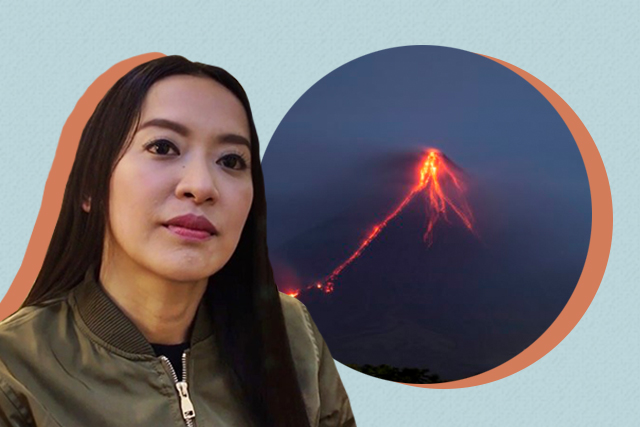 In a not-so-surprising turn of events, Mocha Uson is back on the trending pages. No, it's not about her UST Alumni Association award because she already returned it. (Thank God.) It's the fact that she said that the Mayon volcano is located in Naga and not Albay.
In a stunning news that shook the foundations volcanology and seismology, Assistant Secretary and ex-Thomasian Awardee Mocha Uson says that Mayon Volcano is now in Naga City.

PHIVOLCS: ?
NDRRMC: ?
Pacific Ring of Fire: ?
Magayon: ?
Panganoron: ?
VP Leni Robredo: ? pic.twitter.com/mkzrDa222d

— BrujaDeputaAdmlnisTraitor (@BrujaDelDemonio) January 24, 2018
In a Facebook Live clip on Wednesday, Mocha was questioning why people were so upset about her recent award instead of focusing on other important matters. These include the Dengvaxia controversy, Sen. Franklin Drilon allegedly accepting money from Janet Lim Napoles, and the Mayon eruption.
To be fair, Mocha must've been so passionate during the interview, which is why she blurted out the wrong city. She also apologized immediately after realizing her error. (She may be known to post fake news but at least she knows her Philippine geography.) But, you can't deny that the reactions and memes were funny AF.
Netizens started making news announcements that the Mayon has relocated from Albay. Who knew a volcano could be sentient like the one in Lava?
BRAKING NEWS: Mayon Volcano has opened its second branch at Naga City.

source: PCOO Asec. Mocha Uson

— adrian (@akosiadrian_) January 24, 2018
JUST IN: Due to the volcanic activity of Mayon Volcano, Mt. Mayon itself evacuated to Naga city for her safety.

(credits to the owner of the photos) pic.twitter.com/uy8PMux30S

— ⛈ (@sherrirou) January 24, 2018
One speculated that the volcano was originally born in Naga.
Just In: Mayon Volcano decided to not erupt due to a confusion on its identity. Further details were supported by this unknown creature, whether she lives in another planet, named Mocha Uson. She claims that Mayon Volcano is born in Naga City and has been raised in Albay. pic.twitter.com/pyAfAE4c3F

— ?han (@realchaaan) January 24, 2018
Another suggested that the reason Mocha mentioned Naga is because she was so focused on VP Leni Robredo. (In case you didn't know, the Robredos are from Naga.)
Mocha Uson must really hate VP Leni that much that she wants to transfer Mayon Volcano to Naga just so she could blame Madam VP for the eruption. Charot.

— IG: @callmenorby (@CallMeNorby) January 25, 2018
Hope it doesn't move away from Naga just yet because Enchong Dee seemed excited to see the new tourist spot in his province.
Makauwi nga sa probinsya ko… balita ko may bago kaming bulkan???‍♂️ #NagaCity pic.twitter.com/CS2fBykiLy

— Enchong Dee (@enchongdee777) January 24, 2018
In all seriousness, the Mayon volcano is in Albay, okay? Don't get confused! Also, offer help to the Bicolanos who are affected by the eruption.
Art by Lara Intong
Follow Preen on Facebook, Instagram, Twitter, Snapchat, and Viber
Related stories:
UST Students Want Mocha Uson's Award Revoked
Secretary of Foreign Affairs Alan Cayetano on Why He Supports Mocha Uson
A List of Mocha Uson's Fake News Posts
Mocha Uson Doesn't Know What Freedom of Speech Means