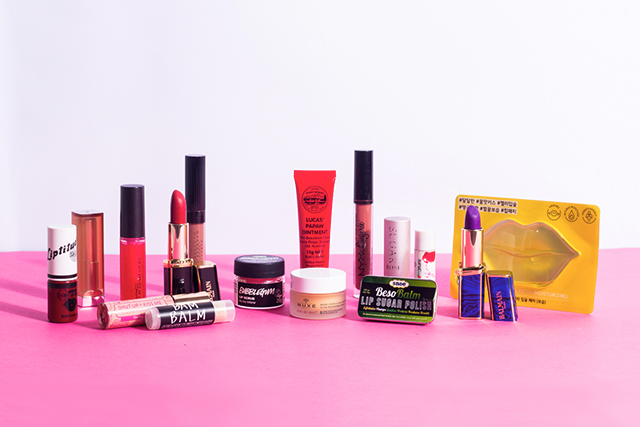 This week, we're bringing you another edition of #PreenPicks but shifting to makeup. Aside from skincare, the Preen team loves their lip products. We go crazy for lipstick and even have mini swatching parties at the office. Today, we thought we'd share some of our holy grail lip products from lip scrubs to lip balms. Read through our favorites and why we love them below. Feel free to try them out too and let us know what you think.
Jacque De Borja – Managing Editor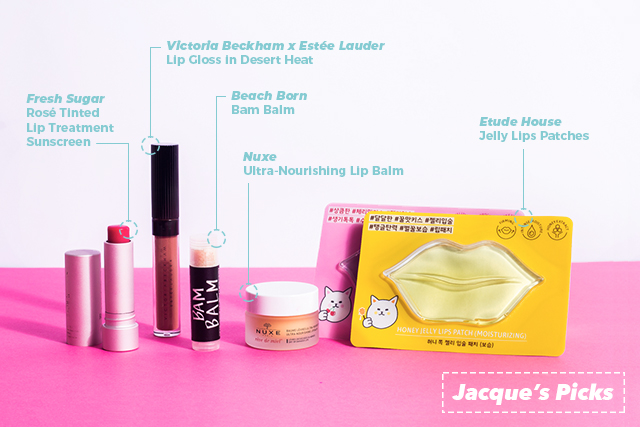 Lip products are my favorite because they were practically my first beauty product ever (strawberry lip gloss y'all!) and it's one of the easiest things to use.
My top picks are usually for moisturizing or plumping like Etude House's lip masks for when I feel like my lips need extra pampering. For lip balms, I have a ton! But for now, I switch it up between Fresh Sugar Lip Treatment in Rose for when I want a bit of color and Nuxe Rêve de Miel lip balm that I got from a recent trip. Lip scrubs are great for pre-liquid lip application and I use Beach Born's lip scrub which conveniently comes in bullet form—it taste super yum too. I mentioned that I like lip gloss, and the best one (at least for now!) would be Victoria Beckham's collab with Estee Lauder called Desert Heat.
I can talk about lip products all day, but for now, these are on heavy rotation.
Shop: Victoria Beckham x Estée Lauder, Available at Rustan's The Beauty Source, Shangri-La Plaza. Beach Born, Available online. Fresh, Available on Sephora PH. Nuxe, Available on Beauty MNL.
Lara Intong – Graphic Artist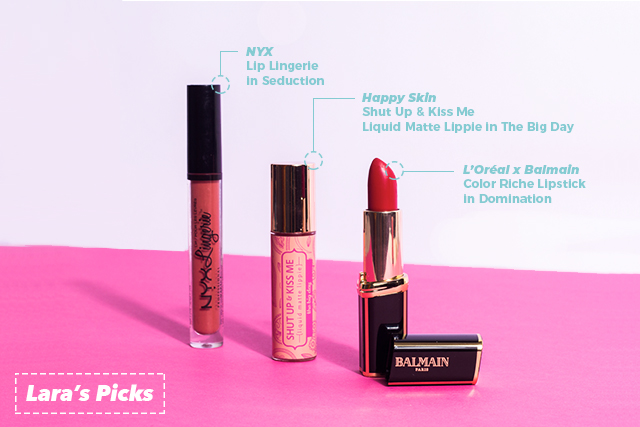 I always gravitate towards lip shades like Happy Skin's The Big Day. Probably 80 percent of my lipsticks are in the same color. But this one stands out for me because I really like the formula. I'm always fascinated by lipsticks that feel like almost nothing on the lips since that is such a rare occurrence. I'm extra amazed by the fact that this is matte, because matte liquid lipsticks are usually super drying. This isn't drying at all!
I also love the shade of this Nyx liquid lip. This was actually a Christmas gift from a workmate (Thanks, Yaz!). It's my go-to lipstick on days I'm (extra) indecisive because I feel like it suits me the best. It's also transfer-proof and its longevity isn't bad at all.
I used to be really scared of red lipsticks because I feel like it's such a bold color. Plus I had a hard time finding a shade of red that suits me well since I feel like I look like a clown in all of them (LOL). But this L'Oréal x Balmain shade is the perfect red for me! It smells so good too! It reminds me of my late grandmother because I remember her lipsticks used to smell the same. This is my go-to lipstick on days I feel like I look too plain
Shop: Happy Skin, Available at SM Aura Premier. Nyx, Available at select Watsons branches. L'Oréal x Balmain, Available at SM Makati.
Tisha Ramirez – Editorial Assistant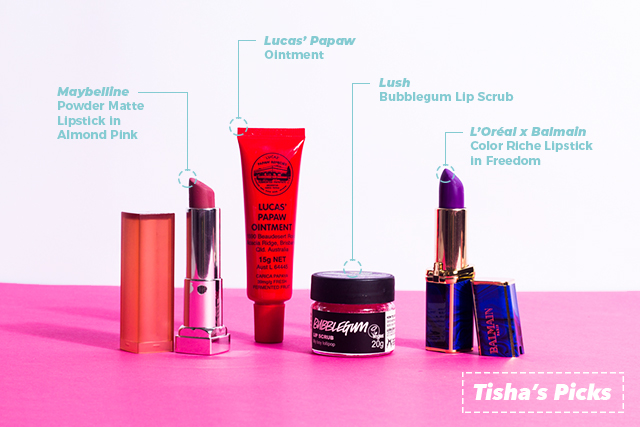 Most of the time, I have really chapped lips so I do everything I can to keep them hydrated and soft. My favorite lip scrub is from Lush. It tastes like bubblegum so I can just lick my lips after scrubbing.
I have a lot of different lip balms but my current go-to is Lucas' Papaw Ointment. Aside from keeping my lips moisturized, it helps heal wounds I have from my bad habit of peeling and biting them.
When it comes to lipstick, it was hard to just pick one so I chose the two I always carry in my bag. I'm not much for neutrals but Maybelline's matte lipstick in Pink Almond is the perfect pinkish nude for my skin tone. For those who know me, purple is my color of choice for lipstick so I had to add to this list. Among the many shades I have, I've been loving this one from L'Oréal x Balmain the most.
Shop: Lush, Available at Glorietta 4. L'Oréal x Balmain, Available at SM Makati. Maybelline, Available at Watsons branches. Lucas' Papaw, Available on Instagram.
Jackie Arias – Editorial Assistant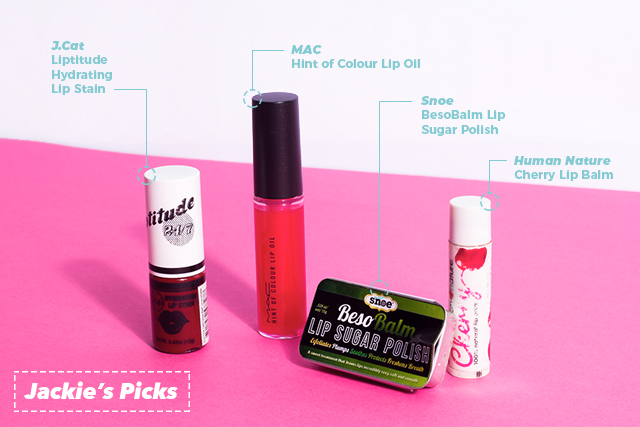 Full disclosure: I didn't include lipsticks here because my go-to's change every week. But these lip products are my constants.
If you're looking for an affordable lip scrub, I suggest getting Snoe Beauty's BesoBalm. It's a minty sugar scrub that gets rid of dead skin and also leaves your lips moisturized.
For minimal makeup days, tinted lip products are a must. Human Nature's cherry lip balm and Mac's lip oil are always in my kit because it gives the lips a natural red-pink hue to them. But if I want a bright red color without reaching for a matte lipstick, J.Cat's Liptitude lip stain does the trick.
Shop: Snoe Beauty, Available at Landmark, TriNoma Mall. J.Cat, Available at Uptown Mall. Human Nature, Available at Beauty Bar. Mac, Available at SM Makati
Photos by Rica Velez
Follow Preen on Facebook, Instagram, Twitter, Snapchat, and Viber
Related stories:
Preen Picks: Our Top Three Favorite Skincare Items
How Many Lip Products Do Women Keep In Their Bag?
The Non-Matte Lipsticks that Last All Day
Tricia Centenera, Sofia Andres, and Martine Cajucom Reveal the Lipstick They Can't Live Without