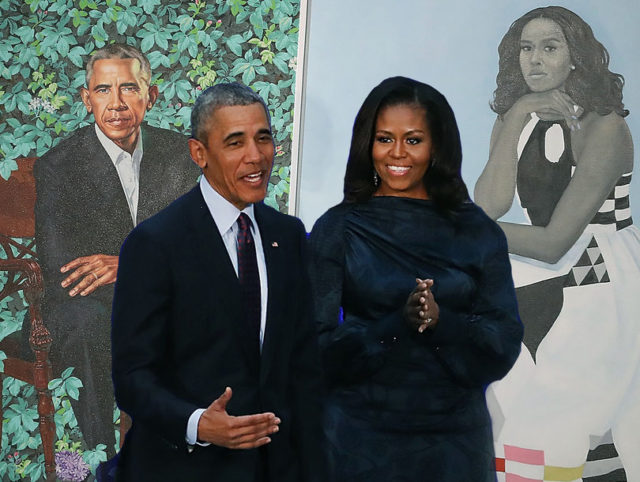 Once a US president's term is finished, it's tradition that their official portraits will be revealed to the public. Earlier this week, we were blessed with the Obamas' portraits and everyone had mixed reactions about how unconventional they looked compared to past presidents. Plus, how they gave recognition to the black artists who created them. But what's even more interesting were the meanings behind each painting.
https://twitter.com/MsPackyetti/status/963078607622037505?ref_src=twsrc%5Etfw&ref_url=https%3A%2F%2Fwww.nytimes.com%2F2018%2F02%2F13%2Farts%2Fdesign%2Fobama-portraits-reaction-what-did-they-mean-to-you.html
Artist Kehinde Wiley painted Barack Obama's portrait, which showed him sitting with a garden in the background. Activisit Brittany Packnett interpreted this as dismantling the masculinity surrounding black men and how they "rarely have the public permission to explore." The New Yorker also picked up on how the various flowers represented the former president's roots—blue lilies (Kenya), jasmines (Hawaii), and chrysanthemums (Chicago).
Meanwhile, Michelle Obama's portait by Amy Sherald showed her wearing a colorful Monday Milly gown. The pattern was also inspired Piet Mondrian's geometric paintings and the quilts created by the women of Gee's Bend in Alabama. According to creative director Michelle Smith, she was inspired by a "desire for equality, equality in human rights, racial equality, LGBTQ equality" when she conceptualized this piece. Amy also wanted to portray a message of humanity: "Michelle Obama being her authentic self became a profound statement that engaged all of us. Because what you represent to this country is an ideal. A human being with integrity, intellect, confidence and compassion."
There are several ways you can interpret the Obamas' portaits. You can appreciate their aesthetic or look for all the deeper political meanings in it. We'd also love to know your thoughts and perspective on these paintings.
[
The New York Times
and 
Elle
]
Photo courtesy of TooFab via Getty Images
Follow Preen on Facebook, Instagram, Twitter, and Viber
Related stories:
#ThankYouObama: All the Reasons Why We Love Obama
Michelle Obama Delivers Powerful Speech For Women and Against Donald Trump
It's Official: First Lady Michelle Obama is Just Like Us
Anthony Bourdain Treats President Obama to a $6 Dinner