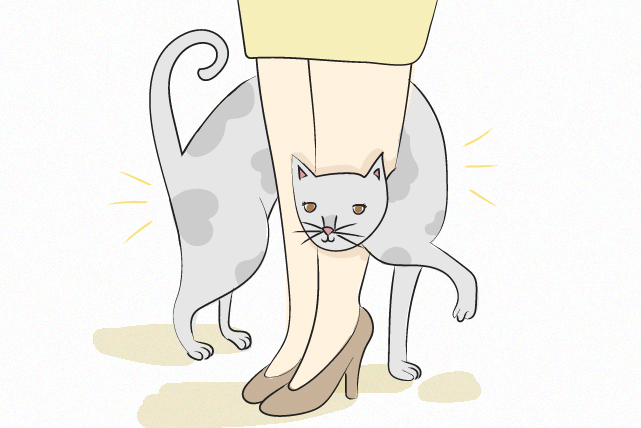 Every week, Preen tackles motherhood sans the rose-tinted glasses. Our columnists L. Juliano, Marla Darwin, Monica Eleazar-Manzano, Rossana Unson, and Ronna Capili-Bonifacio tell their personal experiences like it is—at times frustrating, oftentimes confusing, but always enlightening.
I don't consider myself a "people person." I like pleasant, smart, funny, and genuine people and I thoroughly dislike having to be around any other types of people, which I have to be—often. Surprisingly, I have learned a lot though about people from my cat Sylvio. He's 13, maybe even 14 years old. We got him grown up already so I'm not actually sure of his real age, but I do know we got him when my daughter was about a year old. She's 14 now.
So the very first thing my cat has taught me about people is:
Age is not always evident in a person from the way he/she looks and even the way he/she acts. I know Sylvio is old. Everyone in the family knows he's old. Sylvio knows all too well he's old (since he can't really control his bladder so well), but you wouldn't know if at first glance. In fact, to me & maybe to everyone else who sees him, when he's lying down all curled up on our bed with his paws up, he looks like a baby. And just like cats, you'd be surprised that there are some old mofos out there who look like babies, too.
Did I say he wasn't too good at holding his bladder? This boy pees on everything. He's peed on my office laptop bag (I don't blame him, sometimes I wanna pee on it myself), my slippers and the slippers of everyone who lives with me, shoes, electric fan stands, the dining room table, desks, our living room console table and right by our front door. Oh and when he's scared of the groomer, he also pees on me. Now what does this peeing festival say to me when I know that this cat loves me? It's taught me that people who sometimes pee on your stuff, can't help themselves. In fact, they don't pee on your stuff alone, they pee on everyone's. Not everyone who pisses on your stuff hates you, sometimes they just can't control their stinking bladders.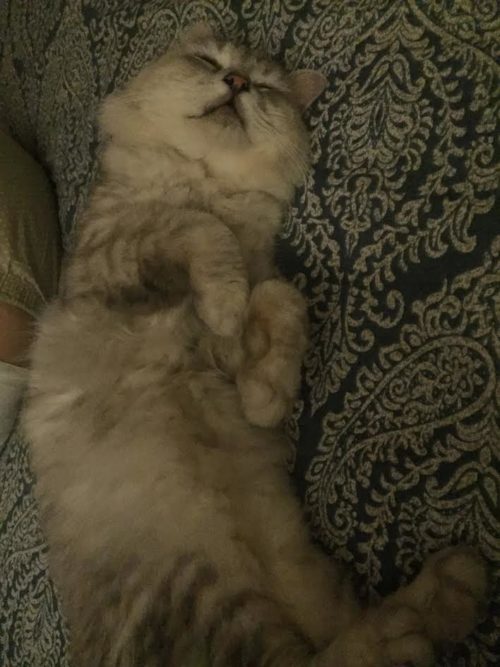 When I call my cat, he doesn't come running (like a dog.) When I call him, a lot of the time, he ignores me, especially if he doesn't need anything like food or a warm foot to pee on. He only runs to me when he's hungry. When I call him up to bed at night (most times I don't even have to), he comes running because he likes being petted to sleep. People are always motivated by some need, whatever this need may be-malevolent or benevolent. It's a good study of people to see what motivates them to do the things they do.
We've had a female cat living outside our house for over a year. It has been a year that my cat has been yowling like a crazy cat. I've had him actually live with potential female Persians (his breed) but he wasn't very interested in either of them (we did this futile exercise twice) and in fact, tried to escape from the last female-cat house we made him visit. But now that we have a forbidden cat outside, she's the one he wants—and at his age, too! Which brings me to the age-old conclusion that the way to make something most attractive, is to make it forbidden.
There was one time brought him to the vet in the middle of the night because he was sick. He had kidney problems so he wasn't peeing at all. When he peed, there'd be blood. When I saw what a hard time he was having, we took him to the vet straight away and he was very afraid. So afraid, that he actually held on tightly to my hand while he was on the vet's table. It's the people who are with you in times of need that you know you can trust. That night when I left him in the pet hospital, I knew that I was his mama. Being together in good times is wonderful, but it's the bad times together that really make a bond.
I don't know how much longer I'll have with this wonderful cat. I secretly wish he's immortal. Sometimes I look at him on my bed and worry deeply about how life will be without him. I am so glad for everything he's taught me. I'm thinking I may have taught him some things, too.
Disclaimer: The views expressed here are solely those of the author in her private capacity and do not in any way represent the views of Preen.ph, or any other entity of the Inquirer Group of Companies.
Art by Lara Intong
Follow Preen on Facebook, Instagram, Twitter, and Viber
Related stories:
Valuable Lessons I Learned By Walking My Dog
Pet Tales: Tricia Centenera, Kai Lim, and Gian Romano with Their Furry Friends
What Dogs Can Teach Kids About Diversity and Body Positivity
Attention, Cat Lovers! Charlotte Olympia Just Designed an Athleisure Line Just for You